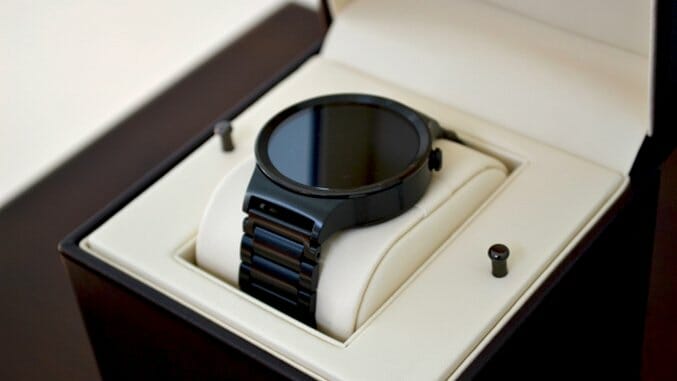 When Motorola released the first Moto 360 in 2014, it laid claim to new ground in wearable technology: the beautiful smartwatch. In just a year, the market has adapted and Motorola now finds itself amid a host of competitors, most of whom have taken note that looks matter just as much as brains. Samsung, LG and Pebble all released round smartwatches this year along with Motorola and its second generation 360. Joining them is Chinese manufacturer Huawei, who is in the midst of an evolution. Though the company has made excellent phones for years, it hasn't had the opportunity to gain real traction in the United States. That changed in 2015, when Google partnered with Huawei to build the Nexus 6P, a near unanimous hit considered by many to be the best Android smartphone on the market (our review is coming soon).
To pair with its shiny new phone, the company has also played a card at the wearables table. Like its brethren, the simply named Huawei Watch is a thing of beauty.
Hardware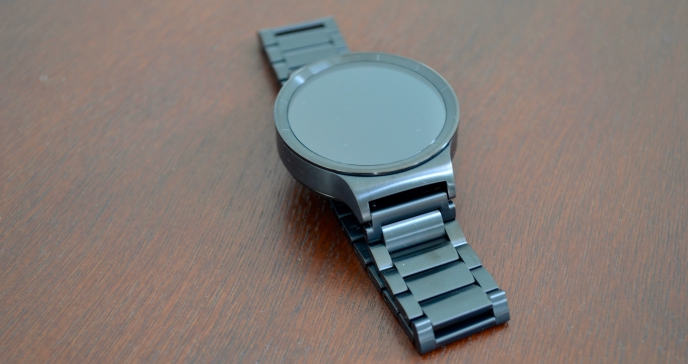 Before we discuss the watch's design, let's talk about its packaging. Normally, technology boxes are simple, some even utilitarian. They get the job done but after you've seen a handful, you're rarely surprised. The Huawei Watch is different. The minute I laid eyes on the box, it was clear the company was aiming to make a certain impression. Less a gadget box, the packaging is closer to a traditional high-end timepiece's, constructed of a soft-touch leather material that looked and felt the part. Inside, the watch is nestled on a familiar pillow, with the inscription "Timeless Design, Smart Within" hovering above on the underside of the lid. The order is important to note. Design is clearly first here. Huawei put a concerted effort into making the device one you would clamor to put on your wrist, rather than begrudgingly accept to.
The watch itself is well-built and handsome; the stealth black, all-metal version the company sent particularly striking. Huawei offers six variations, including silver, black and gold cases, with numerous substitute bands. The system used to swap bands is simple and easy, similar to that of the Moto 360. The metal review unit I received is priced at $449, but it goes for as low as $349. There's no doubt it's a robust price, but the quality is undeniable. Huawei crafted an impressive package and, throughout my weeks of wearing it, I received numerous compliments. On your wrist, it has a definite heft that takes getting used to. Once you do, though, it's a comfortable machine to have on for hours at a time. I never had any trouble with the metal band irritating my skin, and though the watch case is quite thick, it does not feel unwieldy. The clasp mechanism is straightforward, even adjusting the size is a breeze (though Huawei suggests you take it to a professional). There is no doubt, however, this is a dressier smartwatch than most. The black version certainly helped when dressing down, but I am hard-pressed to imagine it in a sporty setting. I found it to be unsuited for wear during exercise given the weight, thickness and metal build. It does have the necessary equipment on board to be a health tracker but, rather than enhancing my workouts, the watch became a nuisance and something I wanted out of the way.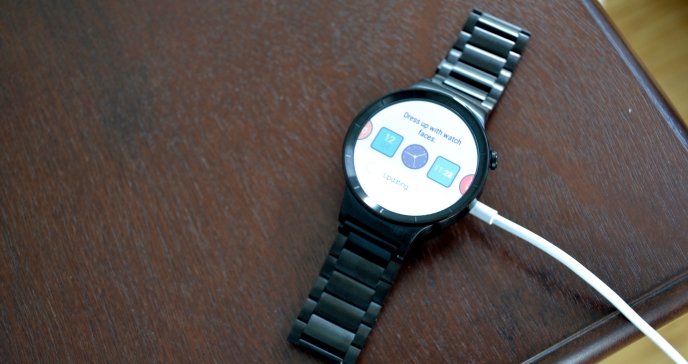 The screen is a 1.4-inch full-circle AMOLED display with 400×400 resolution that accounts for 286 ppi. It's covered in sapphire crystal, a first for an Android Wear device, so you can rest assured it will remain scratch-free throughout use. The screen is sharp enough for everyday use, with accurate colors and deep blacks. Using a black watch face with the black casing is wonderful, the device coheres together so you can hardly tell it's digital rather than traditional. My biggest complaint is that the screen is quite reflective, making it difficult to see in direct sunlight. The brightness options are enough to alleviate the issue, but the lack of adaptive brightness is a disappointment. For most situations, keeping the watch on its lowest brightness is plenty. Once you walk outside, though, things get more complicated. Huawei included a brightness toggle in the settings pulldown, but it takes at least three swipes to get to when needed. That may sound like a nitpick, but when you want to simply glance at your watch for the time while on a walk, and instead have to fiddle with settings to achieve the desired brightness, it's an annoyance. Otherwise, the screen is more than adequate, and I never experienced the "red tint" issue some owners have reported. The circular display worked well with Android Wear in my experience, as well. I never found myself frustrated by cut-off notifications, and the operating system did not seem out of place on the round form factor. Even so, if there had been noticeable clipping, the added fashion boost from the watch's traditional appearance is more than a worthwhile trade-off.
Another point of contention among Huawei Watch owners is quality of battery life. I can safely say that my review unit performed admirably in the battery department. As much as I would love for a smartwatch to last a full week like my Fitbit, I understand that we aren't at that point. In my time with the Huawei Watch, it never died on my wrist and I often went to bed with 30 percent or more. In fact, I only saw the low battery warning twice in my two weeks with the device. More often than not, I had the screen in the always-on setting, but on days when I needed extra juice, the option to have it turn off while not in use was helpful. The adjustment gives the watch roughly 20 percent more battery life at the end of the day. While the battery performed to my liking, the charging cradle is a different story. Easily my least favorite part of the hardware, the charging system Huawei chose is cumbersome and often takes multiple attempts to get everything correctly connected. The cord is also criminally short, and I often feared the watch would be pulled off my nightstand (which it was, several times). Though a source of frustration, the charging cradle is not a deal breaker, just in need of refinement. Eventually, smartwatches will last days on end, or so the dream goes. For now, charging nightly is not enough of a hassle to warrant grand complaints, and the Huawei Watch lasts long enough for you to feel comfortable all day.
Software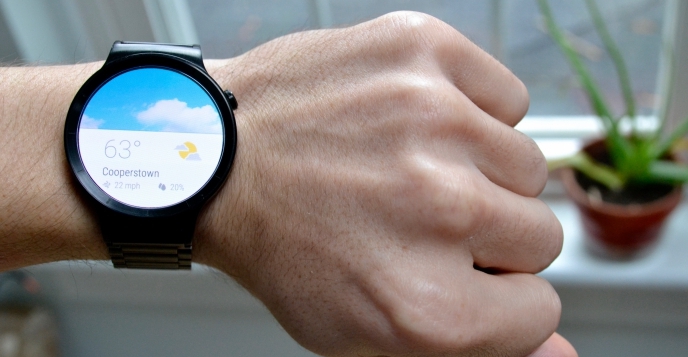 It is incredibly ironic that, given Android's continued issue with fragmentation, the biggest letdown of the Huawei Watch is its operating system, which is essentially the same as all other Android Wear devices. Like those that came before it, Huawei's smartwatch offers Google Now style cards with relevant information such as weather, sporting events, directions and more. Mostly, though, it is merely a notification manager. That is not the fault of Huawei, but a fact of the current state of wearables. Google has done a nice job designing Android Wear, it's both gorgeous and navigates intuitively, but it doesn't offer enough usefulness for me to encourage the purchase of any smartwatch, let alone one north of $400.
For Huawei's part, the watch handles the OS fluidly, the 1.2 GHz Snapdragon 400 processor and 512MB of RAM more than enough to handle anything thrown its way. The physical button, located at the two o'clock position, is satisfyingly tactile and offers a dose of convenience with a long press action that quickly jumps to the app drawer, or a double press to put the watch into theater mode. Huawei did its job well, now Google needs to continually improve Android Wear. Until it does, the bevy of Android smartwatches will remain superfluous accessories.
Verdict
It's a shame Android Wear is undercooked, but it's not alone. All smartwatches, Apple Watch included, have yet to break out and become something truly worth buying. Huawei built a great device, one that is beautiful and luxurious. It's also very expensive, and until the operating system matches the hardware, it's hard to recommend anyone lay down hundreds of dollars for something that will, at best, save them the half-second it would take to pull out their phone. If you are itching for a gadget on your wrist and have the money, you cannot go wrong with the Huawei Watch. If not, a smarter investment would be with a cheaper option like the Moto 360 or, even better, to wait until the software has something legitimate to offer.
---
Eric Walters is the Assistant Tech Editor for Paste. For more of his thoughts on technology, follow him on Twitter.