On paper, the HTC 10 and LG G5, two of the most anticipated smartphones of the year, are incredibly similar. They have the same internal specs, same QHD screens, similar camera specs and features, but the goals of these phones are wildly different.
LG surprised the tech world at Mobile World Congress when it revealed the G5, a flagship smartphone from a large manufacturer (albeit one without a massive market share) that had a modular design. It quickly won the hearts of many tech writers given its freshness, but much of that glow has faded since Barcelona, and many view the modular design now as more gimmick than revolution.
On the other end, the HTC 10 comes bearing no splashy new features looking to set the smartphone market on fire. Instead, it is the result of a struggling company trying to put its best foot forward and, in many ways, the phone succeeds at doing just that. If the LG G5 is the hip young kid in smartphone town, the HTC 10 is the no fuss veteran who knows what it is and what it's here to do.
But which phone is best for you?
Design and Build

Neither the HTC 10 nor the LG G5 have show stopping designs. That's not to say they're ugly, just they don't bring anything particularly new to the table aesthetically. Such is the tune for most flagship smartphones these days; they are generally slabs of aluminum and glass differentiated by small distinctions that each OEM adds to the mix to separate its device from the masses.
The HTC 10 is the more handsome device here. It looks like a greatest hits compilation of past HTC designs, which is a very good thing. It most closely resembles the original HTC One, but of course now features a full aluminum unibody. The big design flourish this year are the pronounced chamfered edges, which sharply frame the back and catch light in interesting ways. It's not a revolutionary design choice, certainly, but it gives the 10 a little individuality while retaining the company's rich design history.
In the hand, the 10 feels as you would expect an aluminum HTC flagship to. It's great to hold for extended use given its sloped back and overall compact package. HTC cut down immensely on bezel space this year, which makes the 5.74×2.83-inch body feel even smaller than it is. For anyone who wants a phone that's reasonable to use in one hand, but still offers a good multimedia experience, the 10 is a great option.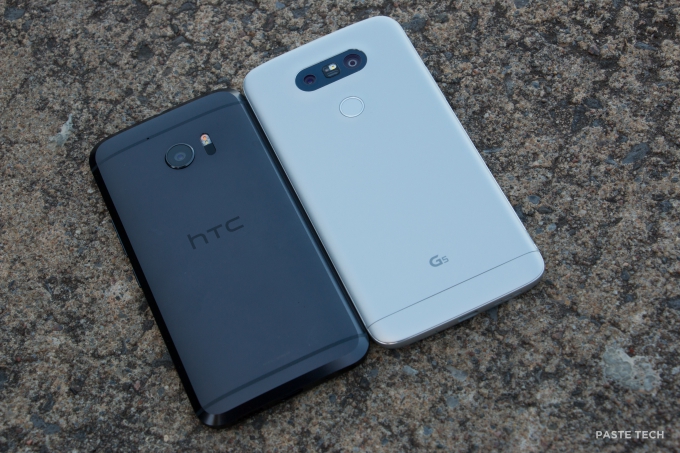 LG stepped up its hardware game with the G5, it's first metal unibody phone. There have been reports about whether the G5 is actually all-metal, but the company shut down those rumors stating its flagship is made of aluminum alloy, but was crafted been in a different way from most aluminum phones. Comparatively, the G5 feels unlike any metal phone I've used. It still feels very nice in the hand, but the texture and weight are peculiar. To the touch, the G5 feels closer to plastic, but it's hard to make a grand statement without cracking it open for further inspection.
The defining feature of the back panel is the camera hump, which I think makes the phone look (thanks to the dual camera setup) like a space alien or evil robot. The front fares much better, and I actually love the way the front glass panel continues to the top of the device and slopes off. It's a very simple, but elegant touch.
Durability is a question with both devices. Not that they may break or fall apart with regular use, but how well they will handle drops and accidents. I did not intentionally test this with either phone, but during my time using them, I accidentally dropped both and each has a few nicks to show for it. The moral is: if you're anal about the outward appearance of your phone you'll want to throw a skin or case on the G5 and HTC 10, respectively.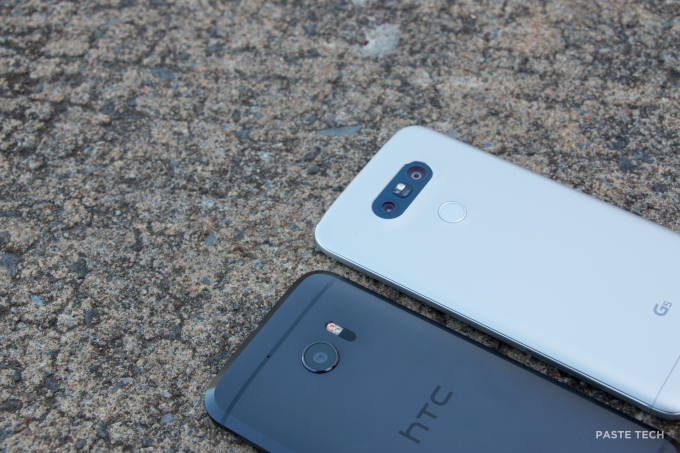 The big difference in hardware between these two devices comes down to their ambitions. The HTC 10 is supremely built, not a single seam out of place. It's a solid piece of machinery that feels meticulously crafted. The G5 on the other feels a bit haggard, rough seams and edges mar an otherwise excellent in-the-hand experience. All that makes sense when you consider the lofty goals of the G5 and it's modular design. Some refinement has been sacrificed in the name of innovation. On the other end, HTC's goal was to build a perfect smartphone with the 10, and the hardware reflects that.
I don't knock LG for swinging big with the G5, even if it means a less polished final product, but the jury is still out on how useful the modules will be and how many companies will even build units beyond the two LG had ready at launch. If you think modularity is the future and want to be in on the ground floor, LG is the boat to board right now. For me, and I think for most people, there simply isn't enough benefit from the modules currently available for the G5 to suggest the device based solely on that merit. When considering the entire package in a strict comparison, it's clear the HTC 10 comes out on top for overall design and build quality.
Display and Fingerprint Scanner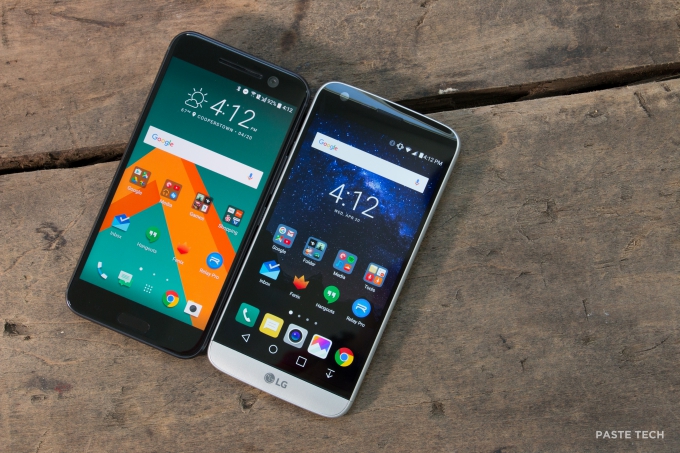 As is customary for a flagship in 2016, both the LG G5 and HTC 10 come with fingerprint scanners, and screens. I have no idea why I've put these two together in a category besides that A) the categories are meaningless and B) I wanted to talk about both.
Both phones feature QHD LCD panels, which is impressive given the state of AMOLED takeover in the technology world. Most folks tend to lean toward AMOLED, as do I, but LG and HTC have always put dynamite displays into their devices and the case is no different here. The G5 and 10 offer crisp visuals with fantastic viewing angles and good color reproduction. The 10's screen does offer more saturated colors, but whether that is tangibly better than the G5 is up to your preference. No matter which phone you're using, the experience of day-to-day tasks, gaming, watching video, etc. is excellent on both devices.
The G5 does tout one feature the 10 lacks: an always-on display. I tested this for a few days and found it to be extremely useful. Glancing at your phone to see the time or what notifications you have (without any specific information, that is) was great. Unfortunately, despite LG's claim that the feature only sucks away 0.8% battery power every hour, my testing showed a much more significant affect.
On days with the always-on screen enabled, standby time for the G5 was abysmal, the phone losing 30-40% over the course of six hours or so without ever being picked up. Turning off the always-on display greatly improved battery life and brought the G5's standby time more in line with other Android 6.0 phones.
The fingerprint scanner game is a different story than the equally matched displays. I didn't think the G5's scanner was slow until I compared it directly against the 10's. It's simply no contest when you place the two next to one another, but most folks would be happy enough with the G5's scanner so long as they were unaware the grass was decidedly greener elsewhere.
Performance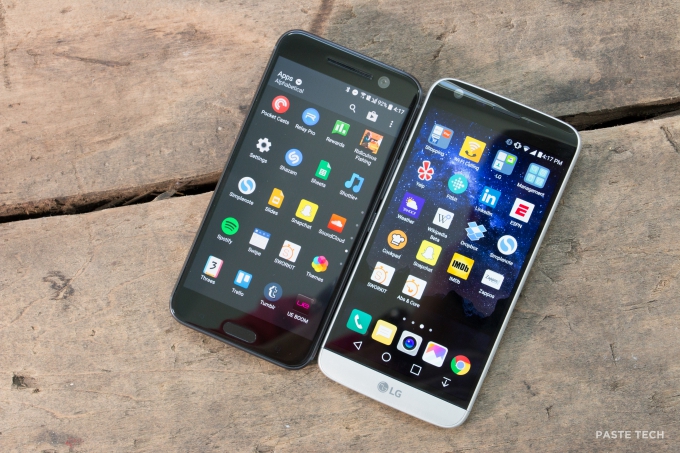 Unsurprisingly, both phones are absolute powerhouses when it comes to performance. Each is driven by a Snapdragon 820 and 4GB of RAM and they are virtually identical in terms of speed. I tested the 10 and G5 against each other for days and could not find any edge for either device. Launching and loading apps is incredibly fast, moving about the OS is smooth and fluid and gaming is a breeze.
Both showed a significant step up from the Nexus 6P, my usual daily driver, which released in fall of 2015 with a Snapdragon 810 and 3GB of RAM. Of course, the 6P is still a fast phone and will be for some time, but I was surprised how much quicker LG and HTC's latest handled in comparison. The 820 is enough of an improvement over the 810 to be easily noticeable for someone coming from the previous generation chip.
With the gargantuan internal specs these devices boast, you can rest assured they will last and perform well for a good, long while. It's hard to believe we are at the point where smartphones come with 4GB of RAM standard, but I'm not complaining.
Software

While the HTC 10 and G5 both feature custom skins built on Android 6.0, they take very different approaches. HTC has pared back its Sense skin in recent years to become, essentially, a remixed version of stock Android. Many of Google's design touches are intact and HTC even worked with Google on the 10 to reduce the amount of duplicative apps. There are still some HTC apps at work, but they don't stick out like sore thumbs. HTC has good design sense and a desire to be on par with Google and its material design. It's so close to stock, in fact, that I wonder what keeping Sense around does for HTC.
Little is offered to differentiate it from standard Android and what is there (like BlinkFeed) is minor or easily removable. I'm not saying HTC should push inane software features down our throats (please don't) but if it is intent on keeping Sense alive, I'd like to see a little more improvement on the feature side of things. Other than that, and a few minor grievances (namely the absurd home screen grid system which wastes copious amounts of space), Sense is a great Android skin and likely the best skin on the market.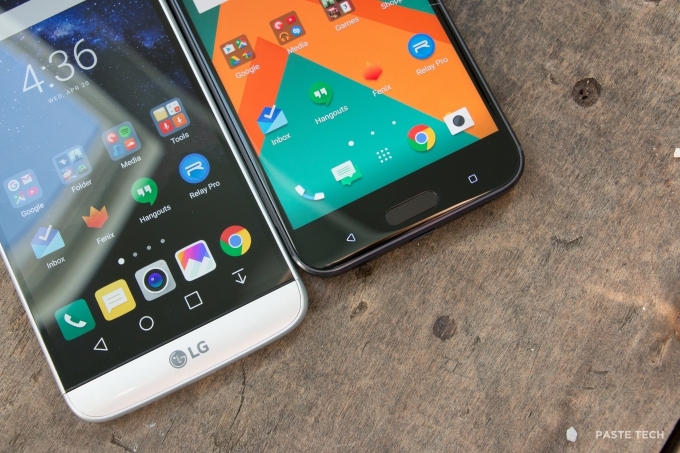 The story with LG's software is not as impressive. The G5 UI is not in the same league as Sense, and lacks the visual elegance. It's not cartoonish, but it won't wow anyone on looks alone. For what it is, it performs fluidly and is generally pleasant to use if you can get past (or happen to like) the aesthetic. It has a far better grid system than Sense, but has done away with the app drawer in the stock version of the software. You can download an updated version that includes the feature, but (to my surprise) it's not that big of an omission.
LG has a feature that lets you hide most unwanted apps which cleans up the home screens and helps limit the effect of not having an app drawer. For folks who love customizable options, which many Android users are, LG does give users more control than HTC. You can customize the on-screen buttons, the color of folders, the grid size and much, much more.
One thing to consider with both of these devices is they will come with garbage carrier apps, unless you buy unlocked editions. But that's about the only thing equal between the G5 and HTC 10 in the software department.
Camera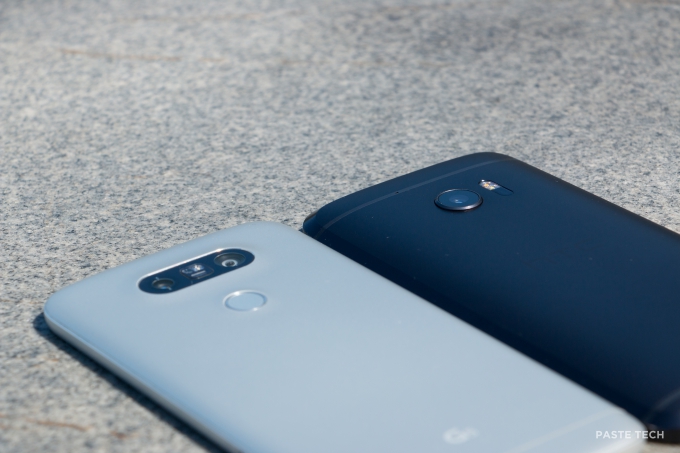 Perhaps the biggest question surrounding the HTC 10 at launch was whether the Taiwanese company could put a competitive camera in a smartphone. The answer is a resounding yes. It is competitive, but next to LG's stellar camera technology, it's clear there is still ground to make up.
Both cameras handle various lighting situations well, and offer photos with good detail, color reproduction and decent dynamic range. When you put them next to one another, it's clear LG's camera gives crisper photos with far better color reproduction (the 10's camera tends to desaturate the scene too much) and dynamic range, however.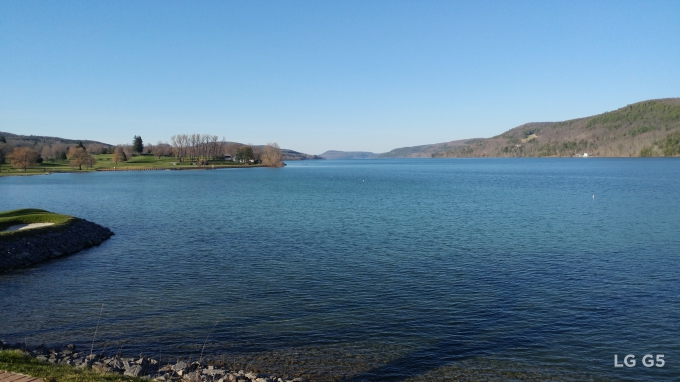 The G5 also features a dual-camera setup with an 8MP wide-angle shooter to go along with the 16MP primary camera. On the HTC side, there is just the single 12MP camera on the back, along with a 5MP shooter on the front. Each camera comes with Optical Image Stabilization, laser autofocus, f/1.8 aperture and HDR mode, essentially any feature you'd want in a top-of-the-line camera.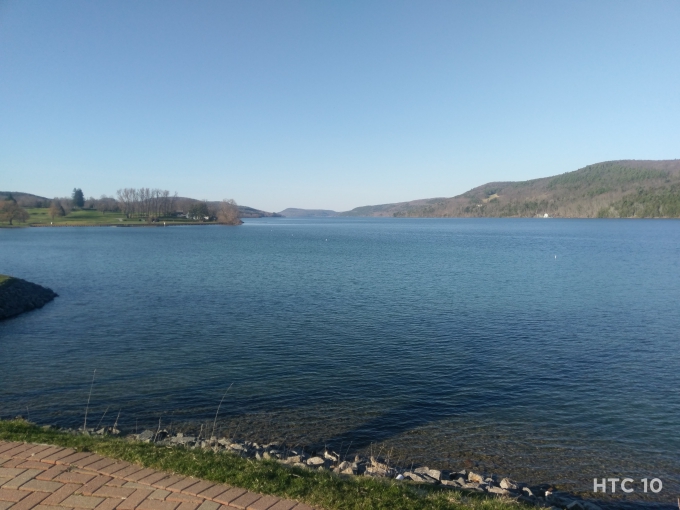 Where the back cameras show a distinct edge to LG, the front-facing selfie cameras are no contest. HTC delivers an impressively good front-facing camera on the 10 that laps the G5's 8MP selfie camera with far better detail and far, far better color reproduction. It's possibly the best front-facing camera on any smartphone.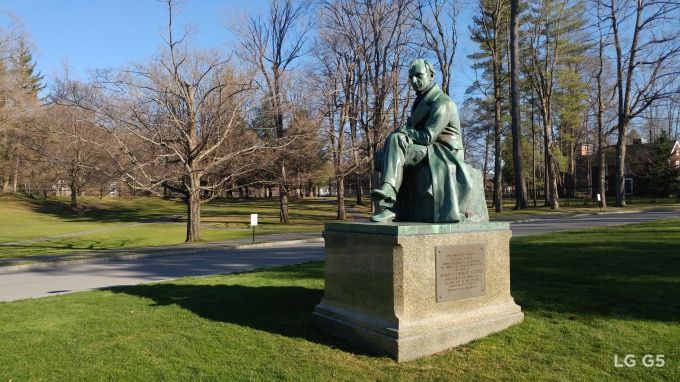 The camera apps at work are very good and intuitive, as well. LG's in particular is lightning fast, launches and is ready to take a photo nearly instantly, and then snaps photos almost instantaneously. The HTC app is slower to launch, and can be slower to take photos than the G5, but it would still work well for most people in most situations. I have had some trouble with the 10's autofocus being finicky, but in side-to-side tests the autofocus systems of the 10 and G5 performed identically.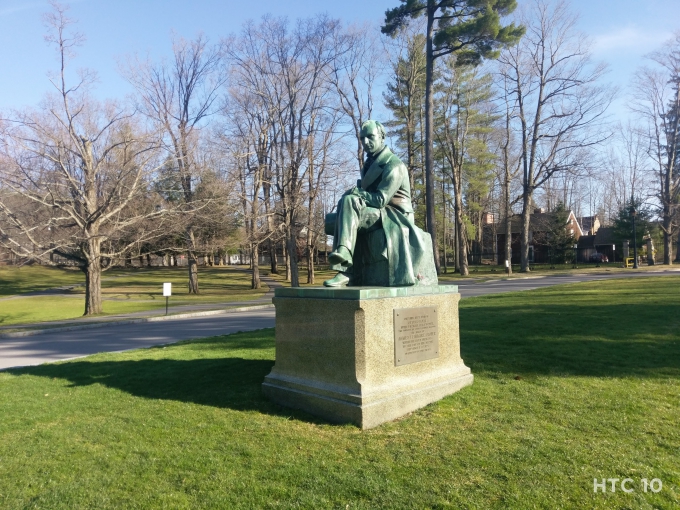 Each app also has a pro mode, which gives users extra control over elements like ISO, white balance, shutter speed and focus. The 10 benefitted from this more so, particularly in low light conditions, where the camera tends to artificially lighten a scene too much. Both cameras can also shoot in RAW, and up to 4K in video mode.
There is no doubt that HTC put serious work into the camera on its latest flagship, and the results show that work. It's tough for any phone maker to go up against LG, who has put some of the very best cameras in smartphones for the last several years. The 10 did not get blown out of the water, but there was a clear and decisive winner.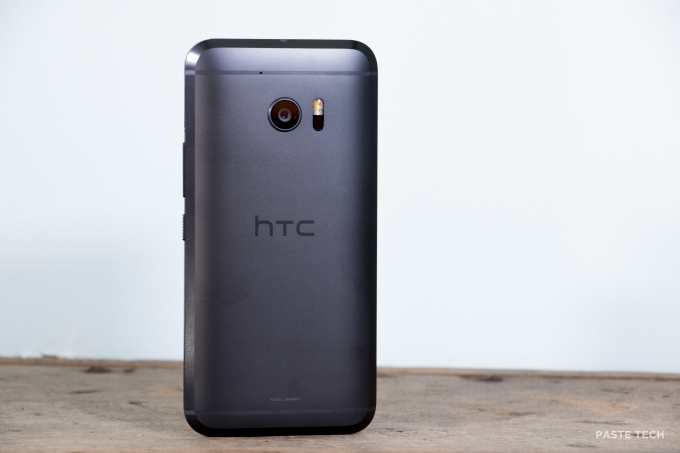 The line between the HTC 10 and LG G5 is as fine as can be, but when you consider the two devices as a whole, their highs and lows, brights spots and dim, it becomes clear which is the better overall phone. HTC set out to create a perfect smartphone with the 10 and it's nearly done that. There is no doubt that its camera is outclassed by the G5, but in every other discernible way the 10 is the more polished, more complete device. The only thing the G5 has to draw people away from HTC's latest flagship is its singular modular design, but right now that's more a gimmick than anything. For a rock solid smartphone experience, the answer is the HTC 10.
Overall Winner: HTC 10