Over the years, I've acquired quite the headphone collection. Whether they're from old assignments at work, or just pairs that I've bought of my own accord, I have a pair for basically every device I own. It's tough to really figure out the best headphones or any given individual, since there are literally thousands out there, across a wide spectrum of brands and price ranges. Hovering around the $150-$200 range, Axel Audio's new Soundscape FX line isn't a bad option.
Axel's big draw is that through the use of a small web app, you'll be able to divine your ideal listening conditions, which in turn direct you towards one of three types of sound. There's Core (balanced), Deep (bass), and Pure (focused on details).
After taking the test, due to my affinity towards hip-hop and electronica it recommended that I pick up the Deep line, but Axel ended up also sending me Pure as a baseline comparison. The app itself is cool enough on its own with consumers just putting in their desired artists, but the best part is probably the Spotify-enabled portion, which instantly reads your listening habits after giving it permission.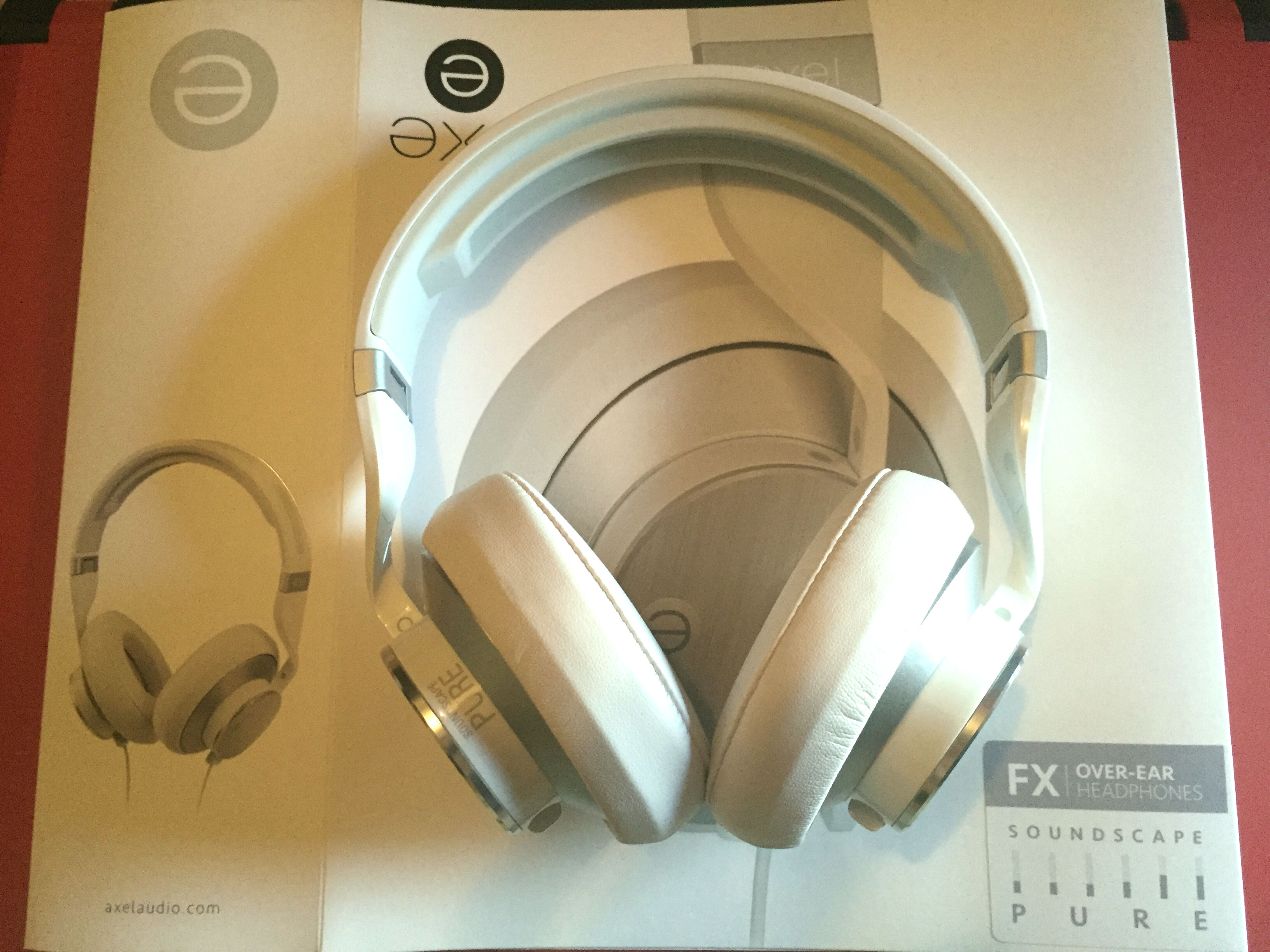 After receiving the sets, I was impressed at the packaging right off the bat. It includes a carrying case, alternative headband option inserts, a carrying case, and easy-to-follow instructions. The headphones crumple up into a nice form factor shape for storage, and the case conveniently carries everything.
They also passed the initial comfort test, as the top cushion didn't press against the top of my head, and the cups fit comfortably over my ears. It's a soft material that also feels like it has some weight to it, and the entire band is easy to adjust for multiple head sizes.
It felt a bit unwieldy at first, as you need to plug the audio cable into both the left and right sound channels located under each cup, but it was easy enough to pick up. Each side has an easy-to-read letter (L or R), as do the audio cables.
After trying out some tracks, I was pretty satisfied with Axel's recommendation of the Deep setting. The bass is strong but not overwhelmingly so, even on heavy songs like Ice Cube's "Pushin' Weight." The lows in general aren't overpowering at all actually, especially compared to my Pro Beats sets (among others), which literally shake during bass-heavy sections. Unlike those however, Axel Audio's line doesn't require power or charging.
I also had a chance to try out the Pure unit, which sounds exactly as advertised. The lows are more normalized, and I think this will be the best choice for most people who have general listening habits and don't gravitate towards a specific genre. Because of the focus on all levels of sound, I actually heard some nuances I hadn't heard before, like crowd chatter dialogue for songs like "What's Goin' On?" But again, the differences weren't astronomical between Deep and Pure, as the bass for the former wasn't so overpowering that it eliminated other types of sound.
FX isn't the most sophisticated line on the market, and we're far from an on-the-fly equalizing unit that's affordable, but I like what Axel Audio is going for with the different categories of sound. Based on my time with both the Deep and Pure models I can definitely recommend giving them a shot if you're looking for a mid-level headset.
Buying a pair of these will run you $175 for the Pure, Core, or Deep varieties, and they come in black or white. Axel Audio also has a separate "ID" line for $145.