Hexagon Makes Cycling Safer by Combining Turn and Brake Signals, a Rearview Camera and More into One Gadget
Tech
Features
Hexagon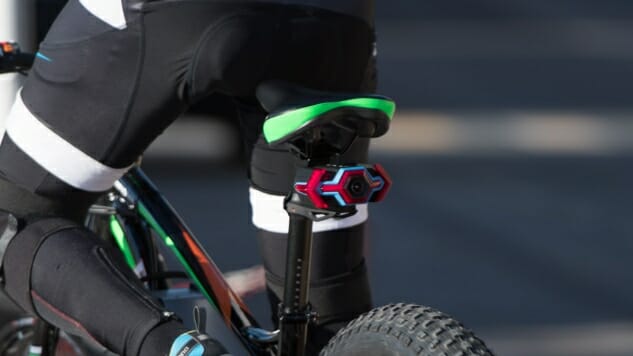 Cyclists have a wealth of different gadgets at their disposal. It's possible to attach cameras to your helmet, install turn and brake signals, and various other things to your humble bicycle. How about a gadget that incorporates all of those features in one? That's the thinking behind Hexagon.
The futuristic looking gadget mounts under your bicycle seat with minimum hassle. It immediately provides you with everything you could possibly want while riding out and about. Its rear view camera is viewable from your mounted smartphone, with video constantly being live streamed to your friends. Its sensors can detect accidents meaning an SMS text can be sent automatically to your designated emergency contacts any time there's a problem.
Alongside that, Hexagon provides you with automatic stop, turn and motion signals meaning drivers around you know exactly what you plan on doing. It's far safer than having to raise a hand to show you're turning left or right. The integrated app does more than just help you view what's going on behind you. It'll also track your average speed, the distance you've covered, and the calories you've burned. It even offers a navigation system.
Keenly designed with cyclists in mind, it makes sense that Hexagon has been created by a team of cycling enthusiasts. "An accident [inspired] Hexagon," explained Andrew Orekhov, CEO. Having been hit by a car while his girlfriend was cycling ahead of him, he wondered what would have happened if she hadn't been there. Those thoughts led to him considering the importance of a sensor detecting crashes or a rear view camera. As he explained, it was the cycling equivalent of the apple falling on Newton.

The idea for the name came from a similar way of thinking, due to the geometric form of the camera window, ensuring its stylish and vital way of showing off everything around you.
Given its unique take on cycle safety, it was a natural fit for an Indiegogo campaign. It simultaneously provided Hexagon with substantial funding, while also offering "attention from all over the world."
On the site, Hexagon is available in two varieties – Hexagon and Hexagon Light. The key differences being that Hexagon offers turn signals. Hexagon Light also doesn't include a wireless remote control meaning you can't take photos during movement or manage switching the camera off or on. Instead, it's solely used through the Hexagon app. It also doesn't offer the option of additional batteries which increase Hexagon's operating time. Currently, on a full charge, both devices last about 3 hours with the camera operating or 12 hours with the camera switched off.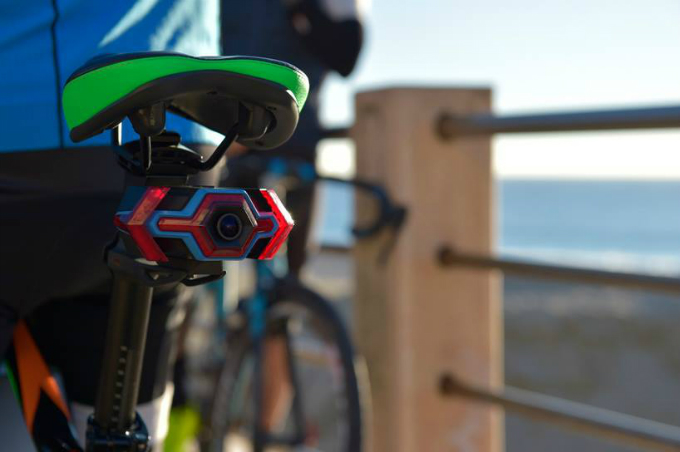 The main selling point for Hexagon, however, is its turn signals. They're visible in sunny conditions as well as at night times with the brightness continuously monitored and adjusted for the surroundings. It'll ensure you're safe at all times.
For the avid cyclist, it combines pretty much everything you could want from a safety gadget, while also being pretty fun. Looking through past cycling routes is bound to be entertaining, especially if you're able to travel far during the summer months.
As Orekhov explained to us, the firm's future plans include Octagon— a front smartphone holder that provides a front facing light, horn, and turn signals. It'll also offer a power bank, much like the Hexagon unit already provides.
Currently available via an Indiegogo campaign, $75 plus shipping gets you one Hexagon Light while $99 plus shipping gets you a full Hexagon unit. The campaign runs until April 28 and has already surpassed its goal.