In 2011, the original Galaxy Note, which was deemed a device too large to ever be considered truly mobile, housed a 5.3-inch screen.
That was only the beginning.
Following Samsung's success, the rest of the mobile phone industry realized the hunger consumers had for devices with mammoth screens, and display sizes stretched further and further over the next three years, forcing many people to question when enough would be enough. At what size would screens finally stop growing?
The answer seemed to come in November 2014, when Google released its hotly anticipated follow-up to the beloved Nexus 5, a Motorola-built Nexus phone that saw the Mountain View tech giant enter the large screen race in a big way. Codenamed "Shamu," users knew that year's Nexus was going to be a whale of a phone, and it did not disappoint. With a 6-inch screen, the Nexus 6 was an overgrown Moto X that proved to be too much of a good thing. Most reviewers noted that, while a powerful and handsome machine, the 6 was simply too large to be a comfortable everyday device.
Since 2014, screen sizes have plateaued, with most devices hovering around 5-inches, larger phones vacillating between 5.5 and 5.7 respectively. Also in that time, phones have continued to get thinner and OEMs have gotten smarter about how to build around large screens, finding ways to pack in massive screen real estate in a way that doesn't make the device feel unwieldy. So, is it time to revisit the 6-inch phone, and could we see a phone that goes beyond that limit?
Enter Huawei. The Chinese gadget maker has made quite the name for itself in recent years with phenomenal hardware and, with the Mate 8, it's making the case that a 6-inch phone can be a reality.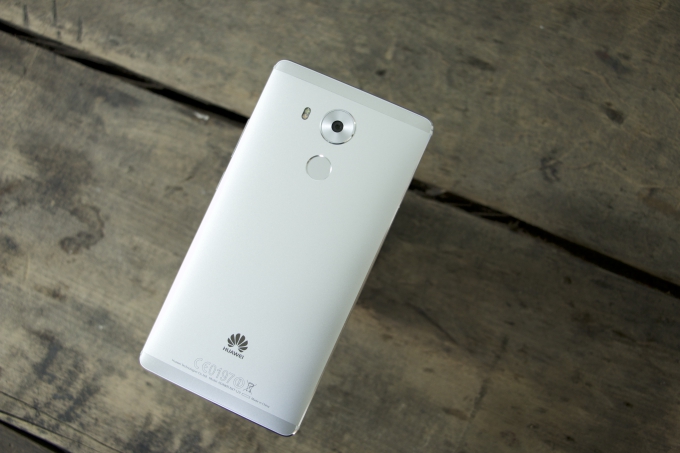 With every great Huawei device in recent memory, from the Nexus 6P to the Honor 5X to the Huawei Watch, the Mate 8's hardware is the drawing factor. It's every bit as premium as its price tag suggests, with an aluminum back and glass front that offer a great fit and finish, great in-the-hand feel and fantastic design. It's a simple, elegant design marked by chamfered edges, a gentle slope of the back, minimal bezels on either side of the screen and the top and bottom. The glass bezels on the front are characterized by circular etching which adds a dash of style, and also ties nicely into the camera housing on the back which features a similar pattern.
As with many smartphones in the era of questionable thinness, the Mate 8 does have a camera bump which, at first, was imperceptible to my eyes but began to rear its head during my weeks of testing. It's not egregious, but also doesn't allow the phone to sit flat on a table and, coupled with the gentle curve of the rear exterior, causes it to rock back and forth during use.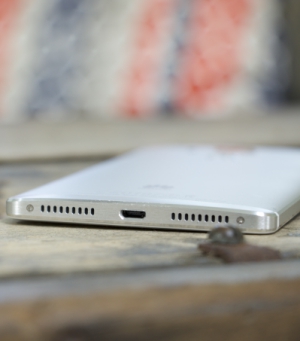 Beneath the camera housing is a fingerprint scanner, nearly identical to the 6P's in both finish and effectiveness. It's speedy and accurate, easily up there with the best scanners on the market. On the right rail sit the power button and volume rocker, which lean toward the mushy end of the spectrum but aren't the worst buttons I've used. A major disappointment, as has become the trend, is found with the Mate 8's singular speaker. It's decently loud and offers okay sound, but is easily covered using the phone in landscape and even, at times, in portrait.
With the various distinctions of the Mate 8's hardware out of the way, it's time to talk about the centerpiece. The design here is clearly minimal and understated to highlight the massive 6-inch, 1080p IPS LCD screen. There is no denying it is massive. While using the phone out in the world, people commented on its size with abandon. One person even said it looked like a cartoon phone.
There is undoubtedly something inherently silly about a phone this size, but I am an inherently silly person and thus it suited my needs and desires well. I am no stranger to large phones, using a Nexus 6P as my daily driver, and I am the consumer Samsung put its faith in when it first pushed the industry in this direction. I love large screens. I don't even care if there isn't any real utility behind the size, I am simply a sucker for real estate. Therefore, I loved the size of the Mate 8. Looking at its massive screen made me happy, and that offset any sort of annoyance it's size may have caused.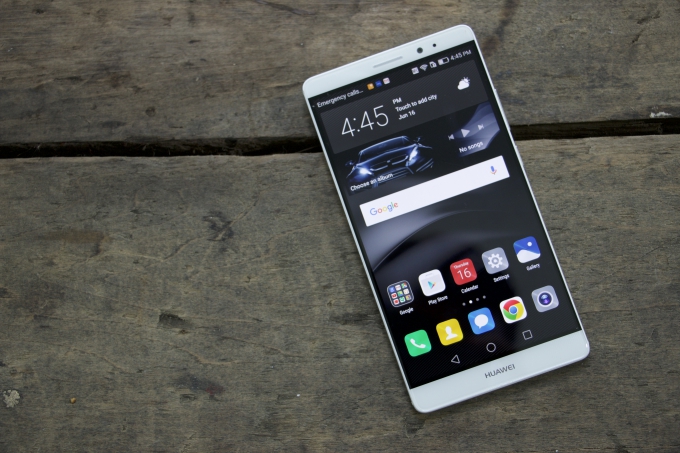 That said, I understand this is a phone for a niche. It's a phone made for people like me, and not the general population. It's awkward to use in one hand, though I found it to be no more so than a 5.7-inch phone thanks to its willowy frame, and, at least until Android N rolls around, the Mate 8 offers nothing in the way of real use for being so large.
Huawei, despite it's heavily skinned software at work here, did not include anything like Samsung has for years with the Note line. Despite that, I never felt ridiculous using it, even with ribbing from friends, but I imagine some would. The bottom line, though, is this is a phone that is usable everyday, unlike the Nexus 6. You simply need to work on your hand aerobics.
One of the serious benefits of a massive phone is the potential for an equally massive battery. Thankfully, Huawei did not disappoint in this department. The Mate 8 comes with a 4,000 mAh battery inside, more than enough for just about any scenario you could run it through. Even in my small U.S. town that notoriously devours batteries thanks to often poor cell reception, the Mate 8 performed admirably, easily giving me a full day, usually needing to be recharged around the 20-hour mark. When cell reception was better, or days when it rarely left the safety of my home Wi-Fi connection, the Mate 8's battery lasted and lasted. This phone can take you to two days if you really need it to, and the beauty is that you don't even need to try terribly hard to get it there.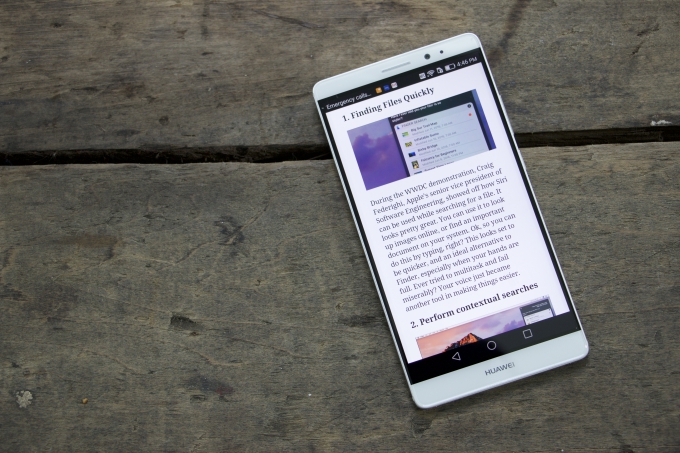 While one of the better 1080p displays I've seen in recent memory, with great sharpness, good color reproduction and superb viewing angles, there is a significant portion of me that wishes Huawei had sprung for QHD here. There is nothing wrong with a 1080p screen, but once you've gotten used to a QHD display it's hard to revert back. Not much is lost, however, and the multimedia experience on the Mate 8 is still, as expected, awesome.
A phone like the Mate 8, with a screen the size it is, is made or broken by how its panel performs. The extra resolution of a 1440p screen would have been welcomed with open arms stretched to either side of the horizon, but there is no doubt that Huawei delivered a capable screen with its handsome behemoth of a phone.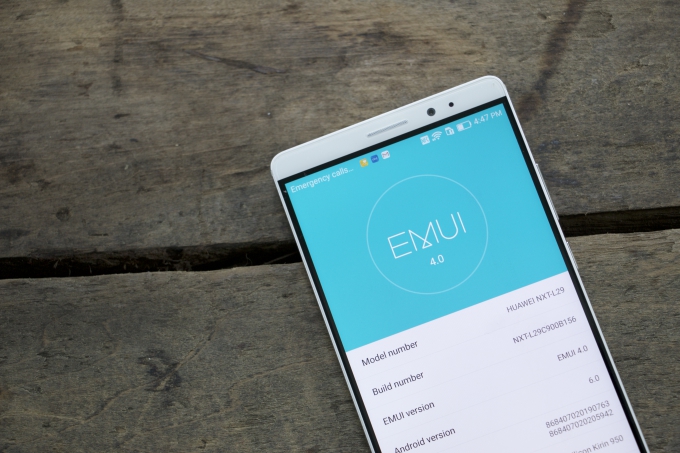 For all it packs in hardware, Huawei lacks just as much in the software department. My experience with the Honor 5X was nearly ruined by my distaste for EMUI, and while my overall feeling hasn't changed significantly, it has tempered somewhat. I still abhor much of the design of EMUI, from the cartoonish notification and quick settings window, to the square app icons (which are used to make the entire aesthetic more uniform, but don't aptly compute with some applications making for a visual hodgepodge of good and awful icons), to the lack of an app drawer and on and on.
Luckily, most of my hatred is purely graphic, though EMUI does have a few changes to Android that are downright user hostile. The most noticeable example is the rearranging of system settings. My prime example of the chore Huawei has made out of checking something simple about your phone is battery percentage. Unlike most Android phones, the Mate 8 does not show you exact battery percentage when you pull down the notification shade. Instead, it's hidden in the settings under "Advanced Settings" which took me far longer to figure out than I'd like to admit. Thankfully, there is an option to display the percentage within the battery icon on your notification bar, and there are options to fix a lot of my frustrations with the software, but the issues shouldn't be there in the first place.
Many of the software issues could be fixed purely with simplification. Huawei should take a page from its own book, make note of the beautiful hardware language it's built numerous successful phones on by offering a simple, elegant design and apply that to its software. Or, just let Google handle it.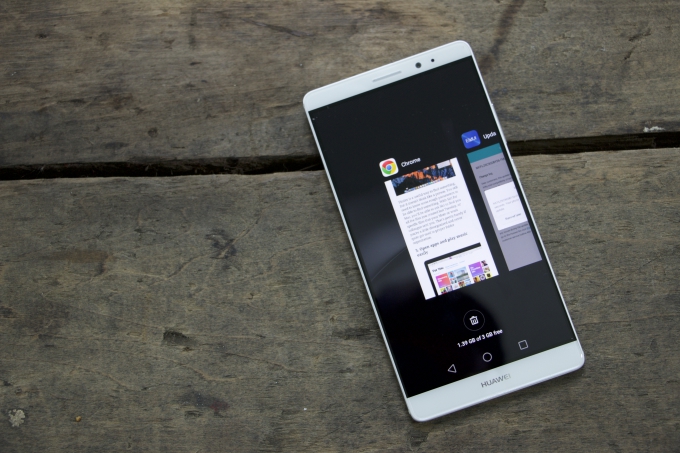 For what it is, EMUI is mostly benign and doing something as minor as changing the app icons made my daily experience perfectly fine. The good news is that it is still Android, so you can customize things with various launchers and the like to find a perfect fit.
Performance wise, the Mate 8 stands up to the best phones of last year, but doesn't quite reach the same heights set forth by Snapdragon 820 machines like the HTC 10, LG G5 and OnePlus 3. Powered by the HiSilicon Kirin 950 with 3GB of RAM (4, if you're using the 64GB variant), the Mate 8 has enough under the hood to handle everyday activities, and heavier loads like graphic intensive gaming and significant multitasking without too much huffing and puffing. I ran into slowdowns every once in a while, but rarely were they crippling and never did they come often enough to reveal an underlying pattern.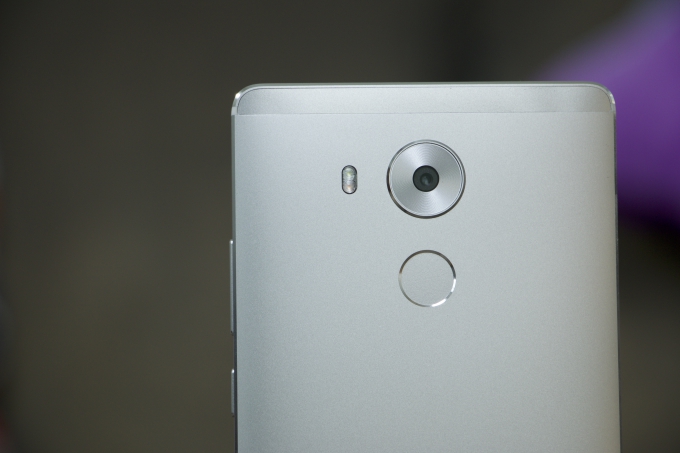 Finally, the camera. The device comes with 16MP primary camera, bolstered by an f/2.0 aperture, OIS, phase detection autofocus and dual-LED flash. During my time with the phone, I was impressed with the camera's ability to produce photos with good quality and color reproduction in adequate lighting. On a sunny day at the beach, the Mate 8 was able to capture a good amount of detail from the water, sand and even the hills in the distance. Dynamic range was nice, capturing good detail both from the cirrus clouds in the sky and the shadowy trees along the shorelines.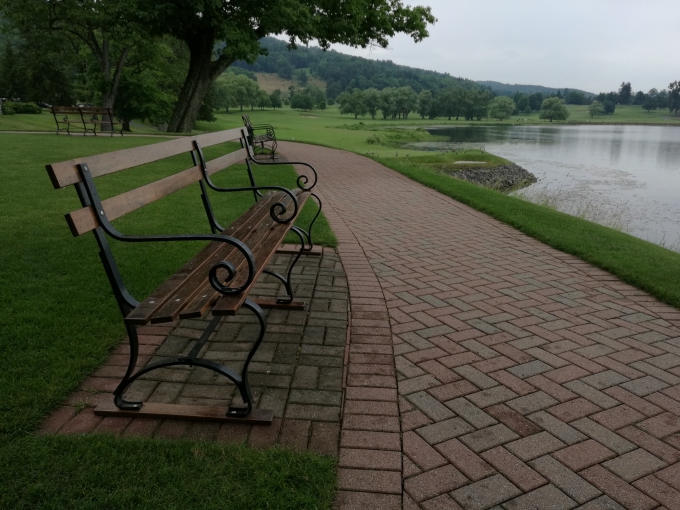 I am not the harshest judge of phone cameras, knowing most people will use them for sharing on social media and Snapchat, but I came away feeling confident in the Mate 8's camera to give me quality photos when the lighting was good. When things grew dimmer, the camera faltered somewhat, particularly with sharpness, and when the situation grew terribly dark, it fared like most smartphone cameras. You will get a photo, that is certain. Will you be impressed with that photo? Not likely.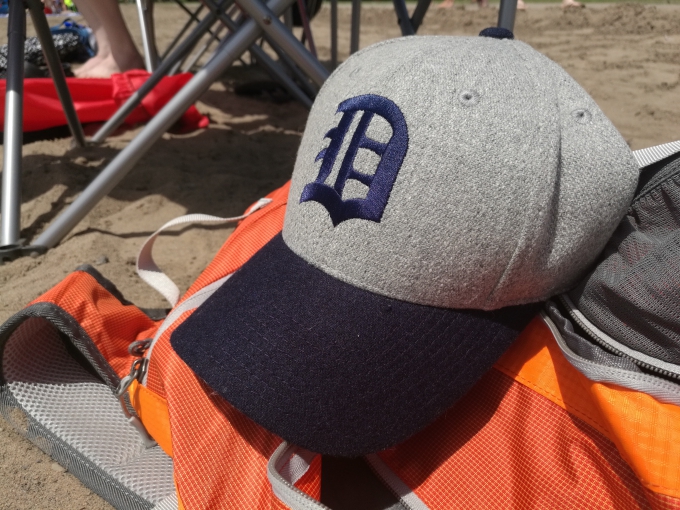 On the front you'll find an 8MP camera that does an adequate job taking a decent selfie, though colors are fairly washed out and detail is middling at best. For the quick Snapchat it'll do, but you won't be bragging to your friends about it.
The Mate 8 is not planned to come to the U.S., meaning a large number of you won't even have the opportunity to purchase it if you wanted to. Therefore, I looked at my time with it the same way I would a proof-of-concept device. What Huawei's phablet proves to me is that a phone with a 6-plus-inch screen is a real possibility. The Mate 8 didn't feel cumbersome or overbearing thanks to its phenomenal hardware and, once Android N hits this fall, a phone with a screen this size could be a real utility.
It's almost a perfect phablet. If it weren't for subpar software and a camera that performs inadequately in low light, I would seriously consider this smartphone as my daily driver. Huawei has been a company to watch for some time now, and with its latest lineup of smartphones, it's hard to look away.