When it comes to smartphone photography there's an app for correcting almost everything. With apps like Camera Plus, Snapseed, and VSCO cam, you can fix up anything from a slightly underexposed photo to a shot that just came out completely yellow. Now Mjagielski is out with a photo-editing app called SKRWT that offers a completely something completely new: The ability to remove lens distortion and shift perspective.
Most smartphones have a wide-angle lens on the camera to capture spanning landscapes and, sadly, group selfies. At the same time, these lenses render photos with crooked lines that can make image look terribly distorted. It's a small but noticeable problem that's been a part of smartphone photography, and the ability to straighten out or distort images has not been available on mobile devices—even with Adobe's Lightroom Mobile.
Now with SKRWT, Mjagielski says their app will finally add the "missing link in high-end smartphone photography" and let users create perfect images. The app opens to a simple and flat splash page from which users can take a new photo or pick one from their image library. Afterwards, the interface jumps to an editing screen with a scrollable bar of perspective shifting options at the bottom.
Unlike other apps that are overloaded with options, SKRWT is completely focused adding or removing distortion from images. These include tools to straighten out any round barrel distortion image. Alternatively, users can also shift the perspective of the image to make it look as though they were looking up or from the right. There's even a way to make images bulge from the center to emulate the effect of a carnival mirror, or edit the image so it looks like the world was imploding from the center.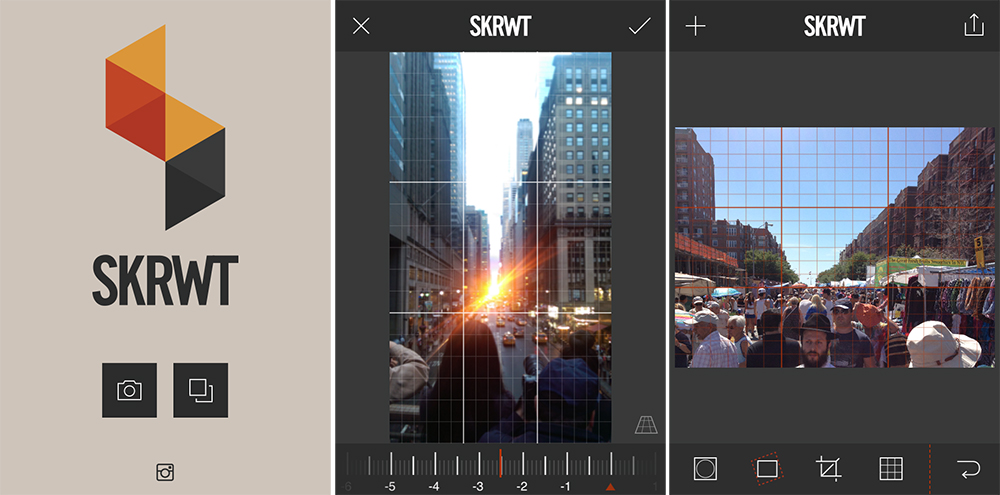 Of course there are also options to crop and rotate images. Furthermore, the app features the ability to remove vignetting, which causes the corners of the photo to darken. The only knock we have against the app there isn't any quick way of cutting the image easily. Instead users can only cut down the image using a crop tool without a movable frame we have seen on so many photo editing apps before SKRWT.
Although all the tools are unlabeled, it's quick and simple to experiment. After smartphone users are all done adjusting their image, they can post it directly to Instagram or save it in full-resolution to their camera roll.
SKRWT is a very specific tool and one of the only available apps that can correct lens distortion and shift perspective. It's an amazing app that finally corrects a problem that's been plaguing smartphone photography since pretty much forever. With a simple interface anyone can pick up we'd recommend the app for both casual smartphone shooters and serious photographers alike.
SKRWT is an iOS app available for $1.99 in the iTunes App Store. Kevin Lee is a freelance writer who types all day and listens to his ever-expanding music library. Follow Kevin Lee on Twitter at @baggingspam.