Windows' Mixed Reality Dev Kits Up for Preorder; Motion Controllers Announced
Photos via Microsoft/Windows
Tech
News
Mixed Reality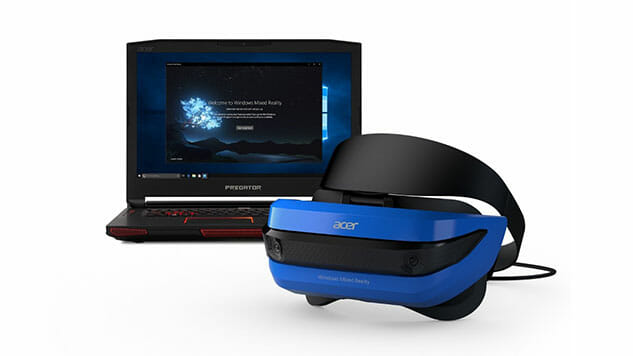 Welcome to the love child of virtual reality and augmented reality: mixed reality. Microsoft and Windows have you covered, too. Both developer kits for the Acer and HP headset are available for preorder right now.
Both kits will ship this summer to developers, and the public will see final versions this holiday. Acer's headset is going for $299 and HP's for $329. Both headsets feature tracking inside the headset without the need for cameras and infrared emitters, and are designed specifically with the Windows 10 Creator's update in mind.
Both headsets have incredibly similar specs and aside from design, the Acer headset only skims on the 4.0/0.6 mm removable cable and double-padded headband that the HP version supplies. For the full list of specs for both devices, check out the Windows Blog.
Both dev kits are currently only available for preorder in the U.S. and Canada. If you're in the States, head on over here for Acer, and here for HP.
In addition to this announcement, Microsoft will be coming out with their own version of reality controllers to launch this holiday. In similar fashion to the Oculus Touch controllers, Microsoft's motion controllers feature the same sort of stick-like design with tracking built directly into the controller, noted by a halo of lights at the top.
These motion controllers are intended to launch this holiday inside a bundle with the Acer mixed reality headset for $499. For more on these alien probe-like devices, check out the trailer below.