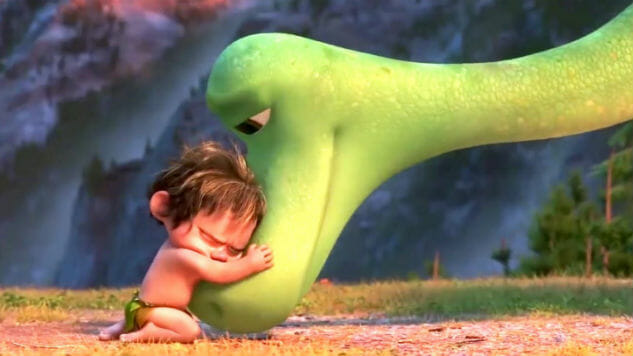 Blind and visually impaired people like to go to the movies but the experience can be challenging when a theater's audio description technology is old, or a companion isn't great at describing the on-screen action. Animation giant Pixar hopes to alleviate these pain points with a soon-to-be-released smartphone app that will help people "see" its movies.
The iOS narration app, automatically syncs with films from Pixar and Disney (which owns the Emeryville, Calif.-based animation studio) to pipe additional description of what's happening on screen through headphones. Although Pixar hasn't officially announced the app, more than 200 visually impaired people tested the app during a screening of The Good Dinosaur in December 2015.
"It's actually a fine art to parse significance out of the jumble of possible things you could describe. A friend seeing [The Good Dinosaur] with me may not know what's ultimately important in the movie," said Bryan Bashin, CEO and executive director of nonprofit LightHouse for the Blind, who attended the screening.
Although Pixar contracted with WGBH in Burbank, Calif. to create the audio description, accessibility is part of the film production process. The producer, director, writer, film editor and post production supervisor comb through the script and make multiple changes before approving an audio description track.
Bashin said the technology and description was "rock solid," with careful attention paid to what descriptive language would best fit the movie. Often times, sighted people place importance on things that blind people don't find so significant.
"I don't need to know that the protagonist has a red dress or that the sunset is deep orange, but I do need to know aspects of the narrative that make the story turn. A friend seeing it with me might not know that the gun that shows up in the first scene is around later," Bashin said.
Pixar—which did not return requests for comment—worked with the blind community to develop the app's language and usability. Lisamaria Martinez, LightHouse's director of community development, participated in a focus group that used the app to view Pixar's Inside Out at Lucasfilm's Skywalker Ranch campus.
Martinez noted that the narration was objective, using phrases like "she smiled" in place of "she looks happy," which allows the viewer to make their own inferences about the character in question. She also felt that the app provided a good description of the film's colorful world and made distinctions between the "inside" and "outside" characters.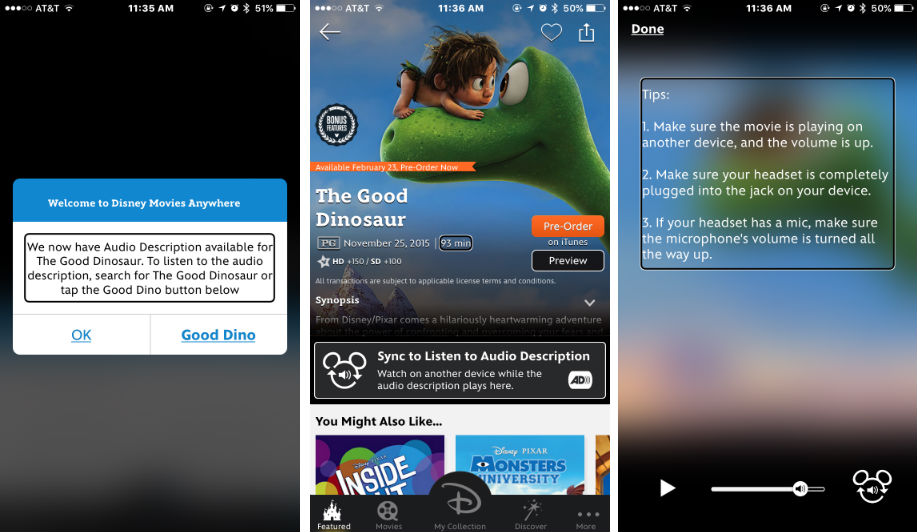 "Above all, I'm impressed by the fact that they're giving the power of audio description and putting it in our hands," Martinez said. "There's nothing worse than a bunch of sighted people trying to figure out what's best for a blind person without talking to a blind person."
Although Pixar's audio description might not be radically different from other audio description services, the app solves a key accessibility issue: visually challenged people rarely get to control their own entertainment experience. Movie-loving Martinez said she always arrives to a theater early to make sure its accessibility system is functioning property.
Martinez and Bashin cited several class action lawsuits to this effect. Following suits from the Association of Late-Deafened Adults, both AMC Theaters and Cinemark Theaters have increased their closed captioning offerings in California and New York. Likewise, Netflix doesn't have audio descriptions on all of its series and movies—the network television show "Parenthood" only has description for one of its six seasons.
"I think Pixar is setting a high bar and other networks or companies will quickly learn that there's an expectation out there," Martinez said. "Now that blind people have a taste of what can be, you better believe we'll go after other people to make sure that accessibility isn't an afterthought."
Bashin said the December The Good Dinosaur screening and app Beta test was a unifying event for the blindness community, with multiple organizations present and a gala-style vibe.
"Beyond the technology, what this says is we strongly do not want to be ghettoized. We want to be part of current culture, we don't want to wait till description is available, we don't want to stand on the sidelines while people talk about a hot movie," Bashin said.
For the visually impaired who are attached to their smartphones for daily accessibility, Bashin was happy to report that using the app through a 93 minute movie did not drain his phone battery. There's no official release date for Pixar's app, but a notification about updated audio description is available on the Disney Movies Anywhere app. There are currently 16 Pixar movies available for the Audio Description service, but according to