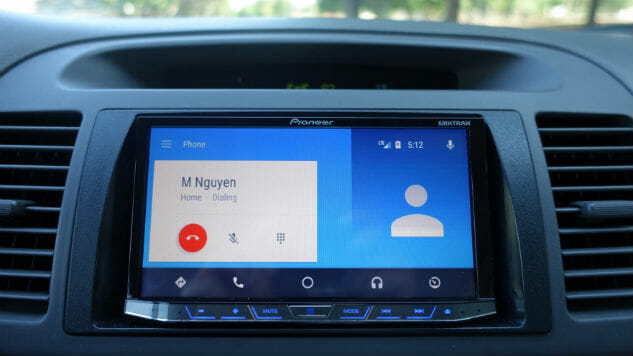 You don't have to spend a ton of money to get some of the tech luxuries that come with owning a modern automobile. If you own a modern iPhone or Android smartphone, Pioneer's AVH-4200 NEX is an affordable upgrade to give your existing ride some much needed smarts.
On its own, unconnected to a smartphone, the 4200 NEX is just a glorified HD radio with a large 7-inch touchscreen attached to it. The unit is meant to replace your car's existing radio or GPS system, and it's designed to fit most vehicles with a double-DIN dash opening.
The magic happens when you connect your Android or iOS device, at which point the 4200 NEX serves as a second screen for your phone. Your Android phone will display an Android Auto interface, and Apple's iPhone will showcase CarPlay. The idea is that the 4200 NEX will allow you to remain safely connected to the outside world, minimizing distractions while you drive by providing a hands-free phone experience.
By bringing CarPlay and Android Auto into your current vehicle, the 4200 NEX essentially transforms your existing car infotainment experience into something that's available on newer 2016 model Hyundais or Cadillac CT6s. The main difference between a retrofitted solution, like what Pioneer offers, and a built-in solution direct from your car manufacturer is that you'll have less control over your car settings.
For example, the touchscreen interface on the CT6 allows the drivers to change the cabin temperatures and view basic vehicle stats, information and settings. The 4200 NEX, on the other hand, won't connect to your car's computer to show this information, but it shares the same connected Android Auto or CarPlay experiences delivered by either Google or Apple, respectively.
Design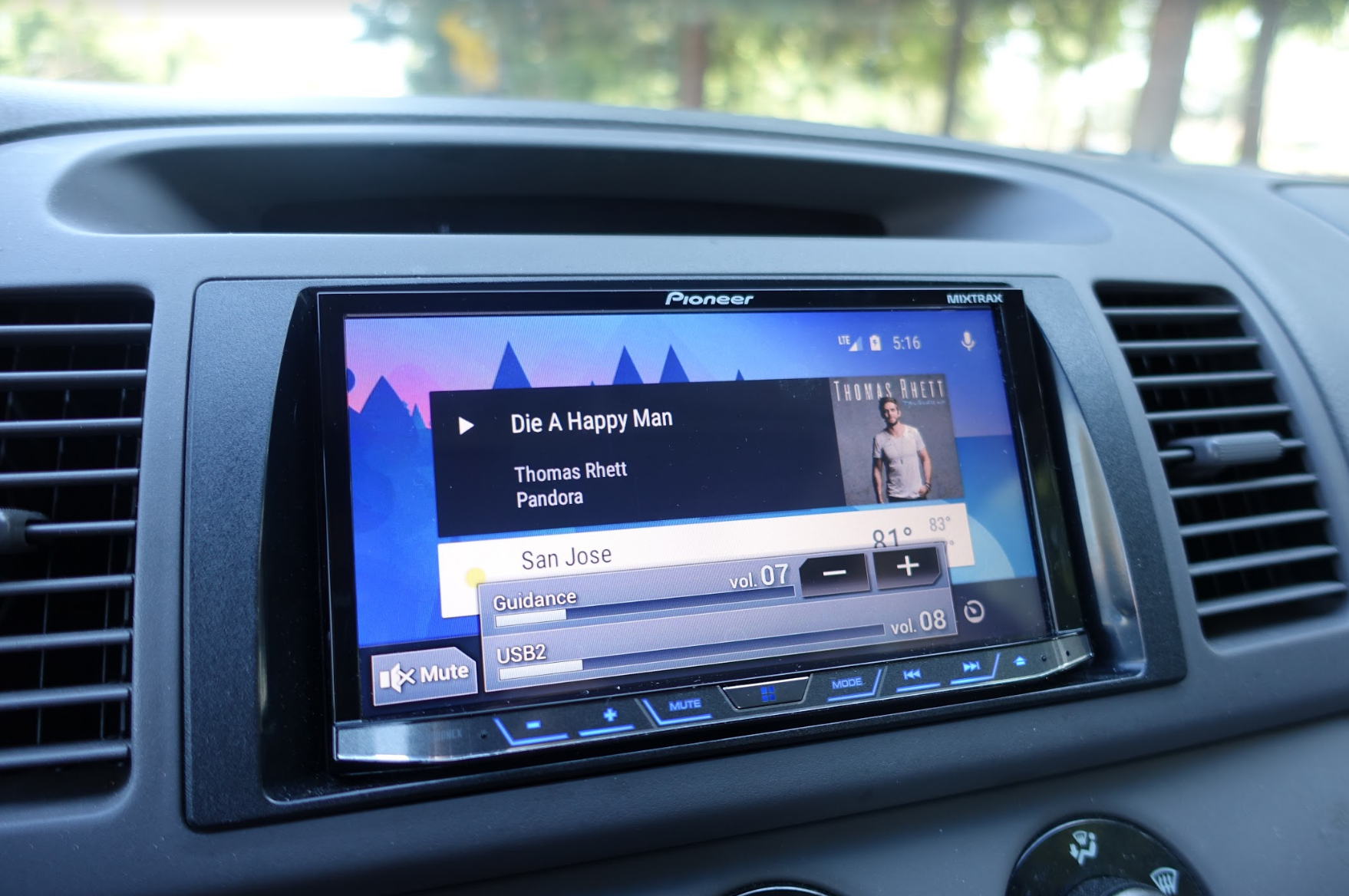 The 4200 NEX shares the same clean, minimal aesthetics as the 4100 NEX that it replaces. Slotted as the entry level model in Pioneer's NEX lineup this year, the 4200 NEX has a spacious 6.95-inch touchscreen on top.
Pioneer lists the touchscreen as the resistive variant, rather than the capacitive technology used on modern phones and tablets. At first, I was a bit skeptical of the resistive touch technology, since force is required to activate the screen, but I was pleasantly surprised that I didn't notice much—if any—difference between using the screen on my iPhone or Galaxy S7 and the 4200 NEX. I found that it didn't require any extra pressure on the screen to select items on the 4200 NEX than it does on an iPhone, a testament to how far resistive screens have evolved over the years.
Just below the screen, a small, metallic silver chin protrudes out. This chin houses some physical touch buttons, making it easy to adjust the volume, mute audio, and skip between tracks and stations. This makes basic controls accessible without having to fumble with the touchscreen, making it safer to quickly adjust the volume with minimal distractions while driving.
Except for a raised center "home" button, the other buttons on the chin are covered in a membrane. Activating the buttons with a solid press is easy, and I found the buttons responsive. However, the downside with the membrane arrangement is that it makes it difficult to identify the buttons by feel, so you'll have to glance down at the 4200 NEX to visually identify what you'd want to press.
The protruding chin design means that the lower edge of the screen will feel sunken in. Although the design brings the button closer to the driver for easy access, this design means that anything on the lower portion of the touchscreen will be more difficult to press. Fortunately, Android Auto and CarPlay both use large icons and buttons, so you likely won't encounter much problems with Pioneer's design, but it's something to keep in mind.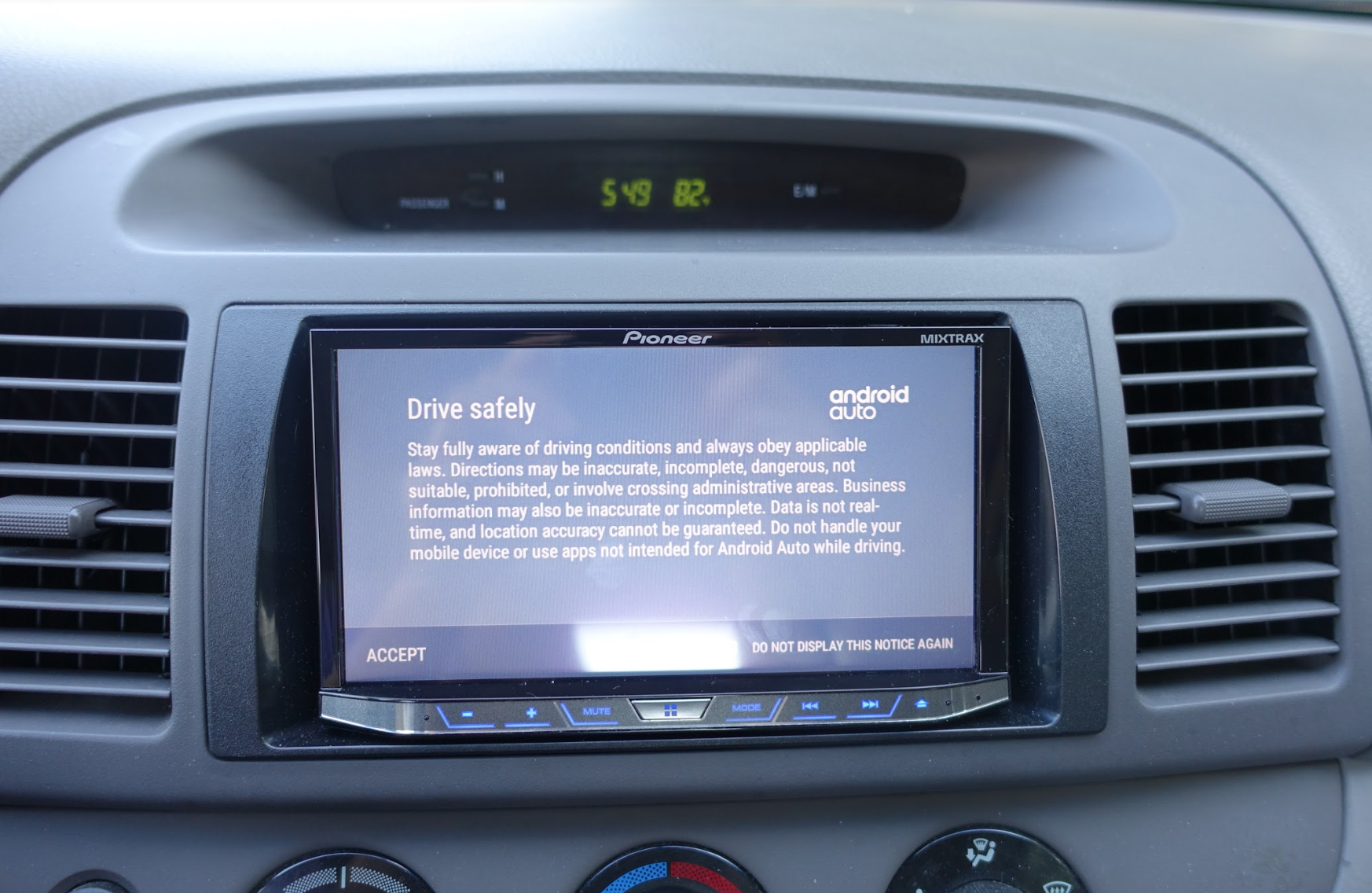 The chin makes the design of the 4200 NEX less clean than competing CarPlay units, like the Alpine ILX-007, but the button arrangement on the Pioneer unit is laid out in a more symmetric arrangement for users who care about symmetry.
The touchscreen is motorized, allowing the screen to be tilted upwards, which makes it easier to view what's on your screen on some vehicles. If your car's old radio, for example, is mounted in a lower position, tilting the screen upwards may help make it more ergonomic to use.
Since the position of the radio on my older Toyota Camry is in a higher spot at a forward- and upward-facing angle, I would have preferred if the touchscreen was able to tilt downwards to minimize glare and reflection. I was surprised that, for the most part, glare wasn't a big issue even in this position.
On the brightest days, the touchscreen could get washed out and readability was an issue, but the most part, the bright display helped to compensate against this issue. For owners with a convertible top or who prefer to drive with the sunroof open, this problem can be more pronounced, but I only encountered this issue during some specific times during the day in the afternoon.
When you tilt the screen upwards, you'll have access to a DVD-ROM port, SD card slot and a 3.5mm audio input jack. Once you tilt the screen, you'll also find a small push button on the center underside of the chin, allowing you to remove the touchscreen faceplate. This is useful if you're parking your car in a neighborhood that's not quite safe. In this scenario, you can remove the touchscreen faceplate and take it with you in its carrying pouch or stow it in the trunk.
Removing the screen requires you to push the button while lifting the faceplate up. There's a time limit of a few seconds to complete this maneuver, otherwise the 4200 NEX will automatically motorize the screen to its normal position. When this happens, and if you don't move out of the way quickly enough, your fingers can get trapped. I wish Pioneer would abandon the automatic timeout or if the company implemented a jam detection feature to prevent caught fingers in the NEX.
Installation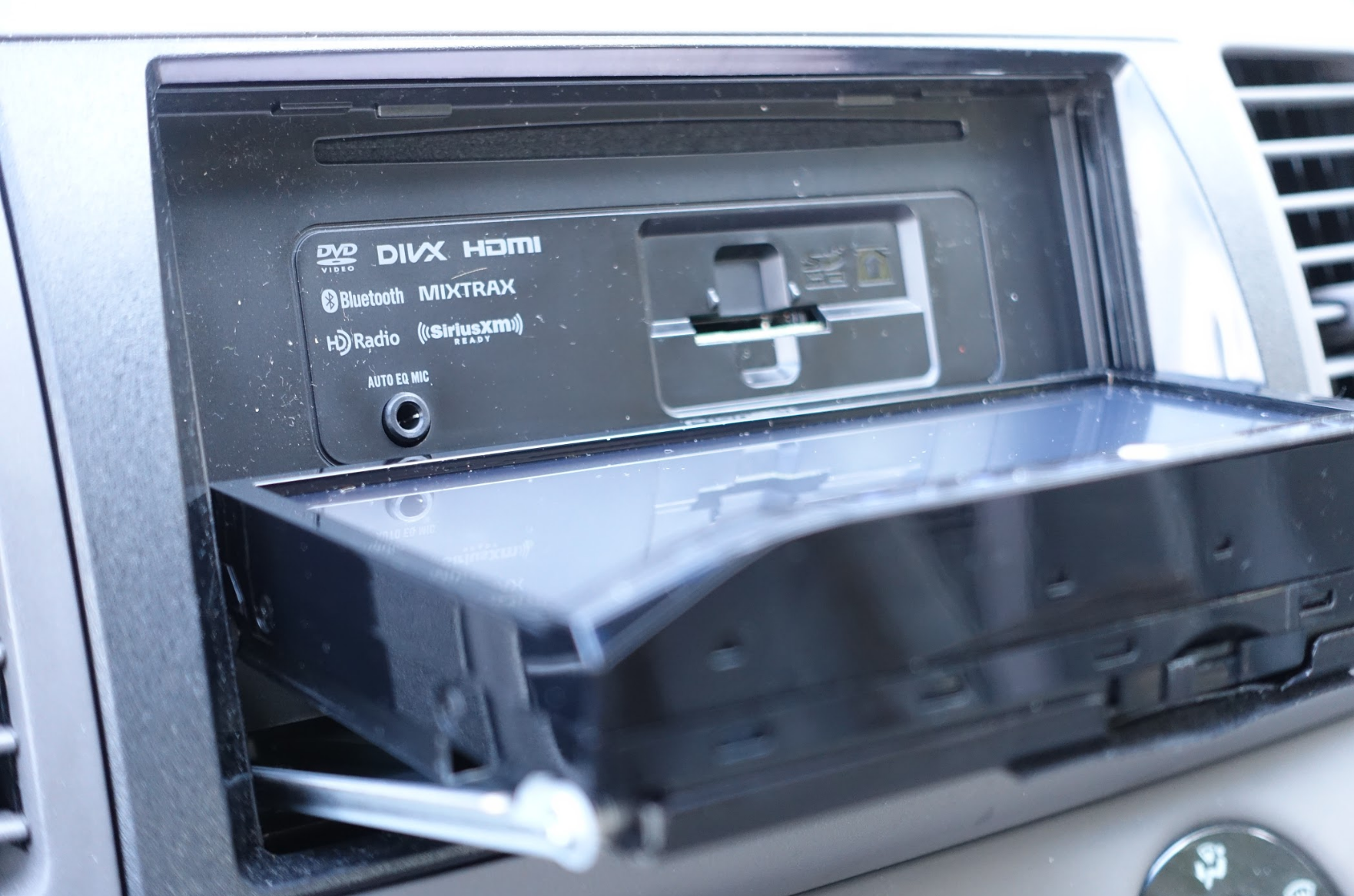 I had the 4200 NEX installed using a local service that specializes in installing auto audio and security alarms. The process took under twenty minutes, and my installer told me that it's fairly easy to do it yourself if you have familiarity installing car stereos.
The 4200 NEX ships with most of the parts required for installation. If you're going the DIY route with a home installation, you'll want to get a double-DIN frame—basically a small faceplate that blends the 4200 NEX with the opening on your car's center dash—and a microphone.
The installer had mentioned that the $50 component charge was for the microphone, but our Pioneer rep clarified that the AVH-4200NEX ships with a microphone for accessing Siri and CarPlay out of the box. The charge was for the USB Aux Flush Mount, a component that allows a USB and auxiliary port to be installed onto the dash, providing the car with a cleaner look.
The installation basically means that my existing car radio and single-slot CD player was removed, and the 4200 NEX and the double-DIN frame was mounted in. The microphone was installed in the area where the top of my windshield and the ceiling of the car met, right next to the driver-side sun visor.
The odd part about the installation is that the 4200 NEX requires two separate USB ports. Android Auto will access one USB port and CarPlay uses a second USB port. If you plug your iPhone into the Android Auto USB port, it won't work and vice versa.
Pioneer says that the purpose of the dual ports is to allow the driver with two devices to switch between the phones without having to unplug one phone first. Although the process provides convenience, I'd wish that I can use either port with CarPlay or Android Auto. As it stands, the flush-mounted USB port on my dash will only work with CarPlay, while the USB dongle that snakes from my glove compartment will work solely with Android Auto. It'd be more flexible if the ports allowed more versatility.
Since I primarily use an iPhone, the installers mounted the iPhone-compatible socket on my car. The Android Auto port is connected to a wire that snakes out of my glove compartment. When it's not in use, I keep wrap up the wire and keep it stowed out of sight in my glove box.
If you have a rear back-up cam, you can also wire it to the 4200 NEX and use the large touchscreen as your camera's viewfinder.
Usability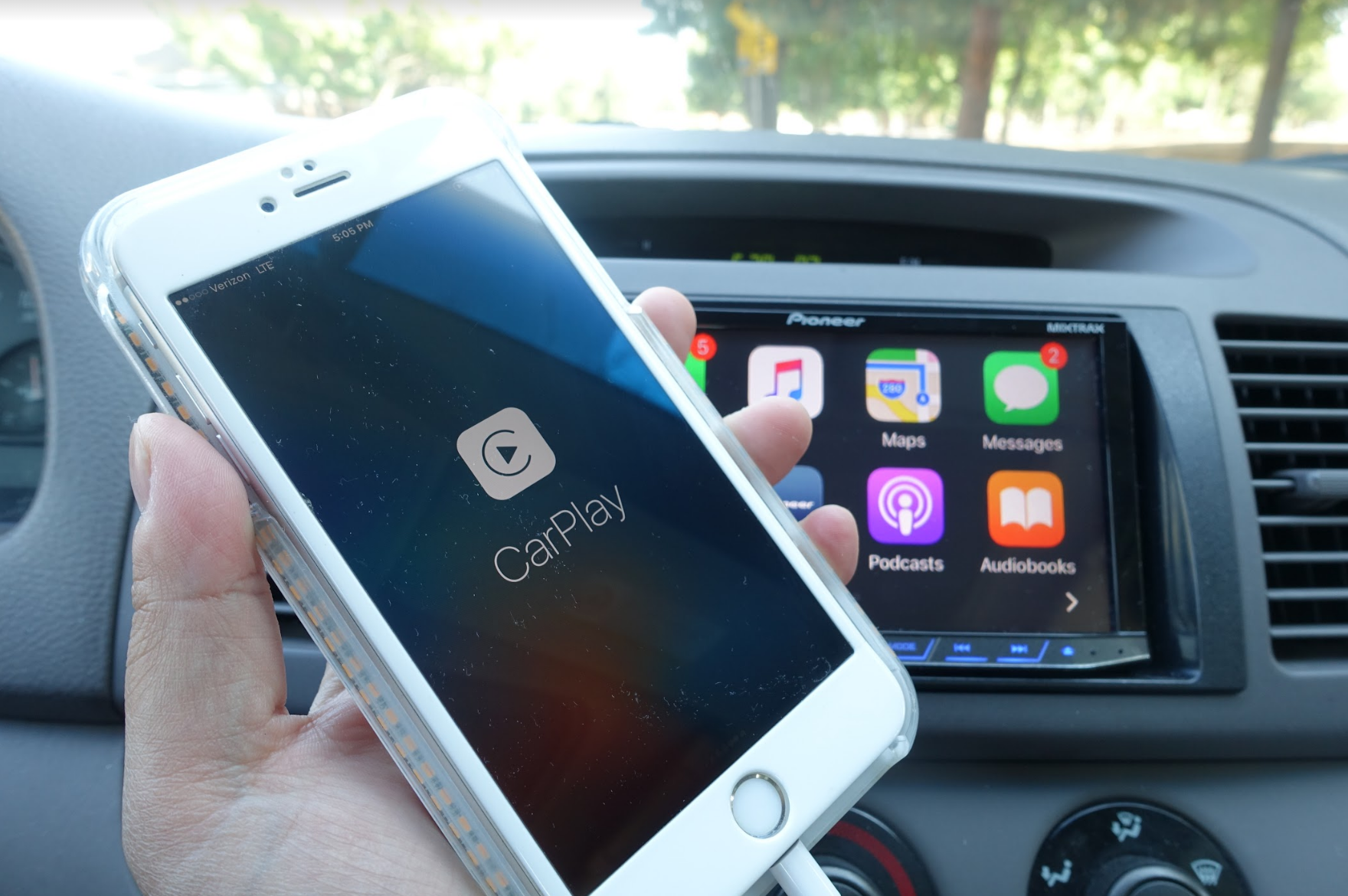 Regardless if you prefer CarPlay or Android Auto, there are two distinct interfaces when you're using the 4200 NEX. The first is the NEX menu, which gives you access to the "dumb" portion of connected car experience. Using the NEX interface, you can control 4200 NEX's built-in HD radio, adjust the device's settings and gain access to the NEX Pandora radio app.
Even though Pandora is built into the NEX interface, you'll still need to connect your smartphone to either of the two USB ports to use this feature. If you prefer not to plug in your phone to access Pandora through the CarPlay or Android Auto UI, the Pandora app on the 4200 NEX allows you to stream your Pandora station via Bluetooth.
The second interface is either the Apple CarPlay or Google Android Auto experience. Once you connect your iPhone or Android phone to one of the two USB ports, you'll have access to the "smart"—or connected—experience of the 4200 NEX.
I've been using the 4200 NEX for a few months now with both an iPhone 6S Plus running iOS 9 and Apple's iOS 10 beta, along with several different Android smartphones running either Google's Android Lollipop or Marshmallow operating systems. Apple recommends at least iOS 8, and CarPlay works on an iPhone 5 or newer phone. Android Auto requires a phone with at least Lollipop or Marshmallow installed. At their best, CarPlay or Android Auto should automatically launch within a few seconds of plugging in a compatible phone, but I found the experience to vary between different models. I found CarPlay offers a more consistent experience, regardless of which iPhone model I plugged in.
On the Android side, you'll need to download the Android Auto app from the Play Store before you begin, and Samsung's phone also requires the download of Samsung's Car Mode app to automatically recognize Android Auto when the Galaxy phone is plugged in. CarPlay, on the other hand, is built natively into the iOS operating system, so no additional App Store download is needed.
To test Android Auto, I used a Samsung Galaxy S7, LG G5 and a BlackBerry Priv on Verizon's network. In use, the Galaxy S7 offered the most mixed experience of the three devices. Sometimes, the phone needs to be connected and disconnected a few times before the 4200 NEX would recognize the device, and the Galaxy S7 also suffered from some intermittent disconnection problems when in use. The LG G5 offered the most stable and seamless experience with Android Auto of the three phones, and the BlackBerry Priv worked, but suffered from severe overheating issues with Android Auto.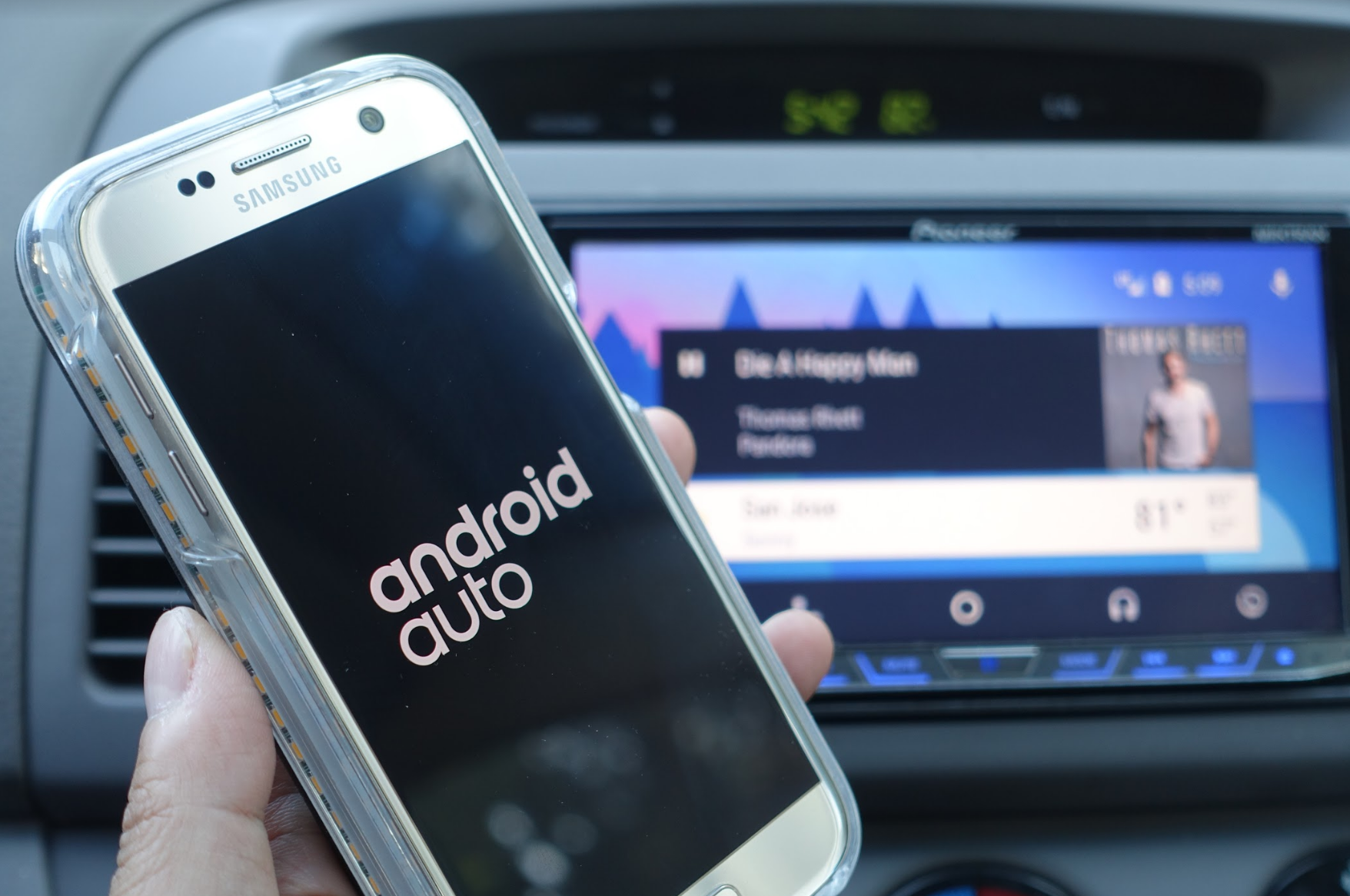 Another problem to consider when choosing Android Auto is charging consistency. The LG G5 had no issues recharging when connected to the 4200 NEX, but my experience with the Samsung Galaxy S7 was more mixed. If the S7 was just running Google Maps or a streaming music service, like Pandora, then it had no issues replenishing its own battery while connected to Android Auto.
Running both battery-intensive programs resulted in the S7 draining faster than it can recharge, and if you're on a long road trip, you can end up with a dead phone at the end of your journey. On occasion, the S7 would overheat, even just streaming music through Android Auto, resulting in the phone not charging and draining its battery.
These issues are likely problems with the Android phones and how they interact with the Android Auto software, rather than the 4200 NEX. Because of the varying hardware across Android smartphones, you'll likely encounter more problems with consistency on the Android side than on Apple's side, regardless of the head unit you choose.
In terms of audio output, I appreciated that there are separate controls for navigation and music that you can toggle. Once you press the hardware volume keys, you can tap to set different volume levels for music listening and for voice guidance when using the Maps app. Regardless if you use CarPlay or Android Auto, if you're listening to music and the system needs to announce your next turn-by-turn direction, your music will fade so you can hear the guidance clearly.
Android Auto v. CarPlay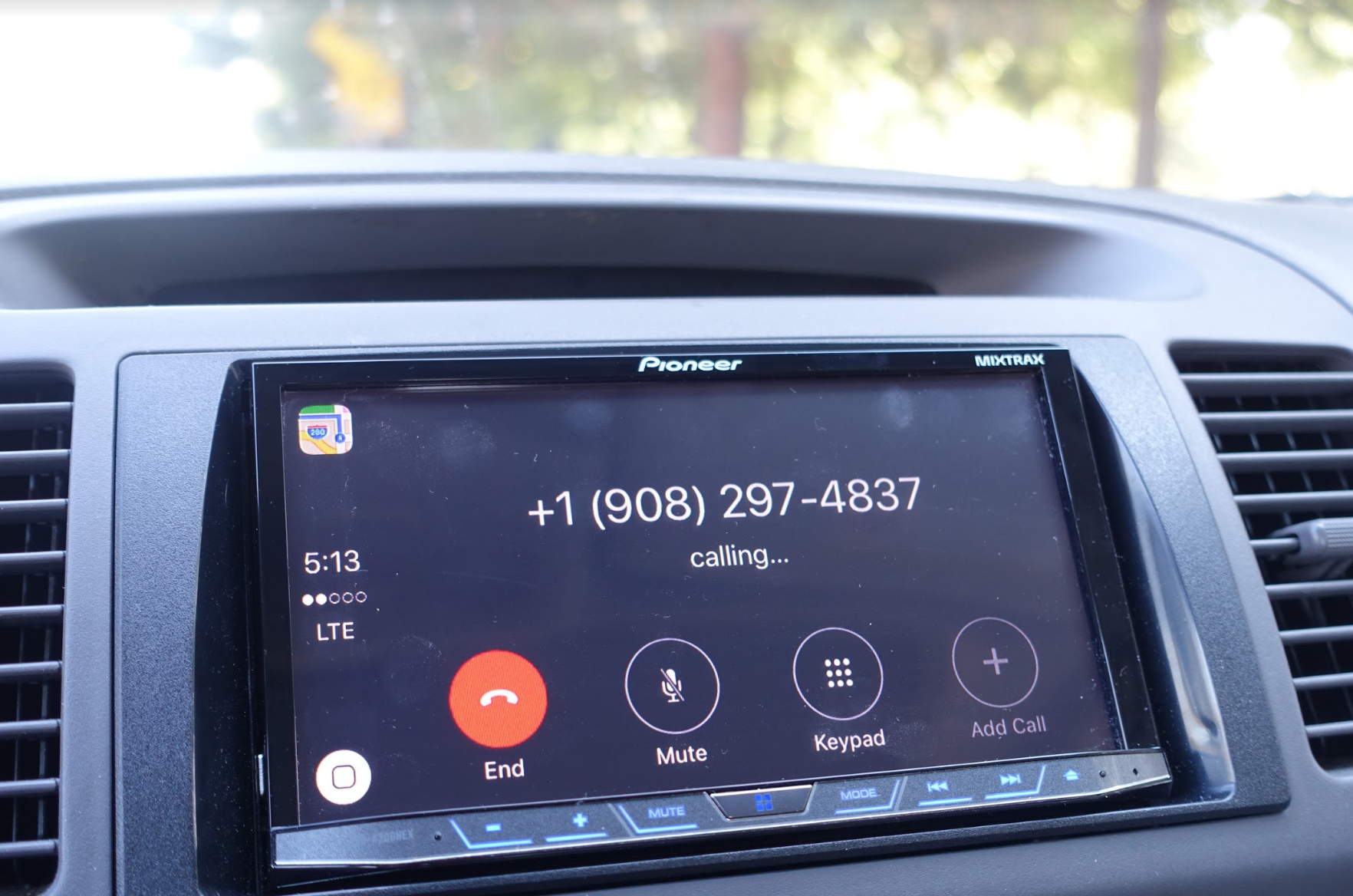 Your decision to go with either auto experience will depend on the phone you own. After having tried both Android Auto and CarPlay on the 4200 NEX, I personally preferred the simpler UI of CarPlay, but I preferred Google Maps for navigation through Android Auto. Both Android Auto and CarPlay are sandboxed environments, and only select apps will work with either ecosystem, a decision made by Google and Apple to help minimize distracted driving.
With CarPlay, you'll be greeted with a grid-like array of apps. CarPlay gives you access to your phone, messages, Apple Maps for navigation, iTunes for music and select music streaming apps. You won't, for example, be able to get alerts or notifications to emails, and you won't be able to watch videos or surf Safari.
There's a navigation bar on the left hand side that displays the time, signal strength and a home button on the touchscreen that will get you back into the grid of apps. If you're listening to music and mapping a route, the navigation bar will show a Maps icon on top and an icon of the album art you're listening to. Tapping on these icons will let you jump straight into the Maps app or music app without having to visit the grid of apps first.
On Android Auto, Google uses its cards UI, a feature that will be familiar to Android users who use Google Now. The cards display information like the local weather, the time it takes to navigate home (provided you have a home address specified) and the song that's currently playing.
Unlike CarPlay, you won't have a grid of apps. Instead, a strip is on the bottom that gives you access to Google Maps, the phone app, a home button to get back to the cards UI screen and a music menu. Clicking on the music menu will show you options for Google Play Music and other third-party streaming services that's compatible, including Pandora, iHeartRadio and Spotify. It's the placement of this menu bar on the bottom of the Android Auto UI that could make the 4200 NEX's design problematic, an issue that was previously discussed given the close proximity of the system's buttons to the bottom edge of the screen.
Most of your interaction with Android Auto and CarPlay will be done primarily through voice, so the $50 accessory microphone will be a good investment if your car isn't already wired with one. Pressing and holding the home button on the touchscreen of either ecosystem will give you access to Siri or Google Now's voice assistant, but you can also press and hold the raised center button on the hardware navigation strip for a more tactile experience if you prefer.
On CarPlay, for example, if you get a text message, you'll see a banner notification at the top of the 4200 NEX's screen. Tapping on the banner, and Siri will read you your message and ask if you'd like to respond.
Like Android versus iOS, Android Auto also has things grouped into menus instead of being directly available on the screen. The main difference between Apple and Google in the car is that Google will block you from using your phone in the car. On CarPlay, you can still use your phone while CarPlay is running on the 4200 NEX.
There are benefits to both ecosystems. On CarPlay, having access to your phone means you can quickly use your phone to type in a complicated address, if Siri isn't able to parse out your speech, for example. On Google Now, you'll have access to a full on-screen keyboard, but only if the parking brake is engaged for safety reasons.
There are still a few UI disparities between using CarPlay and Android Auto versus the native NEX experience. For example, Pioneer built its own Pandora experience inside the NEX interface, but that experience looks different than the CarPlay and Android Auto UIs of the Pandora app. It's curious as to why Pioneer would create a redundant app—if you want to use Pandora, you will need to plug in your phone anyways for a data connection—and why they didn't just create a shortcut to link to the native app through your Apple or Google phone.
Verdict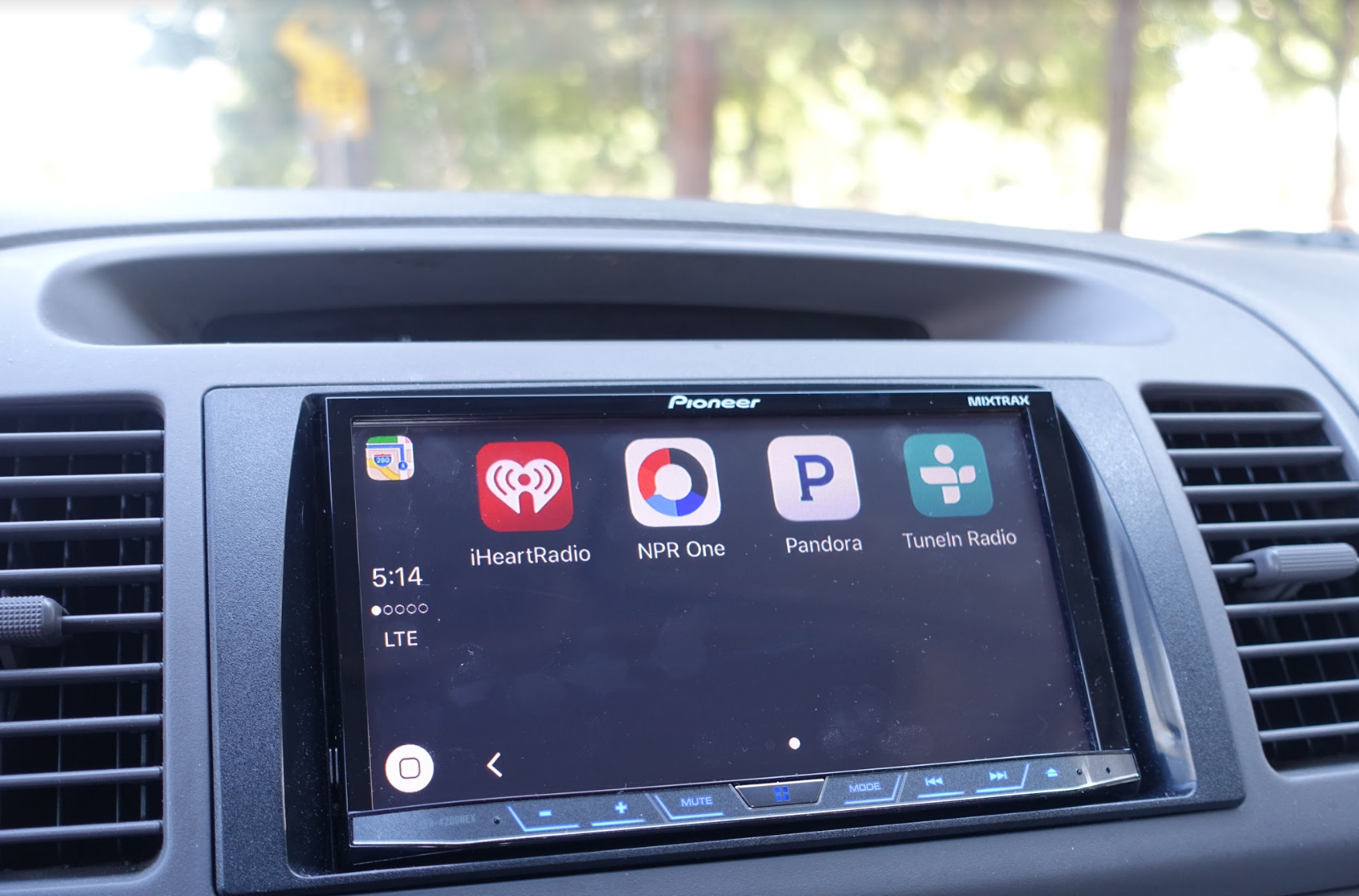 If you're not ready to part ways with your existing car or welcome the burden of monthly car payments to get a vehicle with an always up-to-date mapping and navigation experience, adding the 4200 NEX to your current vehicle is an affordable way to make your car smarter. Even with its compromises, the 4200 NEX performs surprisingly well, and I was pleasantly surprised that I didn't have to make too many trade-offs to inject some new life into my aging car.
The biggest compromise with retrofitting an older vehicle is that the position of your radio isn't always in an ideal spot, and that's because car manufacturers didn't anticipate you to have to look at or use a touchscreen in place of your existing stereo. On my Camry, this means that the screen of the NEX is slightly angled upwards, resulting in glare and readability issues under harsh sunlight conditions. A visor around the NEX's screen may help, and I wished Pioneer offered more accessories to mitigate sunlight readability issues.
In use, I appreciated aspects of both systems—it really boils down to your preference and what phone you're using. CarPlay is a bit more consistent, but I found that sometimes Siri could not connect to the network, despite my phone having good signal strength, to transcribe my and send my text messages. Google Now, too, isn't without its own share of problems, and even on a modern flagship like the Galaxy S7, I found that sometimes there were lags and stutters. I personally preferred the simpler interface of CarPlay, but when it comes to navigating, I appreciated Google Maps' lane guidance on Android Auto.
Despite some of the glitches, the 4200 NEX works surprisingly well, and its performance will only improve once Google and Apple improve their software. Google promises that Waze support, which comes with better surface street navigations during congestion or heavy traffic, will be coming to Android Nougat, the operating system that will succeed Lollipop later this year. Apple is adding more features to Apple Maps, including updating the CarPlay Maps UI and traffic information, to make your in-car experience more pleasant.
For now, adding the 4200 NEX to your car costs $699, or roughly the price of a leading flagship phone. With the NEX, you'll be able to make calls, send text messages, get navigation instructions and stream music safely and with minimal distraction.