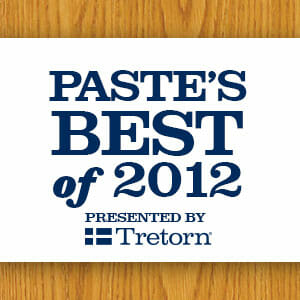 Paste's Best of 2012 series continues through Dec. 31 and is made possible by our friends at Tretorn.
There are different kinds of exceptional when it comes to Twitter, from the perfectly crafted zingers of Tim Siedell to Arjun Basu's short stories that says way more than 140 characters should be able to say. The comedians, actors, musicians and others on this list have mastered the art of brevity. The fake accounts are the rare ones who manage to go deeper than the simple joke of their existence. Some, like TweenHobo and NotTildaSwinton have become characters in their own right. And HumbleBrag has identified one of the medium's most satire-worthy trends (and turned it into a book deal). Here are our 75 favorite Twitter Accounts of 2012.
75. Kumail Nanjiani – @kumailn
Twitter Bio: Comedian. Portlandia. Prismo on Adventure Time. Pindar on Franklin & Bash. Co-host of gaming podcast The Indoor Kids on Nerdist network.
Followers: 74k
Best Recent Tweet: "Why are there so many songs about rainbows?" Are there? I can think of two. And you're one of them.
Runner-Up: "Spinning pinwheel? Have you tried giant eagles?" – JRR Tolkien troubleshooting at the mac genius bar


74. Andy Borowitz – @BorowitzReport
Twitter Bio: There is a fine line between social networking and wasting your fucking life.
Followers: 418k
Best Recent Tweet: Romney: I'm kind of stoked about the end of the world just to see what Google does with its home page.
Runner-Up: Unlike in Egypt, Americans use Facebook mainly to protest changes in Facebook.


73. Kyle Kinane – @KyleKinane
Twitter Bio: New special Whiskey Icarus debuts Saturday, November 24th on Comedy Central
Followers: 52k
Best Recent Tweet: Got my hair cut for Conan tonight. Can only describe the style as "Trish's last day at Supercuts."
Runner-Up: A mohawk glued to a motorcycle helmet means "Do not resuscitate," right?


72. Rob Huebel – @robhuebel
Twitter Bio: I give medicinal cocaine to baby animals
Followers: 432k
Best Recent Tweet: Warning to all CGI Golden Eagles: if you try to snatch my CGI baby, I will fucking delete you.
*Runner-Up:** see a lot of commercials about people getting engaged right now but none about just getting under the shirt.


71. Ben Schwartz – @rejectedjokes
Twitter Bio: Jean-Ralphio on Parks and Rec, Clyde Oberholt on House of Lies, Randy on Randy Cunningham, Performer at the UCB Theatre, Calvin and Hobbes/Simpsons enthusiast.
Followers: 161k
Best Recent Tweet: "Worst part about Hostess going out of business is now there's nothing to eat to cope with Hostess going out of business.
Runner-Up: The M in MTV stands for Mreality shows.


70. Aimee Mann – @AimeeMann
Twitter Bio: Oscar loser, singer/songwriter, wanna-be musical writer.
Followers: 86k
Best Recent Tweet: Just started a new song. So far there's a mention of Milwaukee's statue of the Fonz in it. That probably won't stay. #BronzFonz
Runner-Up: We must commence this campaign to get @taylorswift13 to get @scharpling to direct her next video with @jonwurster as her love interest.


69. Pour Me Coffee – @PourMeCoffee
Twitter Bio: Goal: Funny and/or interesting. Partisan Democrat. Not into arguing. Complaints? Consult Fine Print: http://j.mp/pmcrules .
Followers: 108k
Best Recent Tweet: NRA: If Ralphie wasn't armed, Black Bart would be over the fence and in the house.
Runner-Up: Let's get background checks and longer waits for Santa suits, too. I don't like what I'm seeing out there.


68. Bryan Donaldson – @TheNardvark
Twitter Bio: Hack.
Followers: 18k
Best Recent Tweet: I call my penis "Rick Moranis" because it's short and hasn't been in anything for quite a while.
Runner-Up: Seth Myers always looks like he put a booger in your food when you weren't looking and is waiting for you to take a bite. #121212Concert


67. Rainn Wilson – @rainnwilson
Twitter Bio: I am an actor and a writer and I co-created SoulPancake and my son, Walter.
Followers: 3.4 million
Best Recent Tweet: I make my real life friends send me friend requests by mail.
Runner-Up: Every year it's the same headline: "WORLDS OLDEST PERSON DEAD AT 115 YRS". I'm curious – Who keeps killing the worlds oldest person!?


66. Neil Patrick Harris – @ActuallyNPH
Twitter Bio: I act some. Dig variety acts, Pixar, puppets, theme parks and great meals.
Followers: 4.9m
Best Recent Tweet: Ah, the holidays. I'm trimming the tree, decorating the house, and marveling at how f'ing glitter manages to f'ing get f'ing everywhere!
Runner-Up: New HIMYM tonight. Make sure to watch: we are going to reveal the mother! Ok, that's a lie. But it'll still be good comedy shenanigans!


65. Felicia Day – @feliciaday
Twitter Bio: Actress, New Media Geek, Gamer, Misanthrope. I like to keep my Tweets real and not waste people's time.
Followers: 2 million
Best Recent Tweet: Giving edit notes on Christmas Flog where I play a game with my brother. Just typed this note: "Cut the "laying pipe in Mrs. Claus" line.
Runner-Up: Well, that was a lovely 3 1/2 hour tour of "The Best of LA Traffic". I think only riding a dragon in Skyrim will heal this scarring wound.


64. Joshua Malina – @JoshMalina
Twitter Bio: Chanteuse québécoise.
Followers: 67k
Best Recent Tweet: We're Chalfway through Chanukkah.
Runner-Up: I'd probably get a higher quality workout if I listened to something other than Johnny Cash's cover of "Hurt."


63. ?uestlove – @Questlove
Twitter Bio: your favorite twitterer's favorite music snob.
Followers: 2.3 million
Best Recent Tweet: unless your last name is Kardashian, @instagram aint even thinking bout you http://on.mash.to/VPyQXq but yall can relax now.
Runner-Up: the lord hath heard my cry: The Entire FREAKS & GEEKS reunion: http://vnty.fr/120e9gw

62. Lauren Ashley Bishop – @sbellelauren
Twitter Bio: i'm a comedian from arkansas. i live in LA. but i comede all over. witstream.com please & thank you
Followers: 33k
Best Recent Tweet: i dress up as the easter bunny and beat up mall santas
Runner-Up: waitress: "do you have everything you need?" me: "yeah…. & DIM SUM" – a pun i'm going to try not to make at brunch today but will fail


61. DrunkHulk – @DrunkHulk
Twitter Bio: DRUNK HULK DRINK SO YOU NO HAS TO! WRITE DRUNK HULK! WWW.DRUNKHULK.COM!
Followers: 180k
Best Recent Tweet: DRUNK HULK GOING BE SO MAD! WHEN INSTAGRAM SELL PICTURE OF DRUNK HULK FEET ON BEACH! AS IF IT 1977! FOR MILLION DOLLAR!
Runner-Up:  PAUL MCCARTNEY PLAY WITH DAVE GROHL! KRIST NOVOSELIC! FINALLY! DRUNK HULK TWO FAVORITE BAND UNITE! WINGS AND FOO FIGHTERS!


60. Neko Case – @NekoCase
Followers: 63k
Best Recent Tweet: I'm snuggling all you guys. Stop squirming..
Runner-Up: I think if you WERE an Aussie and did an Outback Steak commercial you are hunted down and hanged for treason? It's Australian law, right?


59. Arjun Basu – @arjunbasu
Twitter Bio: Author, writer, editor, Shorty Award winner (though I'm not that short), foodie, husband, dad. Creating Twisters, 140-character short stories.
Followers: 141k
Best Recent Tweet: He used every word in his massive lexicon to describe the wine. And then he waited, anticipating her reaction. I'm more into beer, she said.
Runner-Up: I drove slowly. Others honked at me so I drove slower still. You are so passive aggressive, my wife said, squeezing her legs together harder


58. Kristen Schall – @kristenschaaled
Twitter Bio: Comedian, actress, writer.
Followers: 313k
Best Recent Tweet: Saying "Poop" & "Pee" is SO vulgar! I wish people would use polite terms like "Night Soil" & "Angel Discharge."
Runner-Up:

57. The Times Is On It – @NYTOnIt
Twitter Bio: Because sometimes stories in newspapers are just that obvious. (This is a parody account clearly not associated with any newspaper.)
Followers: 27k
Best Recent Tweet: GUYS, people are going to overshare their Thanksgivings on the Internet, and The Times is ON IT. http://nyti.ms/SfjwnC
Runner-Up: GUYS, Christmas shoppers really like to procrastinate, and The Times is ON IT. http://bucks.blogs.nytimes.com/2012/12/17/procrastinating-holiday-shoppers-abound/


56. Damien Fahey – @DamienFahey
Twitter Bio: tv, radio host. comedy writer. improv & standup. staff writer for http://www.someecards.com. co-host of the morning after on http://hulu.com
Followers: 7k
Best Recent Tweet: "Holy infant, so tender and mild." Boy, the baby Jesus sure sounded delicious!
Runner-Up: Just released my Top 10 Spotify Songs of 2012 That Made Me Look Like A Total Pussy on Facebook


55. Grace Helbig – @gracehelbig
Twitter Bio: I vlog. I like funny.
Followers: 146k
Best Recent Tweet: Are we sure Carly Rae Jepsen and Taylor Swift aren't Hannah Montana-ing us?
Runner-Up: Hugh Hefner and Crystal Harris are getting married! Now THIS is the kind of marriage the Bible was talking about!


54. Aaron Blitzstein – @blitznbeans
Twitter Bio: Writer: Family Guy, Letterman, laundress.
Followers: 22k
Best Recent Tweet: This is the longest Cialis ad ever. #1212concert
Runner-Up: I'd love to watch a Guy Fieri marathon because I figure he'd be dead by mile three.


53. Lena Dunham – @lenadunham
Twitter Bio: My life is my art and therapy is my palette (JK, I make movies & shows. Like @tinyfurniture & @GirlsHBO)
Followers: 503k
Best Recent Tweet: There is no envy like that of being at a crowded party and glimpsing the host's off-limits bedroom.
Runner-Up: When I was little I used to get myself to bed by imagining a situation where someone said "fall asleep in five minutes or I'll murder you."


52. Paul Ryan Gosling – @paulryangosling
Twitter Bio: PARODY. Role-playing. Not affiliated with VP candidate Paul Ryan or actor Ryan Gosling. Obviously.
Followers: 69k
Best Recent Tweet: Hey girl, can I check my own box? Or will that make me go blind?
Runner-Up: Hey girl, who cares that Obama's hanging out with Springsteen and Jay-Z? I got to touch Meatloaf's back fat.


51. Jen Kirkman – @JenKirkman
Twitter Bio: COMEDIAN. Author I Can Barely Take Care of Myself. Chelsea Lately, After Lately, Drunk History Tour schedule & book buy info below.
Followers: 100k
Best Recent Tweet: I don't get why everyone is so damn afraid of some Maya Angelou calendar.
Runner-Up: Knocked down today with a stomach thing – sleeping & vomiting. I read Hillary Clinton has the same thing. Must be some VIP bug going around.