Ubisoft Quartz' Dismissal of User Cautions Won't Grow Trust In Videogame NFTs
Image via Ubisoft
Tech
Features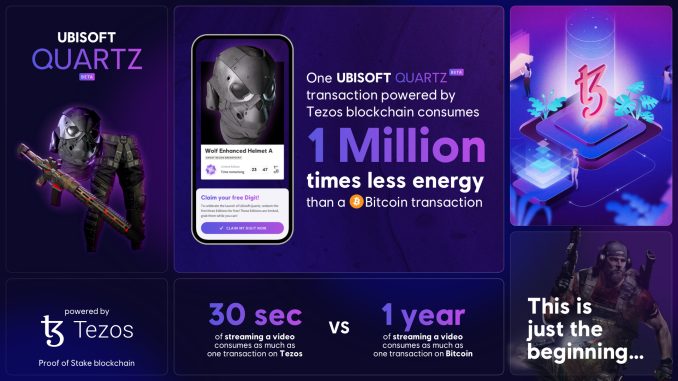 The purported promise of NFTs has shifted drastically over the last year, from building a revolutionary digital art market to a space rife with dull, algorithmic status symbols bubbling over with bad actors. Between the amount of rug pull scams, high environmental costs and a severe lack of consumer protections, there are plenty of reasons to feel cautious or outright dismiss NFTs as a tangible economic asset.
But that hasn't stopped those with a deep-seated belief in NFTs and cryptocurrency's progenitor status from continuing to push them as avenues for economic growth. Case in point—Ubisoft.
The videogame publisher became the first major studio to jump into the NFT game with the December 2021 launch of Ubisoft Quartz, producing NFTs, or Digits as Quartz calls them, of in-game cosmetic items that players can use and sell as they see fit.
The initial rollout of Ubisoft Quartz garnered heavy criticism and sluggish sales of its non-fungible offerings despite heavily pushing the resale potential and its use of the more eco-friendly Proof-of-Stake blockchain protocol.
But Ubisoft isn't backing down. Ubisoft Strategic Innovation Lab vice president Nicolas Pouard stated as much last week. "It's really beneficial. But [gamers] don't get it for now," Pouard told Finder. "There are a lot of habits you need to go against and a lot of your ingrained mindset you have to shift. It takes time. We know that."
Pouard is right to an extent. The full grasp of the incredibly obtuse NFT ecosystem is hard to decipher for those not steeped in it. But identifying the issues present in the NFT marketplace doesn't require extensive knowledge. They're the same problems seen in traditional financial markets.
In the interview, Pouard points to gamers' belief that NFTs are "just a tool for speculation" as a misconception Quartz wants to correct. But creating a secondary resale market for Ghost Recon: Breakpoint gun skins doesn't assuage the views Pouard characterizes as dismissive. It creates a speculative market that funnels users into buying the cryptocurrency Tezos, further bumping up the value of the coin itself with the potential to further stratify the crypto investment base.
"Any financial risks arising from investing in cryptocurrencies and related products might end up falling especially heavily on naïve retail investors," Cornell University economics professor Eswar Prasad told CNBC.
The specific relationship between NFTs and the games industry also continues to be soured by what feels like a constant flow of projects and decentralized autonomous organizations using game development to scam users out of millions. The most recent installment saw unofficial Minecraft NFT project Blockverse make off with $1.2 million after selling tokens to fund "a unique P2E on Minecraft like no other" then deleting its website, Discord and game server.
Obviously, Ubisoft doesn't merit comparison to the rudimentary grifts Blockverse and others perpetuate in the crypto space. But how these rug pull schemes influence user perception of NFTs' interaction with the gaming sector can't be dismissed. Especially since building out play-to-earn experiences to attract DAOs and game guilds is in Pouard's plans. A space continually defined by public distrust that dismisses any pushback from outside its bubble as "FUD" isn't going to engender any form of mass adoption.
It isn't correct to say that "[gamers] don't get it." They see the lack of protections and exploitative practices present in blockchain marketplaces and their related minutiae as they currently exist, and the lack of movement toward better securing those systems. The gap isn't in selling a videogame/NFT future where my in-game helmet has a serial number. It's in making people comfortable enough with the concept to entertain the idea.