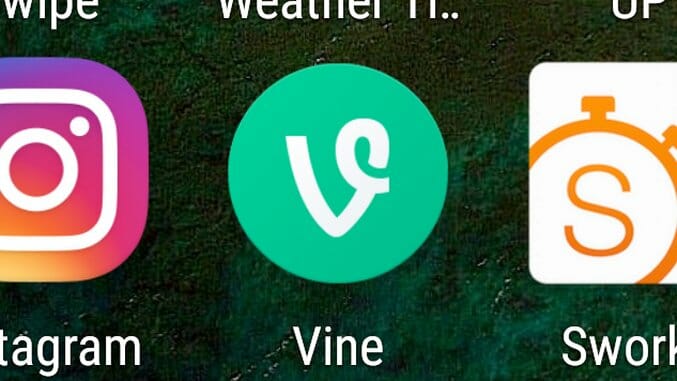 On Thursday, Twitter announced that it would be closing down Vine, a much-loved social media site that allowed users to upload six-second videos. We've already counted down the five reasons why Vine is being shut down, lack of funny content was never one of them. Given their short, snappy nature, there was all sorts of funny, creative videos being made and shared across the Internet.
Over on Twitter, the hashtag #RIPVINE is making the rounds, sharing everyone's favorite from the past couple of years. Farewell, Vine. You were loved by so many.
Here are the 25 Vines that we never want to forget:
25. Hater Blockers
This kid got everyone wearing hater blockers.
By Brandon Bowen
24. Caught
We'll miss Josh Peck's vines. Watch this one here.
By Josh Peck
23. Doughnut Time
This guy made up a song about the way we all feel inside.
By Jared Stradling
22. Wedding time
This father son duo stole our hearts on Vine. Watch it here.
By David Lopez
21. Narrating people's lives
There's nothing like a Vine that incorporates unsuspecting strangers.
By Thomas Sanders
20. Poor Jay
We hope that kid's doing okay.
By Chase Broeckelmann
19. The Circle of Life
True story: this is how we all hold puppies. Watch it here.
By Jerry Purpdrank
18. Eyebrows on fleek
When the term 'on fleek' was coined.
By Peaches Monroee
17. #ButThatBackFlipTho
But really, that backflip was sweet.
By KingBach
16. Trash
Basically any Vine by Zach King left us mesmerized by his illusions.
By Zach King
15. Flying kid
This kid learned a lesson the hard way.
By Kierra Santillan
14. Maple
The one dog band that became famous on Vine.
By Trench
13. What are those?
The officer never answered the question.
By A-RODney King
12. Do it for the vine.
After this video we all started "doing it for the Vine."
By Dom
11. "Would you not eat my pants?"
This goat had enough of the interview.
By Mark Bissell
10. YAAS Cat
This cat knows what it wants.
By Blake Welch
9. Stadium kid
This kid made the most of his six seconds of fame.
By Rayven Tirado
8. The Party Llama
There will never be a llama as rad as this one.
By Kirill Beerlove
7. Look at all those chickens
That is a lot of chicken.
By lookatallthosechickens
6. Crazy woman at Apple store
This woman went off on a hilarious rant about Apple Care.
By Porscha Coleman
5. Dog dancing
This dog dancing to "Africa" by Toto is still the best dog vine ever.
By OverL00k
4. Who is she?
This vine brought joy to so many people.
By Chloe lmao
3. Duck army
Vine may die, but this sound will never leave us.
By Charlie Murphy
2. Damn Daniel
We will never forget the day Daniel took over the Internet.
By josholzz
1. Why you always lying
This catchy song will still be in our heads long after Vine's death.
By Nick Fraser