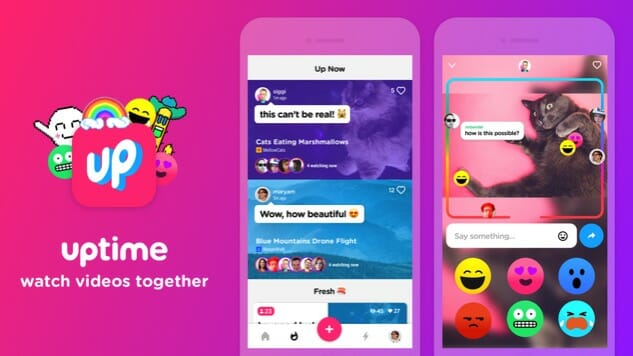 You can now watch YouTube videos with your friends on Google's new app, Uptime. Instead of sharing YouTube links via texts or social networks, Uptime lets you watch with friends directly in its app.
The app was first published in March as an invite-only limited beta test. Now open to all with iOS, users can chat while watching, and leave comments and emojis layered on top of the video. If someone watches the video later, they'll see the reactions timed to the video as if it was updating in real time, enhancing the experience of watching a video sent to you by a friend.
Since the initial beta upload in March, updates to the app include the option to play and share music videos, and the ability to connect to Facebook and find friends to watch with.
Elements like the emoji reactions take after livestreaming video services, such as Twitter's Periscope or Facebook Live. But unlike those videos, which are often spammed with emojis and negative comments, Uptime creates a private experience perfect for group chats.
Other companies are on the same trail, making Uptime one of several apps to offer a co-watching experience. Tumblr's Cabana, Let's Watch It, Fam and even a yet-to-be-launched Skype feature all offer co-watching experiences for YouTube.
Uptime was built by Area120, an experimental research and development unit launched by Google last year to turn offbeat ideas from Google engineers into actual products. Other iOS apps developed by Area120 include Supersonic, a Snapchat-esque voice messaging app, and Tailor, a styling app that lets you send any fashion-related question to a team of stylists.
You can download Uptime for iOS here and find out more about the app here.