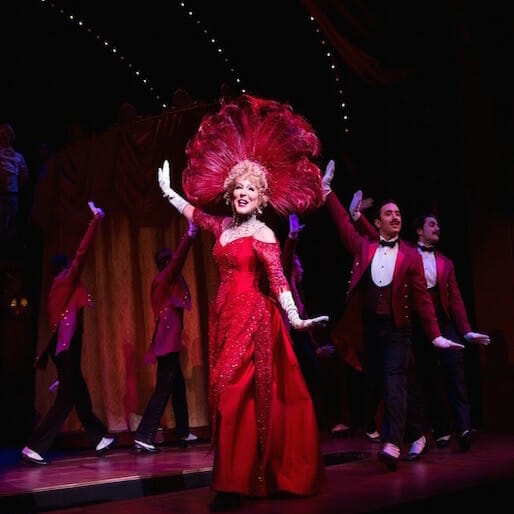 Rejoice! Bette Midler is back onstage in New York, opening this week in the title role of the Broadway revival of Hello, Dolly!
Depending on your personal tastes, you may know Midler best from her 14 studio albums, her countless tours, or her colorful movie roles, from 1979's The Rose (for which she won the first of her three Golden Globes) to this year's Freak Show. Midler first garnered recognition worldwide for her 1972 album The Divine Miss M, which won her a Grammy for Best New Artist, and she has had more soundtrack credits than acting roles over the years. But her star trajectory can be traced back to an early string of off-off-Broadway productions after she moved to New York from her native Hawaii in 1965. Just a year after performing in roles that were many miles from the Great White Way (figuratively, anyway), Midler landed the role of a lifetime as Tzeitel in the 1967 Broadway production of Fiddler on the Roof, and the rest is history.
Now she's back in one of theater's classic roles, stepping into a Dolly legacy launched by Carol Channing in 1964 and carried on by Pearl Bailey, Ethel Merman, Ginger Rogers, Martha Raye, Betty Grabel, Bibi Osterwald and Phyllis Diller.
In honor of Midler's first Broadway musical performance in more than 40 years, we've compiled her best songs and most memorable performances from both her music and film careers.
1. "Wind Beneath My Wings" from Beaches (1988)
As the bold, career-focused showbiz performer C.C. Bloom in 1988's Beaches, Midler and co-star Barbara Hershey helped immortalize the complexity of female friendship while also championing the scrappy women of the world. The story takes a sad turn in its final chapter, and Midler's mournful version of the ballad "Wind Beneath My Wings" plays behind the action as she sees her friend for the final time, leaving no dry eye in the theater.
Although the song "Wind Beneath My Wings" had been circulating on the charts by various artists, including Gladys Knight, since 1982, Midler's version hit No. 1. She even took home the Record of the Year at the 1990 Grammy Awards. For the "In Memoriam" portion of the Academy Awards in 2014, Midler sang "Wind Beneath My Wings" in tribute to industry heavy hitters such as Philip Seymour Hoffman and James Gandolfini, demonstrating her readiness to hit the stage in Hello, Dolly!
2. "From a Distance" from Some People's Lives (1990)
Originally written in 1987 by singer-songwriter Julie Gold, Midler catapulted this ode to peace, harmony and beauty to the top 10 of the Billboard charts. Fresh off her Grammy win for Beaches, Midler walked away with two Grammy nominations for "From a Distance," further cementing her status as a hitmaker.
3. "The Rose" from The Rose (1979)
Midler's first starring film role told the story of burnt-out rock star Mary Rose Foster on her final tour. Midler might be known for her ethereal ballads, but her brash yet empathetic persona fit right into the rock 'n' roll scene and lent some vulnerability to her the lonely, alcoholic character of Mary. In the titular track, "The Rose," she sings sweetly about what love is: "I say love, it is a flower, and you, it's only seed." This song held moviegoers' attention beyond the big screen, and "The Rose" won Midler the Grammy for Best Female Pop Vocal Performance in 1981.
4. "Boogie Woogie Bugle Boy" from The Divine Miss M (1972)
On her debut album, Midler and her piano accompanist, a guy named Barry Manilow, updated this Andrews Sisters&#8217 1941 World War II swing tune and made it a super-groovy rocker. Midler met Manilow while performing at the Continental Baths in New York City. Midler was sang in nightclubs to make money, which her theatre roles weren't providing her, and Manilow immediately became a confidant and musical partner, producing The Divine Ms. M, her 1972 debut. "Bugle Boy," the first instance of Midler revamping a classic hit for a new generation of listeners, topped the adult contemporary charts and earned her a Grammy nomination for Best Pop Vocal Performance.
5. "Do You Want to Dance?" from The Divine Miss M (1972)
Previous versions of this song —like the Beach Boys's—of "Do You Want to Dance?" were up-tempo and made you want to get up and shake it with somebody, but Midler had other ideas. Taking the opposite approach for her cover, she slowed it way down, making it a sexy, slow dance. This was Midler's first single off The Divine Miss M, and it was a great first impression for listeners, climbing as high as number 17 on the Billboard charts. Not too shabby for a brand new artist.
6. "Everything's Coming Up Roses" from Gypsy (1993)
TV movie musicals might be a dime a dozen on NBC these days, but it was Midler who made America fall in love with this particular musical medium. The songstress knew she had the vocals and talent to shoot a scene-by-scene and song-by-song version of Sondheim's Gypsy, and she was brassy enough to play the stage-momager Rose. In "Everything's Coming Up Roses" she's energetically convincing her daughter that she can be successful onstage. The L.A. Times said this about Midler's performance in a headline: "Therein lies a tale of tenacity, good timing and star power that Mama Rose herself would have appreciated."
7. "I Put a Spell On You" from Hocus Pocus (1993)
This list would be remiss if Midler's spookiest performance was left off! As Winifred Sanderson, one of Midler's most beloved characters (and go-to Halloween costume for millennials), she grabs the microphone at a Halloween Party and serenades a group of adults, putting them under her spell. Singing Nina Simone's classic hit, Midler camps it up, with her witchy sisters (played by Sarah Jessica Parker and Kathy Najimy) serving as backup singers. It might not be her greatest vocal, but it's one of her most memorable performances, with her absurd red hair, buck teeth and wild eyes.