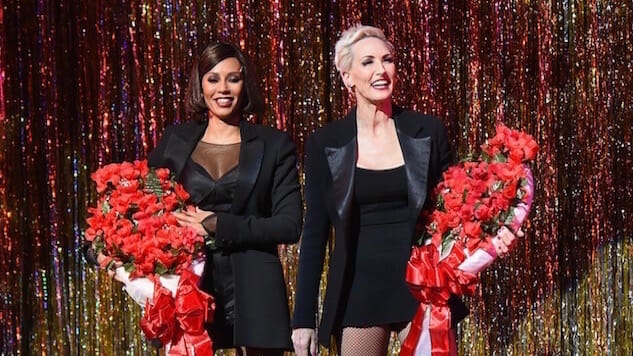 After 11 years on Broadway Jersey Boys closed on January 15, but the musical Chicago is still kicking its heels after 20 years. How do its producers Fran and Barry Weissler keep drawing in crowds? What's the secret to keeping a musical that's been on Broadway for more than two decades going strong?
The box office receipts generated by Chicago on Broadway read more like the revenue of a blockbuster Hollywood film. It cost $2.5 million to capitalize in 1996 when it was revived but has netted over $577 million. That's quite a payday for investors.
Chicago has had two lives. It originally opened on Broadway directed by Bob Fosse in 1975 and ran until 1977. When Encores, which keeps forgotten Broadway musicals alive and performs at City Center, revived it in 1996, it pumped new life into it and led to its second Broadway engagement.
Since then, it has garnered 5 Tony Awards, including Best Musical Revival and 5 Drama Desk Awards. Outside of New York, and has generated $3.7 billion globally.
Keeping a Broadway show pumping away for two decades takes clever marketing, adroit use of stars to generate attention and a storyline that resonates for theatregoers.
One secret to its longevity has been inventive casting that gives theatregoers, particularly tourists, a reason to see it, and perhaps, return again. A glittering array of performers has appeared in its cast including: TV stars (Wayne Brady), models (Christie Brinkley), dancers (Ann Reinking), film actors (Taye Diggs, Melanie Griffith and Brooke Shields), musicians (Usher, Jennifer Holliday and Huey Lewis), talk show hosts (Wendy Williams) and Broadway stalwarts Joel Grey and James Naughton.
"Rotating star-or stunt-casting keeps the press interested and makes people want to go back and see it again with a star they're attracted to. The Weissler are masters of this," asserts Jack Viertel, a producer with Jujamcyn Productions and author of The Secret Life of the American Musical: How Broadway Shows Are Built.
Viertel said Chicago caught the zeitgeist of the times. The musical hit Broadway in the midst of the O.J. Simpson trial. When it was revived in the '90s, "the dark view of humanity, which had seemed too cynical to be appropriate or reasonable when it was first produced in the 70s, now fit the temper of the time perfectly," he says.
The show kept replicating through productions in other cities and other countries "and become famous for being famous," Viertel says.
While Disney was producing family friendly shows like The Lion King, Viertel says by contrast Chicago was "adult and frankly sexual."
In terms of box office, Chicago is holding its own, though it's not selling out like Hamilton. For the week ending January 15, 2017, it generated $612,000 in revenue, sold two thirds of its seats, at an average price of $84. The previous week it generated $743,000 in sales.
"While it's true that Chicago's best earning days are well behind it, every now and then, especially during holiday weeks, it's up in the 90 percent range once again," explains Peter Filichia, a former Newark Star-Ledger drama critic and author of The Great Parade.
Clever marketing sustains its longevity. "The revival's campaign of using red and black—colors associated with passion, sexiness and danger—complemented this sense of ominousness," Filichia says.
Viertel describes the marketing as "not tawdry but witty. But with its black and white (and touches of red) photographic look, it also seems artful."
Chicago's winning the Oscar award as best film in 2002 provided a needed jolt to the box-office on Broadway. Filichia noted that several other Broadway musicals were turned into Oscar winning films including West Side Story, My Fair Lady and The Sound of Music. But by the time those films debuted, the respective Broadway musical had closed.
"No other Oscar winner had the chance to do the Broadway production any good; this time, it did," Filichia notes, referring to Chicago.
Performing at the Ambassador Theater makes it more likely to keep running. Filichia says Chicago has played the Ambassador for the last 14 years, which he describes as "one of Broadway's less-sought after houses. So the Shubert's, the landlords, aren't in any hurry, to throw them out," he says.
The Ambassador only accommodates 1,125 people, which is fewer than the Rodgers Theatre with 1,385 seats and Shubert Theatre, with 1,460 seats, where it played in its heyday.
The characters of Roxie and Velma, originally played by Gwen Verdon and Chita Rivera, have captivated audiences for years. "Men become strangely intimidated and yet intoxicated by these superwomen," Filichia says. Both Roxie and Velma were cheated on, Filichia observes, the former by her lover, the latter by her husband.
Can it keep running? "Just when we think it's going to close, it seems to rise like a phoenix—or like Roxie and Velma. So there's no prediction that anyone in the business can accurately make," Filicia admits.