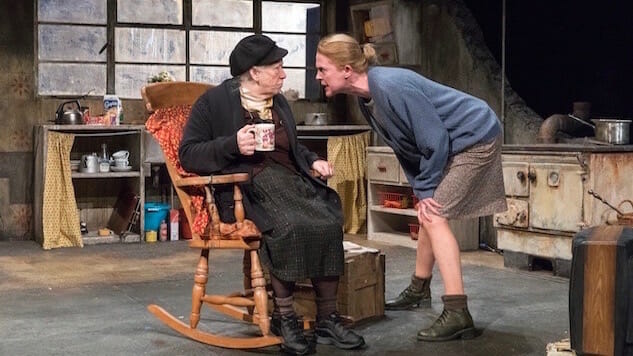 It is Ireland, and so, it is raining.
The Beauty Queen of Leenane opens in the very early 1990s, into the floor of modest cottage, where an elderly woman is sitting alone in front of a TV set. Inclement weather beats against the window.
Revived by Druid Theatre almost 20 years after its premiere, the jet-black work of Martin McDonagh (The Lonesome West, The Cripple of Inishmaan, In Bruges) has aged well for a four-character, one-room play based in Leenane, an isolated village in Connemara, a wild, bare, and beguiling part of Ireland's western seaboard.
Any frugality in terms of cast or setting belies this play's weight, depth, and the quite extreme awfulness it contains. When it was first performed in London in 1997, audience members reportedly cried out in opposition to abuse meted out to the infirm 70-year-old Mag Folan (Marie Mullen) by her unmarried cohabiting daughter, Maureen (Aisling O'Sullivan).
Maureen, 40, bawdy, and brash, is overcome by the intense resentment she feels towards her demanding mother. They bitterly spar and snap at one another. The dialogue between Mag and Maureen is rhythmic and their delivery percussive: the pair trades quick, comic insults, spitefully finish sentences, and taunt each other with fractions of beats separating their salvos. It is Gilmore Girls, if Gilmore Girls was set in depressed rural Ireland 25 years ago, exclusively featured fighting, and was underscored by terror, loathing, and poor mental health.
The women's private cycle of mutual distrust and two-way tyranny is disturbed by just one passing neighbor, a giddy young man named Ray Dooley (Aaron Monaghan). On this particular afternoon, Ray brings with him an invitation to a dinner dance, a real rarity, which his older brother, Pato (Marty Rea) is home from England to attend. Mag is determined to keep the invitation from her daughter, and in this she almost succeeds. Almost.
The twists are then several in an otherwise simple plot. In a pronounced rage, Maureen will go to the ball, and she'll hit it off with the afore-mentioned Pato Dooley while there. She will bring him home later that night, bringing him, with a certain desperation, right into her small life, exposing herself to the strange blend of anguish this decision will entail.
Mullen returns in this staging as Mag, having played Maureen on Broadway last time around, and been awarded, in 1998, a Tony for best actress. Mullen is a high queen of Irish theater, and her talent finds its way around the character of Mag as effectively as any person acquainted with it might expect. Her vowels, her facial tics, her malice, and her comic timing are just right. When she is funny, she is hilarious.
O'Brien is excellent as Maureen, mean, while projecting abject oppression and emotional instability with as much steadiness and ease as those elements can possibly be brought across. Monaghan is lively and loose as Ray, the much-maligned messenger and the play's Shakespearean fool.
But it is the absorbing recitation of the letter written to Maureen by Pato, by then returned to work on a construction site in England, that serves as satisfying ballast after the halfway mark. Marty Rea's reading grants the production the oxygen necessary for the remainder.
The letter is the performer's challenge but the audience member's treat: frank, hopeful, and fond about the night of the party a declaration of abiding gratitude to Maureen for something ephemeral, or once-off. In a performance entirely free of applause between scenes, Rea's monologue led to a spontaneous round at BAM Harvey Theater.
In all, he thrives as Pato Dooley, seizing on each of the most subtle facets of a character single-handedly responsible for the action that results in other characters' reactions. Maureen is in something like love with him, Mag both fears him and envies him, and his younger brother Ray reveres him.
Rea's Pato is charismatic enough on that one, fateful night to woo (if his drunken acquiescence and failure to negate can be so termed) Maureen, and certainly wholehearted enough to charm her. He is gentle enough and simple enough not to threaten her, but sincere and opinionated enough not to bore her.
The memory of Pato lingers over the confusion, anger, and eventual horror that visits the Folan home in the final scenes.
McDonagh makes no concessions to the English language in the text of Beauty Queen, be it the stubborn use of "I do be" where one would typically have "I am", or the colloquial inversion of the imperative: Mag does not ask that the visiting Ray Dooley put another bit of turf on the fire, rather: "another bit of turf on the fire put". The idiosyncratic Irish deployment of the word "like" at the tail-end of sentences is heard throughout.
The effect is as transportive as it is entertaining to an uninitiated ear. Direction by Druid Theatre co-founder Garry Hynes, who also won a Tony Award for the same direction in 1998, gives power to these words, ensuring their import is not only not lost, but accentuated.
The set design is predictably thorough, from the two-bar electric heater, to the dated box of Barry's Tea, to the small red bulb —a flickering fixture in older Irish homes — illuminating the hanging portrait of the Sacred Heart of Jesus.
Costumes for the Folan women, too, are airtight. O'Sullivan's Maureen is appropriately swamped in drab, shapeless cotton and mid-calf skirts, and elderly Mag is expertly layered in rubbishy knits and capped with a perfect, crappy black hat that accentuates, once freed, that whitest head of hair.
Seemingly falling from high above and cascading down the windowpanes of the troubled Folan homestead, in the last scene as in the first: pouring rain. After a standing ovation at the opening night in Brooklyn, audience members stepped out onto Fulton Street into wintry sheets.
Director: Garry Hynes
Written by: Martin McDonagh
Starring: Marie Mullen, Aisling O'Sullivan, Aaron Monaghan, and Marty Rea
Scenic design: Francis O'Connor
Costume: Francis O'Connor
Runs through: February 5, before continuing to Boston (February 8-26), Pittsburgh (March 2-4), and Ann Arbor, Michigan (March 9-11)