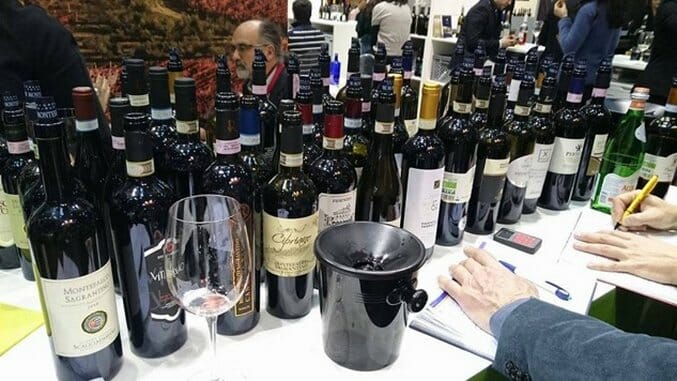 Last month, the Prowein International Trade Fair for Wine and Spirits, the largest in Europe, was held in Dusseldorf, Germany. Some 52,000 visitors, 6,000 exhibitors, and 1,000 journalists from 47 countries came to the industry-only event. Even for people that make a living from wine, arriving at the gates of this fair for the first time feels a bit like Frodo in front Mordor; you get a jolt of excitement mixed with pure bliss and a hint of anxiety. Rows and rows of exhibition halls stretch in every direction, displaying every type of vino imaginable: European, New World classics, and exotic destinations such as Bolivia and Lebanon.
My task to readers—as a wine shop owner, sommelier, and devotee of reds and whites—was to find the five wines across the planet that travelers should keep their eyes on this coming year. The results of that mission are below. I hope your discovery of these wines adds special meaning to your journeys this year.

Colio Estate Prism Vidal Icewine 2013
Lake Erie, North Shore, Canada
Canada is COLD. Living there for six years, I completely understand why Canadians are famous for their luscious icewines, better known as "liquid gold." Producing since 1985, Ontario proves, year in year out, why it has ideal conditions for these types of wines: warm summers to ripen the grapes and cold winters to leave them on the vines until late January for temperatures of 17.6 degrees Fahrenheit or lower in order to fully concentrate the juices and flavors and get a beverage with high sugars and low alcohol. Awarded gold at the 2015 National Wine Awards of Canada, Vidal's icewine lives up to this reward fully. Putting my nose inside the glass was like putting it in a jar of granny's apricot jam—fresh, fruity and sweet. On the palate, it's pure syrup, with notes of orange zest, ripe nectarine, dripping honey and pineapple. The acidity creates the backbone of the wine and is carried out gorgeously in the lasting aftertaste.
Kopke Port Colheita 1966
Porto, Portugal
Besides walking around the fair with a wine glass in hand, I also attended a few workshops, including "Four Decades of Port Wine." A guided tasting with Bento Amaral, Head of IVDP Certification Services and Axel Probst, port and Douro expert, offered me a very rare opportunity to dive into the remarkable world of multi-dimensional port wines. Do you remember where you were in 1966? I surely don't, but this wine was an absolute blast from the past, displaying a rich bouquet of honey, roasted almonds, butterscotch and caramelized coffee, following through to a packed and succulent palate with splashes of dried fruit (plum, fig) and baking spices. Colheitas are better known as single-year tawny ports, meaning that they have been aged in casks for a long time before being bottled (this one was bottled in 1999). They are instantly enjoyable upon release and need no further aging.
Tolaini Picconero 2010
Tuscany, Italy
After tasting this wine, I called my father to tell him how phenomenal it was. Mind you, this rarely happens solely because the majority of wines are not worth the waste of mobile impulses and me getting excited like a little kid. In the philosophy of the Tolaini Estate, we can see prominent influence of first-growth Bordeaux, meaning that the winemaker strives to create a precise and recognizable representative. With the cuvee of three grape varieties—Cabernet Sauvignon, Merlot and Petit Verdot—Picconero gives us exactly that. Even a social wine consumer can recognize the elements of all three varieties: the spiciness of the Cab, the mellowness of the Merlot and the high tannins of the Petit Verdot. They are all packed up beautifully in a full-bodied, dense and concentrated wine dominated by dark fruit notes (blackberry, blackcurrant) and whiffs of tertiary aromas such as tobacco, tar and dark chocolate.
Poole's Rock Semillon 2011
Hunter Valley, Australia
How many times have you heard that a white wine can age for 10 or more years, sealed only by a screw cap? Well stop searching for proof ladies and gentlemen, because Poole's Rock has rewritten the script with this single-vineyard purebred Semillon that enchants with its minerality and crispness on the very first sniff. The tropical and stone fruit aromas come into plan on the palate and are complemented by an austere acidity, which holds the whole thing together. A hint of sweetness blissfully completes this liquid poetry and justifies the 96 points from Decanter Magazine and a ton of gold medals from local wine shows. The reason why this wine stays fresh even after five years is the 0.01% of oxidation it gets under the cap, which, compared to the cork, is just enough to allow the development of fruit notes, but preserve all the other elements which are the trademark of this wine.
Ixsir Grande Reserve Red 2011
Batroun, Lebanon
If any wine region in the world has triumphed despite all hardships it has faced, that would definitely be Lebanon. The obstacles these winemakers face are not soil types, vineyard positions or grape varieties. This small country is located in one of the biggest war zones of modern history, caught in the crossfire of Syria in the north and east, and sharing the border with Israel and the Golan Heights in the south. But roadblocks, political instability and bombings did not ruin the ideal growing environment of Batroun. In fact, this territory attracted a considerable number of foreign investors, winemakers and consultants, thus the Ixsir winery can be proud of having Gabriel Rivero (experienced Spanish winemaker and oenologist) and Hubert De Boüard (co-owner of the celebrated Château Angélus) on their team. They did a fabulous job of creating this rich, inky blend of Syrah and Cabernet Sauvignon recognized by its cassis, licorice and cherry compote aromas followed through with a robust, but silky palate. Everything in this wine screams top-notch quality—the lively acidity, juicy concentration, firm tannins, flawless fruit-oak integration and long shelf life.
Aleksandar Draganic currently works as business development manager at DiVina in Sarajevo and embraces a love affair with travel, food, wine and beer. He is also the only and youngest holder of WSET Level 3 certificate in Bosnia and Herzegovina.