When I was a child, my parents insisted on taking my sister and I on camping vacations. I think it was more for the cheap accommodations than a love of the outdoors.
Most of my memories from those vacations include me complaining—forget the fun we had trying to pitch the tent, the camaraderie that exists between strangers roughing it together, and how good it feels to get back on that property at the end of the day.
And after years of modern high-end hotels, or at least hotels with room service, I'd completely underestimated the coziness of a simple cabin you can call your own for even a short amount of time.
That is, until I entered Zion Ponderosa Ranch Resort in Utah at the more appreciative age of 30.
First Impressions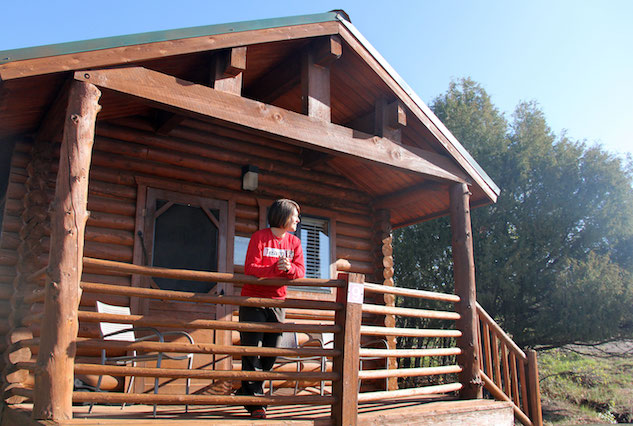 This seemingly never-ending winding road ends eventually, I promise. After a few false alarms, you finally reach an iron arch that says, "Zion Ponderosa Ranch & Resort." It's the stereotypical camp entrance sign, just a little nicer, and it's fitting for the experience you're about to embark on—camp, but a little nicer.
Driving under it and onto the property, I was immediately awash with memories of my childhood—camping with my parents on ranches and in the woods filled with families and activities.
A wooden welcome sign points you to guest check-in, but first you drive past cabins that surround this part of property and an outdoor mini golf course that sits in the middle of it. You'll immediately make a mental note of your plans for later.
A large wood lodge labeled "Zion Ponderosa" sits just past it. There's a gazebo on the left of it and the check-in sign over a door right in the middle.
Walk in to be immediately overwhelmed by lots of … things. Campy (literally) souvenirs like lanterns and mood rings are on the left (I was always "cheerful," which was accurate), as is a fireplace, while reception and a grocery section wait on the right. Depending on who's attending the desk, you'll either gets lots of useful tips about the property and Zion National Park, which is a 15-minute drive away, or nothing but your key (or tent information), which is really all you need right now.
Make an about face and get ready for a rustic weekend.
The Rooms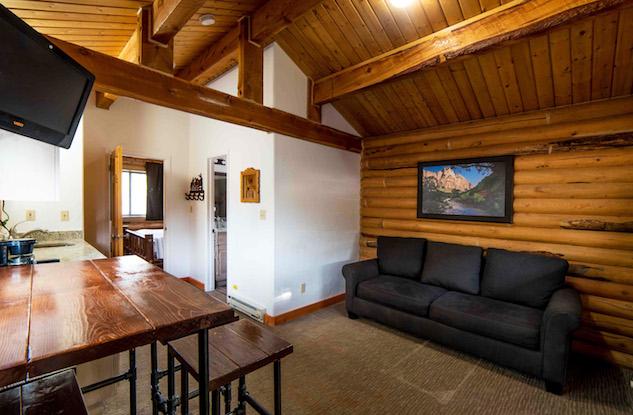 The accommodations at Zion Ponderosa range from tents to wagons to three bedroom cabins. We stayed somewhere in the middle—in a one-bedroom cabin.
The tents are set up in rows on one side of the property. They can't be seen from the entrance area. They can sleep a few people and are propped up on wooden platforms, in true glamping form. You won't need sleeping bags, as they have proper beds.
The property is dotted with the uniform wooden log cabins and their green peaked roofs. They all have decks and outdoor dining furniture. The inside of a cabin looks a lot like the outside: wooden logs make up the walls, bed frames, couches, nightstands, dining tables, you name it. While the smallest cabins don't have private bathrooms, they all have couches, vaulted ceilings and air conditioners—you're not really roughing it. Cabin suites do have private bathrooms, and they also have a separate living room with a kitchen sink, fridge and microwave. The décor is minimal—consisting of some carved wooden frames on the walls and Southwestern style geometric patterned upholstery.
These cabins make for the perfect cozy night sharing scary stories (or watching scary YouTube videos, which is what me and my millennial travel buddy did) under a scratchy blanket after filling up on toasted marshmallows that you made outside on the cabin grill.
The bedrooms in the one-bedroom cabins can be tight. But with so much to do outside and a living room for your luggage, the lack of space won't really bother you (unless you're like me and have to pee in the middle of the night—but there are nightlights for that exact reason). On a more luxurious note, the sheets and towels are surprisingly soft for a wilderness experience. That must be where the "resort" comes in.
What Pops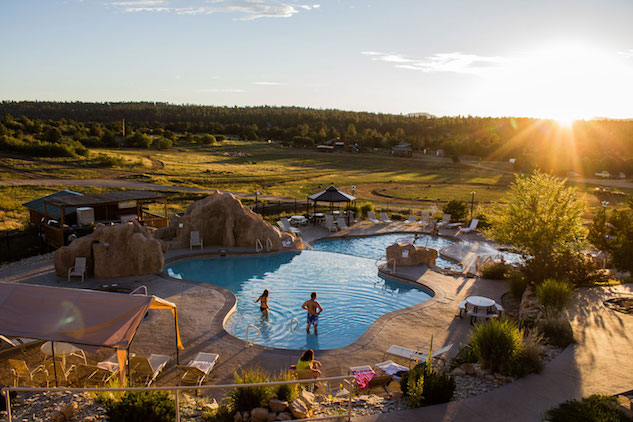 "The long winding road to get there," that's what my friend said when I asked her what she remembered most about the hotel a few weeks after we visited. But I disagree. Being on this 4,000-acre ranch/resort brought up memories of my childhood I'd completely forgotten. Going to Zion Ponderosa's pool reminded me of the cannon balls I did with new friends found on campgrounds as a child (except this pool is nicer than the one in my memory). Watching children zip line from the activity lodge (which also had pool tables and other games) behind the main lodge made me jealous for my younger self who was left to their own devices in the woods. Stumbling out to the scheduled bonfire by the horse barn after dinner one night reminded me of the many meals enjoyed with my family around a fire.
Until this trip, my memories of camping with my family had all been negative: my father reprimanding me for making crumbs that would attract animals, losing all my Barbie accessories that I insisted on bringing, mosquito bites, trekking to the communal bathroom in the middle of the night.
The warm air of familial jubilation that Zion Ponderosa exudes brought back the fonder recollections.
Oh, and, I have to mention the on-site restaurant, Ray's Restaurant, which had a high-end menu more fit for a city grill. With delicious dishes like housemade veggie burgers (they even had gluten-free buns), we were more than happy to be limited when it came to nearby dining options.
The Locale
Zion National Park is a great homebase for those looking to enjoy Utah's outdoor monuments. It's just under eight miles from Zion National Park, so close it borders the eastern edge of it. The windy road to the highway makes the drive about 15 minutes. It's also only a 90-minute drive from Bryce Canyon, and close to the Grand Staircase National Monument and Coral Pink Sand Dunes.
Address: Twin Knolls Road
Room Rates: $12 per person per night for tents, from $139 for cabins
Website: Zion Ponderosa Ranch Resort
---
Maggie Parker is the assistant travel editor at Paste Magazine.