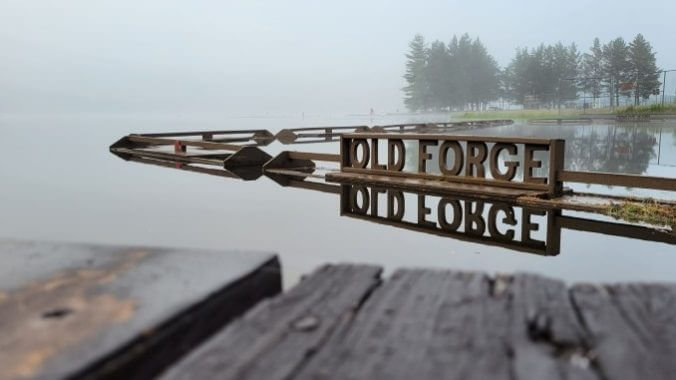 Outdoorsy scented candles are lovely, but they won't instill in you the unadulterated serenity of the Adirondacks. If you tally up the money spent on candles with names like "sun-baked pine needles" or "misty mountain morning," you're better off putting it towards the ultimate all-American getaway: a trip to Old Forge in the Adirondack Mountains in New York.
A Hamlet in the Mountains
Old Forge, New York, is located in the Central Adirondack region, and there are two things to know. First, it's a smorgasbord of evergreen-covered mountains and glistening lakes—all the fresh mountain air you need to quiet the chaos of everyday life. More than this, however, Old Forge is (drum roll, please) a hamlet. If you're unfamiliar with the term, a hamlet is like a wee-cozy village within an already existing town—in this case, the town of Webb. In other words, if you're for an entirely serene scene, get your tuchus to a top-notch hamlet, where the streets are dappled with old-timey candy stores and people that say hello when passing on the sidewalk.
Where to Stay
Just a few minutes east of the Old Forge shopping village, Great Pines Resort has made a name for itself as the ultimate Old Forge basecamp-style lodge. It's located directly on Fourth Lake, with 600 feet of waterfront access and a curated vibe that is equal parts rustic and modernistic. The property itself has been nestled in the Adirondacks long enough to embody the essence of the area's outdoorsy heritage, but its recently remodeled rooms and cabins have all the connectivity and amenities of a resort.
Not only does Great Pines have a seasonal lakeside restaurant and bar, The Lean To, but it also has plenty of Adirondack chairs perfectly perched over the lake. It's tasty and casual, which works perfectly with bringing your cocktail over to the fire pits and roasting marshmallows while regaling one another with stories from the day—whether it was spent using the property's kayaks and paddleboards, hiking, boating, or even napping.
Trails Close to Great Pines Resort
If you're looking to spend your time in Old Forge without doing any driving at all, no worries. There are a few trails within walking distance of the property. Just down the road from the hotel, heading west, the Bald Mountain trail leads to a majestic overlook; it's an excellent spot for a picnic. If you walk to the trail, it's just over two miles down the road. East of the property, you'll find the Black Bear Mountain trailhead. In total, it's a 3.5-mile walk to the trail, and then you can do as much (or little) of the 4.7-mile loop hike.
And, as an added bonus for those who like to hike with their trail dogs, some of the accommodations at Great Pines Resort are dog-friendly. So just remember to grab some on-the-go breakfast snacks in the lobby, and you're ready for a day of Adirondacks adventure. 
Things To Do in Old Forge, NY
No one could blame you if you want to hunker down with your summer reading list and chillax by the lake. There's so much to see and do in the area, though. For those looking to lean into the hamlet-in-the-mountains vibe, the Old Forge shopping area awaits on a sleepy stretch of NY-28. Regardless of the time of day, your first stop should be the Candy Cottage, where they specialize in crafting old-fashioned fudge. You can go with the classics, dabble in their famous Caramel Corn fudge or grab some nostalgic candies like Candy Buttons or Necco wafers.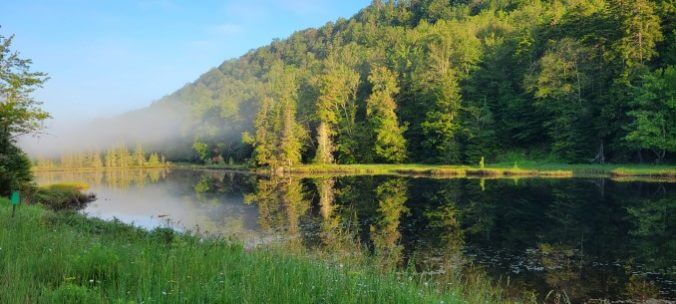 Visit the Eclectic Shops
Allow a few hours to leisurely meander the shops of Old Forge. For example, a small boutique, Split Branch, offers clothing, home goods, and gifts that are a far cry from tourist tchotchke. Instead, this is the kind of spot where you'll get a head start on your holiday shopping. Additionally, nestled among the unique shops, the Rainbow Zen storefront is a marvelous mishmash of worldly-inspired goods like Tibetan singing bowls, elaborate wood puzzles, and leather journals that make you want to wander the earth, hoping to fill its pages with worthy wonderment. 
Experience the Waiting Room Espresso & Cocktail Bar
The bar's dramatic spiral staircase and impressive wood-walled warmth are the first things you'll notice when you enter The Waiting Room. As for the name, it was the home and office of a local doctor for over 70 years. Now in the loving hands of its new owners, the space has been meticulously maintained, which lends to the overall aura of cozy-chic. It feels like an elegant salon with a come-as-you-are invitation to sip craft cocktails, nibble extraordinary bar bites, and—if you're in the mood—play board games. Also, be sure to check the events calendar because the wine dinners and events are epic. 
After the Trails, Hit Up the Water Slides
Once you've stocked up on candy (hey, it's vacation, after all!), take your pick from any number of Adirondacks-style adventures. Of course, there are oodles of hiking and mountain biking options, but also a few experiences that are unique to Old Forge. First up, the hamlet's claim to fame is its enormous Enchanted Forest Water Safari—the largest water park in New York.
Boasting an impressive 30 or so water slides and rides, its newest—added in 2020—is a four-lane, 293-foot mat-style slide, the Serengeti Stampede. To quasi-quote Saturday Night Live's regular news guest, Stefon, "Yes, yes, yes; this waterpark has everything." It's got near-vertical tube drops, over-water rope courses, and some pretty fly waterfall action. It's just good ol' fashion summertime fun.   
Make a Reservation for a Llama Trek
Apologies; of course, we could have (should have?) opened with the fact that there's a farm in Old Forge, NY, that offers Llamas treks. Yes, you're reading that correctly. You can go on a 1-mile hike with llamas and soak up all their chill llama vibes in the forest's solitude for about 45 minutes. Afterward, the owners will also give you a full tour of the farm itself—goats, horses, geese, and more. Moose River Farm is known for its therapeutic approach to animal care and immersive experiences; just be sure to call ahead to make a reservation. 
Experience Nature Like Never Before: Pedal a Rail Bike
Well, what can we say? A rail bike is just about the coolest thing ever. Imagine an open wagon-looking contraption with big, fat wheels that roll along on old train tracks. The railbikes at RailBike Adventures have four seats, allowing each person to contribute to the pedaling—or at least pretend while letting the others do the actual work. In reality, though, there's not too much work since both trails offered are generally doable for most ages and athletic abilities. The company offers two different rail trails in Old Forge, starting at $45—or opt for private rail-bike rentals, starting at $150. The River Run trail, for example, is a 6-mile meander along the splendor of Moose River—a great way to spend a few hours.
---
Melanie Carden is a Boston-based travel and lifestyle writer.