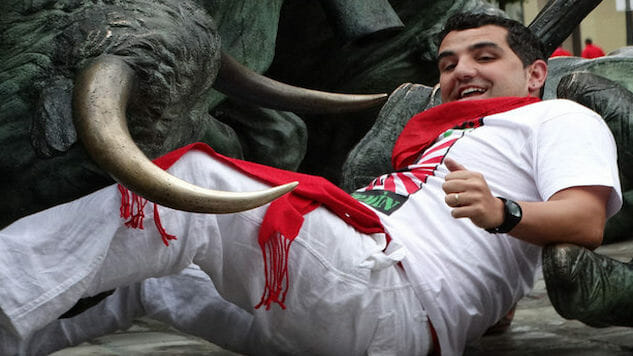 "Do as the locals do." That's a widely accepted, if not trendy, way to travel abroad without embarrassing yourself. In many ways that adage is sound advice, particularly when it comes to finding good food that's not overpriced or discovering the pulse of an unfamiliar place. In other ways, the suggestion is complete garbage that can ultimately hold you back, prevent you from enjoying a foreign adventure, and even limit shared experiences with travel mates.
Let us count the ways:
Swimming in Cold Water
Most people heading to the beach or to inland bodies of water likely come from colder climates. As such, they are better acclimated to cooler waters than locals and can therefore enjoy them more than locals do. In my own travels, several memories quickly come to mind. Freezing my butt off with my 10 year old daughter while frolicking in the frigid waters at Cannon Beach. Spontaneously dipping into a glacial lake with my friend Dwight while hiking The Alps. And swimming Galveston (with family) or Lake Wakatipu (solo) in Autumn as confused locals looked on in horror.
Overlooking Local Attractions
Regardless of where you live, chances are you have cool or otherwise popular attractions nearby that you've so far taken for granted—"because they'll always be there." Everyone takes their own backyard for granted and everyone regrets doing so later when life moves them elsewhere. In this case, don't you dare do as the locals do. Always do as the foreigners do.
Avoiding Souvenirs
There's no doubt about it: souvenir shops and taking photos at every turn of your journey are often tacky. But if you completely avoid the two, you'll miss out on capturing heartwarming momentos and smile-inducing memories. In my case, I always take home a sometimes cheesy refrigerator magnet and force myself to stop and take a usually inconvenient photo of an experience I know I'll want to remember. But once home, I look upon those souvenirs with great pride while recalling the good times they represent. That said, moderation is key here. Fussing over the perfect souvenir or shot will surely worsen your travels. But as a visitor, you owe it to yourself to snag at least one or two souvenirs from the places you've enjoyed.
Getting In Over Your Head
After writing his latest book, best-selling author Frank Miniter told me a great story recently about a Chicago man that was in over his head while running with the bulls in Pamplona. Without fully realizing what he was getting into, the latter man ignorantly joined more experienced local runners. Upon seeing the rushing bulls, he then cried like a baby after police wouldn't let him escape the protective barriers that were there for the safety of others. Another thing crazy locals do: drive motorcycles in Thailand, which has double the road fatality rate as the rest of the world. This isn't to say you shouldn't test your comfort zone while abroad. But before you do, appreciate and respect that local experience takes practice first.
Being Someone You're Not
In recent years, the word "tourist" has unfairly become derogatory. Probably because loud, moneyed or otherwise insensitive travelers have understandably given the term a bad rap. But don't let bad tourists deter you from being or embracing your tourist status. After all, you are not local. That's perfectly okay. In fact, you can use your outsider status as an advantage to ask questions, make mistakes, learn from them and ultimately grow. The only thing you have to lose is your ego.
Image: Adam Jones, CC-BY-SA
Off the Grid columnist Blake Snow writes epic stories for fancy publications and Fortune 500 companies. Follow him on Twitter.