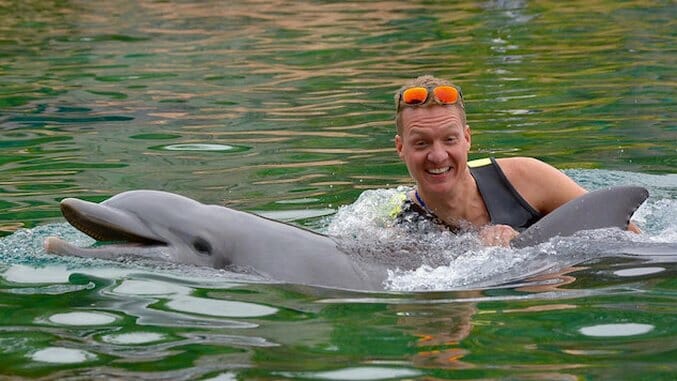 Not everyone is physically capable of accomplishing extreme natural, physical highs. But thanks to imaginative minds, modern engineering, and lots of hydraulic power, anyone can experience thrilling rides in the controlled confines of a theme park. That's what makes Orlando—the amusement park capital of the world—such a popular place among both domestic and international tourists.
But for someone who prefers the great outdoors and do it yourself adventure, are Orlando's mostly man-made, crowded attractions, and plethora of mobility scooters worth your time? To find out, I recently subjected my family to a week-long, six-park, and line-filled extravaganza. This is what I learned:
The Greatest Park You've Never Heard Of
While select Disney parks Magic Kingdom and Hollywood Studios—and both Universal parks deliver four-out-of-five-star fun, Discovery Cove was the highlight of our trip. This all-inclusive park lets you swim with dolphins, dive among 7,000 colorful fish, and float an artificial tropical river that's teeming with exotic birds. Although double the admission of other parks, Discovery Cove caps attendance at 1,200 visitors per day, includes all you can eat food and drinks, and free admission to both SeaWorld and Aquatica. Although I wasn't expecting much from either, the new hypercoasters at the former and 90-degree drop slides at the latter were worth writing home about.
So Much More Than Long Lines
Flat on the surface, beautiful up close. That's the best way to describe Orlando. While its main parks can be exhausting, the surrounding digs are utterly relaxing. Imagine Southern horticulture with a healthy mix of palm trees and year-round warm weather. When surveying the area by map, you can't help but notice the chain of lakes. In between these lakes you'll find world-class golf courses, tennis courts, and lots of hospitality. As a testament to Orlando's staying power, I encountered an abnormal amount of repeat visitors—as many from overseas as there were domestic. The theme parks didn't necessarily need this setting to survive. But they're better for it.
Best Of Both Worlds Accommodations
For our trip, my family visited Orlando in low season before peak rates kick in at Christmas and into the new year. To even out the cost of lodging, we first stayed at Orange Lake Resort huge, clean, and best value resort about 15 minutes from all the parks. Rooms with kitchens start at $120 and sleep 5 adults. To finish the week, we "rented" 1% lifestyles at upscale Grande Lakes Resort for a few days. Although prices start at $250 a night, the 500-acre complex is an attraction in and of itself and half of what a luxury hotel might cost you in bigger American cities. Few of us can stay in fancy hotels. But when it comes to memorable experiences, this it truly one worth saving for.
Know Before You Go
Half a century ago, Walt Disney forever changed Orlando's economy when he announced Disney World. In the 50 years since, the area has transformed into a sprawling, thrill-filled, and uniquely relaxing family destination. Long story short, the answer is yes, Orlando is worth your time, dependant on your willingness to give it a try. After visiting it for the second time, I finally understand why it's so popular. It's like a lush green Vegas of the East Coast, brimming with Southern charm, surrounded by accessible thrills, and uniquely positioned as perhaps the most relaxing inland settings this side of the ocean.
Pro Tip: Given its massive size, you'll still need a rental car to get around. We had good luck with National.
Off the Grid columnist Blake Snow writes epic stories for fancy publications and Fortune 500 companies. Follow him on Twitter.