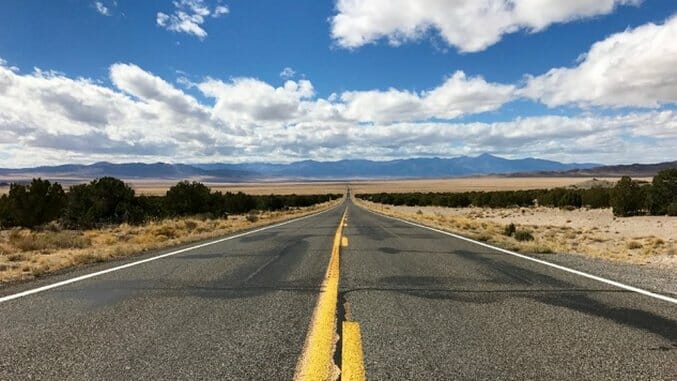 Thanks to ubiquitous connectivity and lack of self-discipline, it's increasingly difficult to get away these days. Unless, of course, you drive through rural Nevada along U.S. Route 50, a.k.a. "The loneliest road in America." After doing so recently, I'm convinced it's one of the better places to temporarily suspend an unending glut of information and get a stark reminder that time doesn't give a damn.
But more than just wide-open emptiness, this sun-drenched highway in a sea of sagebrush will take you back in time, expose resilient life, and reveal two pots of gold at its starting and stopping points.
Start at Great Basin National Park
Built in 1926 before the Interstate Highway System replaced it, U.S. Route 50 extends 3,000 miles from Ocean City, Maryland to Sacramento, California. But its most famous stretch runs from Delta, Utah, to South Lake Tahoe, California, through middle Nevada. Before continuing your journey, hike in one of the many sacred groves of Bristlecone pines at Great Basin National Park. The oldest living species on earth, these fascinating trees reach up to 5,000 years of age. Not nearly as old as the surrounding area, but still timeless and undeniably worth visiting.
Not So Lonely
Thirty years ago an unnamed official from the American Automobile Association "warned all motorists not to drive" U.S. Route 50. "It's totally empty," he said of the Nevada portion. "We don't recommend it." Since then, "the loneliest road" moniker famously stuck … basically Northern Nevada's version of "What happens in Vegas stays in Vegas." And like that designation, it's mostly fiction. I passed several cars along the way (in "low" season even) and have driven lonelier roads in West Texas and eastern Oregon. Nevertheless, U.S. 50 through Nevada is certainly the most beautiful stretch of lonely road I've ever driven. Stunningly devoid of life. Zero billboards. Hauntingly straight with low-lying mountains on all sides. Much better than boring I-80 to the north.
Weathered People With Kind Hearts
"If you can make it here, you'll live a long time," a tourism official quipped after I asked why exposed Nevada shows its age so well. The desert is old. The trees are old. The petroglyphs are old. And many of the people are just as weathered as the surrounding environment. You'll readily see this in the one-time mine towns of Ely, Eureka, and Austin. Many are rough on the outside but undeniably respectful. More than that, they are kind, unified, and take pride in cleaning 100-year-old hotels (as is the case of Hotel Nevada). The Wild West still flows in their veins. But the slow sands of time have softened them.
Fallon's Quiet Need For Speed
After passing through Great Basin National Park and a string of forgotten towns, I wasn't expecting much from Fallon near the western border of the state. But it ended up being one of, if not the, highlight of my trip. First, this is where the Navy's top guns practice incredibly fast and well-synchronized maneuvers in F/A-18 Hornets. They streak across the sky all day. Shoot for the moon in pairs. I've never seen anything like it and would go back just to re-experience it. Then we sped up, down, and around the good times at Sand Mountain with Rob at UTV Addiction, the only ATV rental in Northern Nevada. To finish off the day, we traveled back in time, explored a hidden cave, and saw the oldest "church" in North America at reverential Grimes Point.
Finish at Lake Tahoe
After traveling over 500 miles through mostly desert, we suddenly arrived at this big blue lake called Tahoe. In contrast to its eastern neighbor, it's surrounded by Stanford pines, is stunningly inviting, and is teaming with people and wildlife. If there is a better way to finish Route 50, I wouldn't know. If there's one downside to rural Nevada, it's the lack of good food. That all ends starting in Reno with Liberty Food And Wine. It undeniably ends once you cross the California border into North Lake Tahoe at GarWoods. Protip: order the veggie burger (really!), brussel sprout salad, and budino at the former; fried zucchini, teriyaki salmon salad, and slightly sour but light and fluffy cheesecake at the latter. Aside from food, we enjoyed our secluded stay at Granlibakken, taking in the acclaimed views at Inspiration Point, hiking Cascade Falls, and seeing lots of "Bears Crossing" signs.
Image: Courtesy of Lindsey Snow
Off the Grid columnist Blake Snow writes epic stories for fancy publications and Fortune 500 companies. Follow him on Twitter.