Off The Grid: 5 Reasons Anguilla Is Worth Its Caribbean Cost
Photo courtesy of Zemi Beach Resort
Travel
Features
Adventure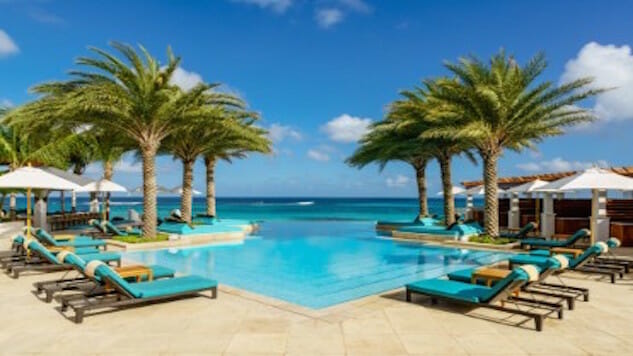 Before arriving in Anguilla for the first time, I knew three things about the island. Its pronunciation is tricky (ann-GWIL-ah). Its remoteness can be costly. And its ultra-isolated beaches are highly favored.
After visiting it over a long weekend recently, I learned a lot more. With exception to a Maltese-like sea arch on the west side, Anguilla is topographically boring. If you come expecting dramatic landscapes, you'll be disappointed by its flatness.
But that's a small price to pay for what the island gets right. Having independently verified its exceptional (and crowd-free) beaches, I was also impressed by its 15,000 residents and over 100 restaurants, a special combination which is abnormally and unthinkably good.
Beaches
As I approached Anguilla "international" airport in a turbo prop plane from the east, it quickly became apparent that the island's beaches would live up to their reputation. Just outside my window seat, I spotted a few catamarans, a grove of palm trees, one bar, and two handfuls of sunbathers not giving a damn on tiny Sandy Island.
That vibe continued over the next five days, whether walking on the marshmallow-soft sand of the south coast or swimming in the hyper-transparent teal waters of Shoal Bay East on the north coast.
People
While en route to dinner one night, my party made a wrong turn and a concerned local immediately took an interest. In a smile-inducing accent that only a Caribbean is capable of (Yah, mon!), he course corrected us before continuing on his way. We followed his directions but moments later he reappeared just to make sure we had our bearings.
I encountered the same welcoming assurance time and time again with no expectation of a tip or other ulterior motive. "It's done because it's who were are," my taxi driver Accelyn Connor later informed me. "We are a polite, respectful, and crime-averse people. You can walk any part of this island night or day, and we will go out of our way to make sure you safely find yours." That's a fact. (PS—if you need a cab while there, call Accelyn at +1 264-235-8931. He's a special dude.)
Food
With dozens of multi-starred restaurants and acclaimed chefs, Anguilla is the undisputed king of Caribbean dining. Find someone who disputes that fact and the burden is on them to provide evidence suggesting otherwise. All told, it's difficult to imagine how such fine cuisine arrived here. Minus the seafood, everything is shipped in daily.
For example, I enjoyed the crab funnel cakes at The Yacht Club, the ridiculous portions and good vibes at Scilly Cay, and the sunset hors d'oeuvres at Tradition Sailing. While all of my meals were sourced with high-grade ingredients, the most notable one was served by Stone Restaurant at Zemi Beach. Here chef Roberto rarely seems to miss. His vegetable dim sum lobster bisque, Thai-fried fresh red snapper, and dark chocolate budino were all worth enthusiastically writing home about.
Things to Do
Before making recommendations, let's name the things that Anguilla doesn't have: no theater, no crime (really!), and no nightlife. When the sun goes down, the locals ferry to St. Maarten for that. Otherwise, get ready to relax.
I did plenty of that at the ultra soothing Zemi Beach, which is boutique-y but with all of the amenities and spaciousness of a fancy hotel. While there, I spent several mornings and afternoons "at my leisure" as the travel industry says and wouldn't have had it any other way. Granted, Anguillan rooms in general are some of the most expensive in all of the Caribbean, but you can find more affordable ones here or at one of the many private villas that locals rent out.
In addition to doing nothing, I enjoyed crisscrossing the island on four-wheelers, playing 18 holes of golf at Cuisinart, and sharing an amazing night of cliff jumping, sun setting, and good company of the aforementioned Tradition Sailing. My only gripe was not being able to kitesurf while there due to unseasonably puny winds.
Time is Now
Do Anguillan officials want to become a bigger destination? Yes. Do the locals? Mostly—after all, tourism has been more enriching than the salt trade, their previous breadwinner. Do the many repeat visitors or expats want the island to grow? No—they want it for themselves.
I can't say that I blame them. With exception to noticeable amounts of unfinished construction and its prohibitive cost, Anguilla is nearly perfect and closer than ever: just one flight and a 25-minute ferry ride away from many major airports.
Photo by David Jones/ Flickr CC BY 2.0
---
Off the Grid columnist Blake Snow writes epic stories for fancy publications and Fortune 500 companies. Follow him @blakesnow