7 Airline Stopover Programs Every Traveler Should Know About
Photo courtesy of TAP Portugal/YouTube
Travel
Lists
airlines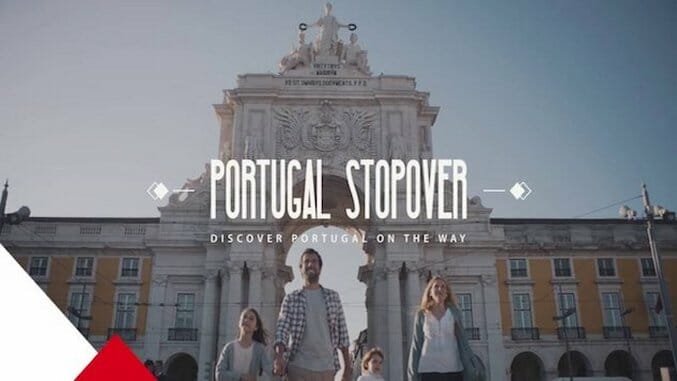 Usually, seeing the word "stopover" when booking a flight conjures thoughts of hours spent miserably solo in an airport, trying to sleep over the metal arms separating the seats. But a handful of airlines are redefining the stopover by framing it as a few extra days to see a different destination. It all started in 2012, when Icelandair pitched Reykjavik as an easy—and free—stopover for travelers going from the U.S. to Europe. After seeing the success of that program, other airlines jumped on the bandwagon.
Here are the other airlines offering two destinations in one trip.
TAP Portugal
Whether you're on a long-haul flight over Portugal en route to Europe or Africa, or your final destination is the Azores, Madeira or the Algarve, you can stopover in Lisbon or Porto for one, two or three nights for no extra charge with TAP Portugal. The Portugal Stopover program is celebrating its first birthday this September, so for the entire month you can extend your mini-mid-trip to five nights. Traveling to Lisbon but wouldn't mind seeing Porto as well? TAP's program works that way as well! And booking the stopover can easily be done online—no phone calls needed.
Air Canada
If you booked a flight on Air Canada and it includes a connection the length of six hours or more, you're qualified for the Air Canada Stopover. This applies to stops in Montréal, Toronto or Vancouver. You can even stay in one city on the way out, and another on the way back. And you can opt in to the offer at any time up until 96 hours before your flight's scheduled departure time. When booking through the program, hotel rates are crazy cheap, or, in some circumstances, free.
Emirates
Once you see the Dubai airport, you'll be tempted to see more. Luckily, if you're passing through Dubai on Emirates en route to one of 150 destinations, you can, thanks to the airline's Dubai Stopover package. And just like the city itself, the program has a lot of perks—from a concierge who will find just the right hotel and book your transfers and visas to VIP treatment with their airport Meet & Assist service to free breakfast and Wi-Fi at the hotel. Once you've booked your flights, you'll have to contact Emirates to book your stopover. You can book your package up to 48 hours before your departure.
WOW air
For an even cheaper trip to Iceland, look for flights with WOW air, which has their own stopover program. It's essentially the same thing as Icelandair's, just a little less glamorous.
Etihad Airways
If you're flying Etihad Airways economy class and connecting through Abu Dhabi, you can extend your trip with a two-night stay in Abu Dhabi. You'd book the trip using the airline's multicity booking tool. Best part is, they promise a great rate for the first night's accommodation, and the second night is on them. The deal doesn't get any better than that.
Singapore Airlines
Cheap side trip to Singapore? Yes, please. Singapore Airlines not only allows you to tack on some days in their hub city en route to one of their destinations, they also comp a one-night hotel stay, return airport transfers, admission to over 15 tourist attractions and rides on the SIA Hop-on Bus. The catch is that the Singapore Stopover Holiday is not free, but it can be as cheap as $40, so it's worth looking into if you're traveling with the world-renowned airline.