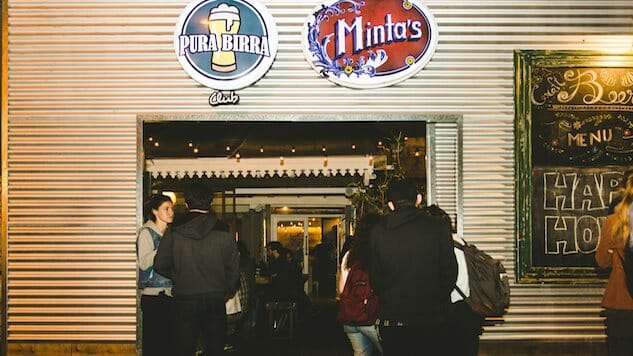 Move over Malbec, it's time for some craft cerveza. In Buenos Aires, the craft beer craze is suddenly getting much, much crazier.
Less than five years ago, there was hardly a craft beer bar in sight. If you did stumble upon some place serving craft brews, they came in a range of three handy colors: roja (red), vaguely referring to Scottish ale or amber; rubia (blonde), as blonde ale; and negra (black), which is a nod to some kind of dark beer.
But the craft beer scene here has been steadily growing over the last several years to the point that a new craft beer bar (cerveceria artesanal) opened every month or so throughout 2016. And it isn't a trend that's limited to the more touristy and expat-filled barrio of Palermo. The craft beer madness has spread throughout the city as far as the posh, residential northern suburbs, about an hour away by public transport. Craft beer bar chains like On Tap, Antares and Cervelar have had to continue opening new locations constantly to keep up with demand—and this city can definitely be demanding.
Not unexpectedly, all the craft beer bars here have a happy hour (usually 6 p.m. to 8:30 or 9 p.m.), also known as "after office," and offer 2-for-1 deals on pints (pintas) of beer or just a discount off the regular beer price—and sometimes food. If you find a bar with no happy hour, proceed with caution, or just head to another bar. Regardless of where you choose to go, get there before 7 p.m. or you may not find a seat!
Here are six craft beer bars in Buenos Aires where you can explore the seriously high quality offerings of local microbreweries—and just as important, where you'll find good vibes, or "buena onda," as they say here.
BlueDog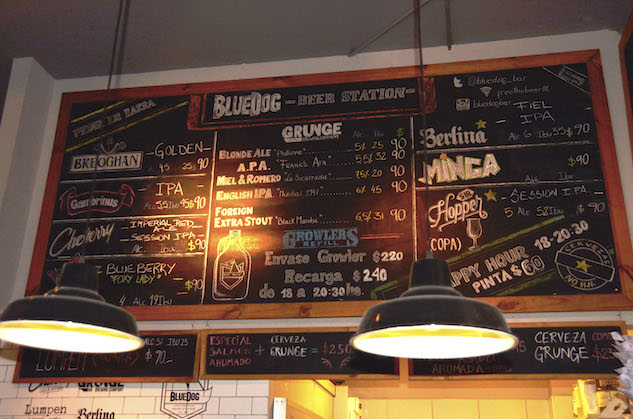 Photo by Teodora Ivanova
Established by one of the guys behind the popular Grunge Brewing Company, this cozy, wood-paneled space (with awesome music) has that certain something about it—maybe because of its relatively smaller size. BlueDog is one of the few places in town where you can try barrel-aged sour beers from the "gypsy brewer" known as Los Bichos Mandan (which translates to "Bugs Rule," due to his use of bacteria and wild yeast). With only 10 handles here, four are of course reserved for Grunge beers, including the Mumbai English IPA (one of the best IPAs we've tried in the city), Black Mamba foreign stout and La Socarrada (with rosemary and honey), made in partnership with the award-winning Premium Beers brewery from Spain. Another tap is dedicated to the Sir Hopper IPA from Sir Hopper, another gypsy brewer known for his obsession with hopping techniques. Sir Hopper makes his beers on the premises of Jugetes Perdidos brewery, which is known for highly experimental beers.
Growlers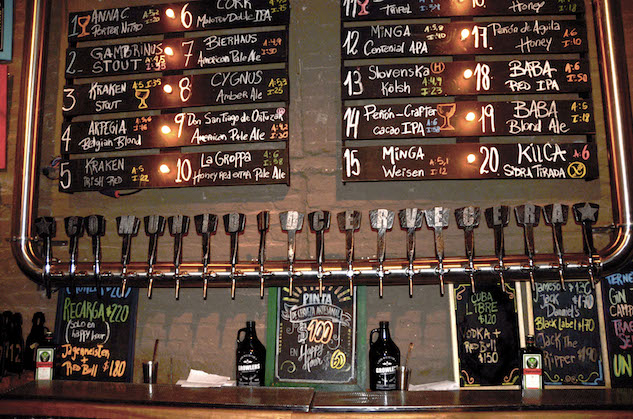 Photo by Teodora Ivanova
Opened in late 2016, this happening Palermo corner spot features 20 craft beers on tap with heavy rotation. You can sip and be seen on Growlers' sidewalk or charming cobblestone alleyway, or climb up to the terrace and grab a coveted seat. One tap is reserved for smaller microbreweries with limited supply, so be sure to ask for a sample of the daily selection. For a fun snack, order the candy bacon, but for a real meal, try one of their homemade hamburgers.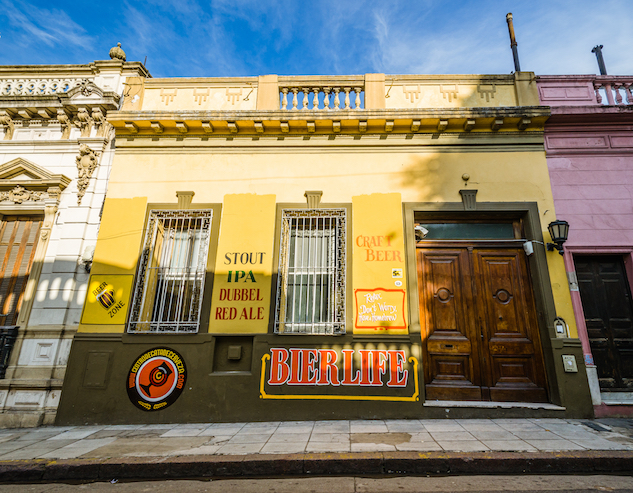 Photo by Alexandr Vorobev/Shutterstock
BierLife
If getting drunk in a school is on your bucket list (or you just want to relive the memories), then head over to BierLife in the San Telmo barrio after your obligatory tour of the nearby presidential palace, Casa Rosada. BierLife is an elementary school-turned-bar with an impressive 40 handles, including a crisp cider and a large selection of strong, Belgian-style beers. Note that all beers here are served in tulip beer glasses that hold about 400 ml. But you can make up for milliliters lost by ordering something from the food menu: every item incorporates a featured beer as an ingredient, including the "birramisu" dessert.
On Tap
Since opening its first location back in mid 2015, On Tap has been expanding at a fast and furious pace, with currently six locations in Buenos Aires. The most recent spot is close to its bursting-at-the-seams popular location in Palermo. But that's not all—if you like your beer for breakfast, too, they just opened a "bed&beer" hostel in Mar del Plata, a city five hours down the coast from Buenos Aires. How did On Tap get so popular so fast? Aside from strongly supporting local microbreweries, it doesn't hurt that the food menu has both greasy, sauce-smothered finger food as well as healthy veggie wraps. And for the vino lovers who just tagged along, On Tap offers good quality red or white wine by the bottle or glass—not something very common in a craft beer bar. And if you like your drinks with a dose of good music, you won't be disappointed.
Antares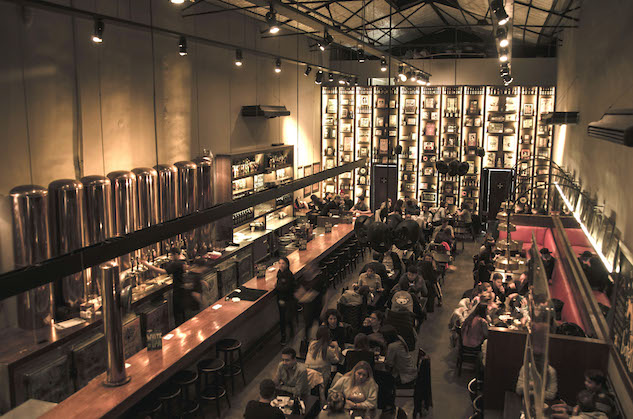 Photo by Teodora Ivanova
Established in Mar del Plata back in 1998, the Antares microbrewery is basically the godfather of the modern craft beer movement in Argentina, since the Patagonia, Cordoba and Santa Fe regions of the country have been brewing Old World beers for decades. Antares finally set up shop in Buenos Aires in the early 2000s and now has four locations in the city proper (known as "Capital Federal") and six more in the metropolitan area. Head to the Palermo spot for happy hour, but go early; despite its enormous space, a large dinner menu helps to get the place packed. Unless you invest in a growler from your new fave craft beer bar, Antares is also probably one of the best bottles of high quality craft beer you'll find in the local grocery stores if you just want to chill in your Airbnb instead of going out.
Minta's & Pura Birra Club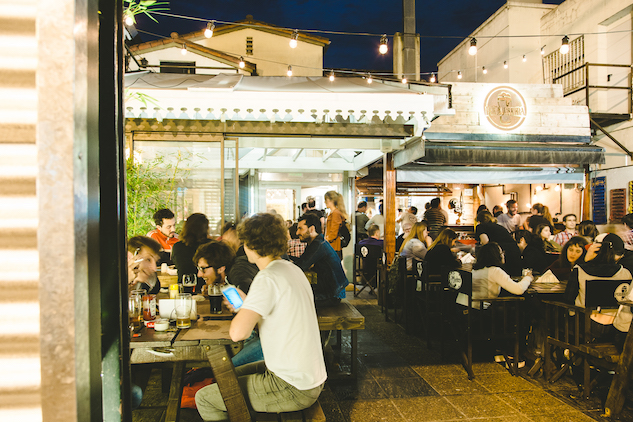 Although this brand new bar still can't seem to decide on its name, it's definitely been decided by the feisty crowds that this is the place to be if you live in this part of the city's northern suburbs (known as Zona Norte). If you're taking a daytrip to kayak or explore the islands of the Parana River near the port of Tigre, you may as well stop at Minta's & Pura Birra Club on your way back and hang out with the cool kids from the burbs. Check out the Bierhaus IPA and the Minga APA. Food-wise, the thin crust pizza with jamon crudo and arugula packs some serious flavor.
---
Born in the cornfields of the midwest, Suchi Rudra is a writer and "digital nomad" who enjoys singing, street food and long walks on the beach.