A beach town located 12,000 feet above sea level, the original Copacabana (yup, Rio stole the name) is a study in extremes. Snow covered peaks hover over crystal clear turquoise waters and monetarily dirt-poor locals are triple wrapped in fine alpaca garments fit for kings—making you wonder what exactly defines wealth anyway. It's the perfect destination for those who want to completely ditch reality.
The largest Bolivian town on the shores of massive Lake Titicaca and a sacred site to the Inca before the Spanish colonized it in the early 16th century, Copacabana is both the country's most holy pilgrimage destination and its biggest tourism playground. For the landlocked "Tibet of the Americas," this is the only coastline. Copacabana—which is just hours from the Bolivian capital of La Paz and its international airport—is also becoming a must-see addition to the popular Cusco/Machu Picchu circuit in Peru, an overnight bus ride away.
Stunning beaches, ancient ruins, majestic mountain treks, a farm-to-table smorgasbord, and enchanted islands await in Copacabana. And since Bolivia is the most inexpensive country in South America, you can get all of this for a steal of a deal. Get the best of this otherworldly paradise using our checklist.
1. Climb Cerro Calvario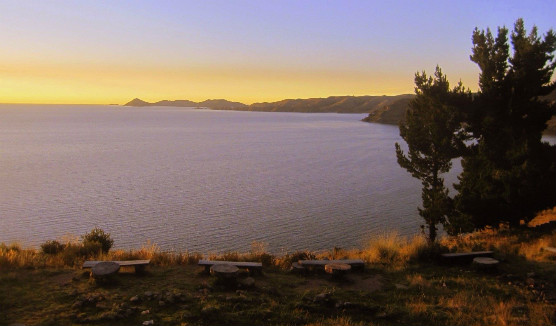 A short but strenuous half-hour stairway hike up Cerro Calvario (Calvary Hill), located just at the edge of town, is the best way to get a feel of Copacabana's landscape. Copacabana and the bay it cradles lie spread-out beneath the left side of the hill (pictured at top) while the right looks out over the shining waters of Lake Titicaca reaching off into the horizon for as far as the eye can see (pictured above).
The 14 Stations of the Cross are marked out along a roughhewn stone path that snakes up the hill—giving climbers an excuse to pause and catch their breath. On the top of the cerro, a handful of vendors sell candles and tiny Virgin Mary statues to Catholic pilgrims, and snacks and beer to tourists, who tend to pack the place every evening for glorious sunsets that paint the sky and turn the lake into liquid fire.
2. Pig Out on Trout
A line of informal restaurants specializing in freshly caught trout—the abundant and succulent pink-fleshed bounty of Lake Titicaca—cooked a dozen different ways traces its way along Copacabana's waterfront. Spice fiends can burn their tongues raw on Trucha a la Diabla while down home types can get it pan fried with some potatoes on the side. Any dish goes down nicely with an ice-cold Paceña beer or a bottle of red from the country's Tarija wine region, a vastly underrated area that borders Argentina and as of yet does not export its products outside of Bolivia.
Over on Avenida 6 de Agosto, Copacabana's main strip, another slew of restaurants serve more trout. For something creative, La Orilla takes advantage of the fact that just about everything in Bolivia (which completely banned GMO crops) is organic, locally grown and sustainably raised, and offers gourmet dishes for less than what a fast food meal costs in the states. The green curry trout and the Trucha Rellena, trout stuffed with bacon and spinach, have visitors raving.
3. Escape to Isla del Sol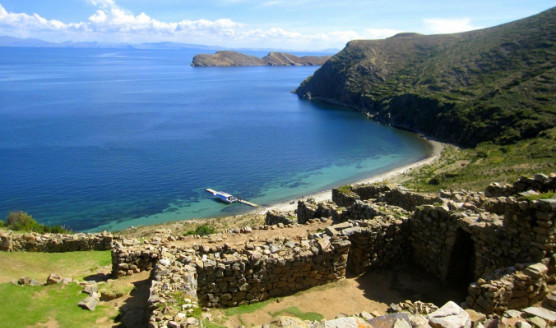 The largest of the 42 islands that dot 118 mile-long Lake Titicaca, Isla del Sol is where the Inca's primary deity, the sun god Wiracocha, was born. Continuously inhabited for over 5,000 years, with little changing over that vast period, it's just an hour and a half boat ride from Copacabana. Isla del Sol is lost in time, car-free and untouched by modernity.
Full and half days tours go to Isla de Sol but it's also easy to explore the island independently and stay for as long as you'd like. Beautiful hilltop boutique hotels are clustered together in the southernmost village of Yumani, while the northern village of Challapampa offers the chance to live like a local in small rustic accommodations.
Challapampa is also close to the Incan ruins of La Chincana, an ancient ceremonial center, as well as some of the island's most pristine white sand beaches. From here you can walk across the mountainous central spine of Isla del Sol all the way to Yumani, a three-hour trek that provides splendid 360-degree views of the lake and the glacier capped Andes as a continuous backdrop.
4. Meet Our Lady of Copacabana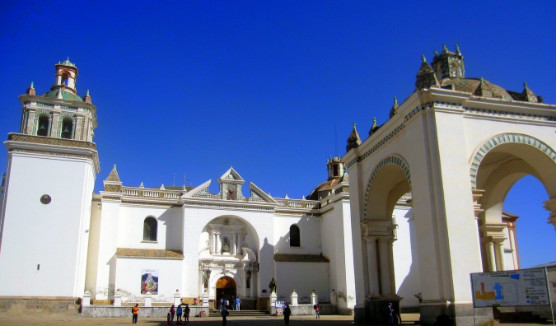 The matriarchal side of Catholicism is on full display at this gorgeous Moorish style Cathedral that houses a statue of the "Black Madonna." The most popular pilgrimage destination in Bolivia, the Basilica of Copacabana was built on the site where a fertility temple dedicated to the androgynous water god Kotakawana once stood.
In 1580 or so, a grandson of Incan ruler Tito Yupanqui carved an image of the Virgin from the wood of a cactus and presented it to the church. It is believed to have miraculous healing powers and is revered by Catholics and indigenous groups alike. You can see the statue in its own special chapel and visit the small on-site museum that explains the whole story.
5. Stock Up on Souvenirs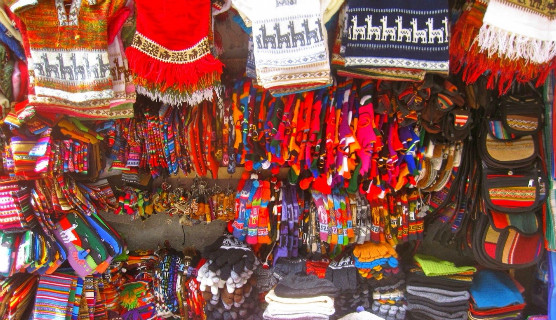 Copacabana is the cheapest place in South America to stock up on handmade alpaca and wool beanies, sweaters, scarfs, ponchos and more. The upper part of Avenida 6 de Agosto is lined with independent shops, many of them run by the artisans themselves, as is the area around Plaza Sucre. Hand carved quenas, an Incan flute that is played by blowing through an open groove, and beautiful charangos, a small and easily portable guitar-like instrument that rings brightly like a harp, are available here for incredibly low prices considering the quality of workmanship.
Just below Plaza Sucre on Avenida 6 de Agosto is The Spitting Llama, an English language bookstore and travel gear shop that also has outposts in La Paz and the college town of Cochabamba. They also serve as the unofficial tourist information points for Copacabana and all things Bolivia.
6. Rent a Swan Boat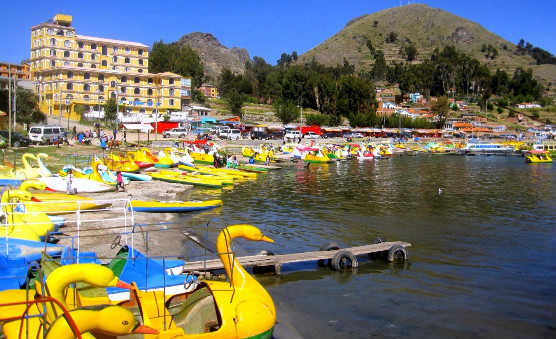 Visitors can rent plastic pedal boats from the water's edge for just a dollar or two. You can't get too far on one of these things but it's a good way to see for yourself just how immense Lake Titicaca really is, while getting hilarious photos of yourself sailing away on a fake swan. Although most of the boats have swan heads, there are also a bunch of Disney characters thrown into the mix if you insist on standing out from the crowd.
7. Have a Drink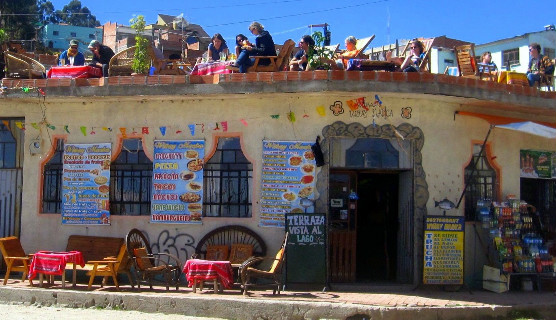 The well-rounded cultural destination that it is, Copacabana also offers plenty of opportunities to relax with cold libations and new friends. The best way to kick off the evening—or afternoon—is with a drink on one of the rooftop patios that overlook Lake Titicaca. Most of these joints serve 2-for-1 cuba libres, which are basically just glorified rum and cokes but hit the spot perfectly after a long day of hiking or exploring the lake.
After about eight or nine o'clock, the party moves up the road to Avenida 6 de Agosto, where a dozen or so bars and discos of different sizes try to lure in tired travelers with even more drink specials. Km Zero Resto Bar hosts live acoustic rock music almost every night of the week and serves late night munchies while Waykys Disco Bar keeps an eclectic mix of dance tunes pumping into the wee hours.
Ocean Malandra is a freelance travel writer and journalist who splits his time between Northern California and South America.