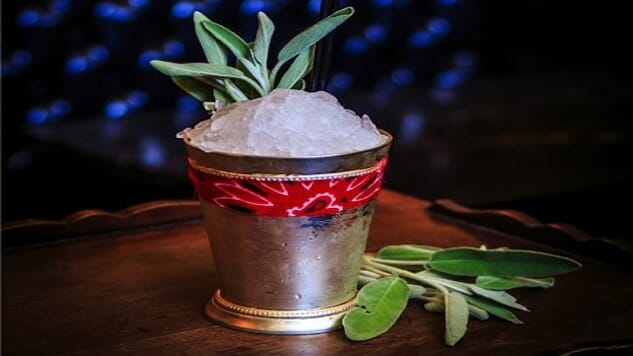 Thirsty? You're in luck. In Paste's drinking-and-traveling series, City in a Glass, we mix up a city's signature swills and slide them down the bar to readers. Grab a stool. This round, in Austin, Texas, is on us.
Austin, Texas's reputation precedes it. Home to the South by Southwest music festival, the state capitol and the University of Texas at Austin campus, this creative yet easygoing city is one of those rare, Middle America places that coastal city-dwellers love. (See also: Charleston, South Carolina.) Brisket! Breakfast tacos! Honky tonks! And as genuinely great as all of those things are, Austin is also home to a mess of wonderful cocktail bars that cater to locals and showcase regional ingredients. "On one hand, we enjoy our well-made traditional classics, but on the other, we like things laid back and unpretentious," says Jennifer Keyser, chief of bar operations at Geraldine's in the Rainey Street Historic District. "Finding a balance between craft and approachability is key. It's a very 'Austin' way of looking at things." On this city drinks tour, we're going to introduce you to three crafty-yet-approachable Austin cocktails, show you where to find them and even how to replicate them at home.

1. Willie's Cup
Where to order: Geraldine's
Willie Nelson is Austin's most cherished local celebrity. The 83-year-old country music legend was born in Texas and has chosen to call ATX home for more than 40 years. The city has an eight-foot bronze statue of him downtown (right on the corner of Willie Nelson Boulevard and Lavaca Street) and bartenders even pay homage to him on their cocktail menus.
At Geraldine's, the hip restaurant and live-music venue inside Hotel Van Zandt, chief of bar operations Jennifer Keyser uses the Red Headed Stranger as inspiration for her Willie's Cup. "He's like everyone's grandpa," Keyser says. "Typically I don't name my cocktails until I've come up with the recipe, but this one started with the name and I built it with Willie as my influence."
She thought to herself, W.W.W.D.? (What Would Willie Do?) Seeing as how Nelson's favorite hobby is smoking weed, she started there. (This year the longtime, marijuana-legalization advocate is even launching his own cannabis retail store chain, Willie's Reserve, which will open in states where recreational cannabis use is legal. Sorry, but that doesn't include Texas.)
Naturally Keyser needed to include a hemp-based ingredient in the drink—she went with hemp seed milk—and sage, which has a similar aroma to cannabis. "Also 'Whiskey River' is one of his songs, so I knew whiskey had to be involved," she says. She put the three ingredients together in a metal julep cup, wrapped it with a red bandana (à la Nelson's signature look) and secured it with a roach clip, the nickname for the metal holder used to smoke the end of a joint. "Turns out, all of those flavors work incredible together. Lucky me!"
Willie's Cup
1½ oz. High West Distillery Double Rye
1½ oz. hemp seed milk (recipe below)
Sprig of fresh sage, for garnish
Make hemp seed milk: In a blender combine 1 cup raw, shelled hemp seeds, 3 cups filtered water, 3 Tablespoons maple syrup, ½ teaspoon vanilla extract, 1 Tablespoon non-GMO soy or sunflower seed lecithin, 1 Tablespoon raw, unrefined coconut oil and a punch of Celtic sea salt. Blend for 1 minute. Strain into a nut milk bag. Squeeze bag over a glass jar until all of the liquid is released. Seal and store in the refrigerator for up to two days.
Make drink: Combine rye and hemp seed milk in a julep cup wrapped with a bandana and secured with a metal clip. Mound with crushed ice. Garnish with a sage sprig.

2. PÉCHÉ MILKSHAKE
Where to order: Péché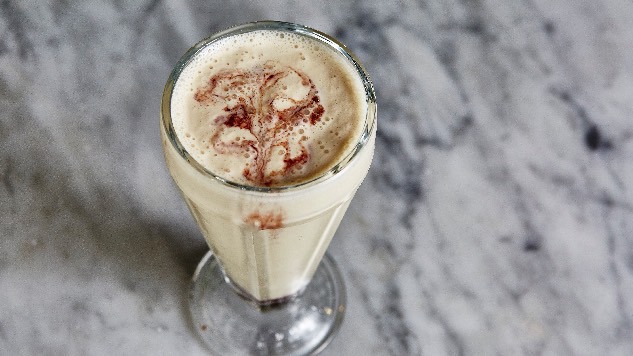 Photo courtesy of Annie Ray Photography
Absinthe is a spirit with somewhat mythical properties. This Swiss beverage is distilled from wormwood, green anise and fennel plants, which combine to give it a bright verdant color and licorice-like taste. Like many alcoholic beverages, it was originally consumed for medicinal purposes; in the 19th and 20th Centuries, however, absinthe became a popular recreational beverage for bohemian writers and artists because it was known to prompt hallucinations. Vincent Van Gogh, Edgar Allen Poe and Marcel Proust were all absinthe devotees.
Today we know that absinthe does not contain any more psychoactive substances than other alcohols, but the beverage's illicit status lives on. At Péché, the French-inspired bar in downtown Austin, a large absinthe fountain adorns the bar, signaling Péché's dedication to the dreamy spirit world. "Since our inception, we've had a big focus on absinthe," says Péché's bar manager, Shaun Meglen. "We hold the city's largest collection, along with some daring absinthe cocktails."
One of its most pleasantly unexpected absinthe specialties is the Péché Milkshake, created by owner Rob Pate, which blends The Green Fairy with cherry liqueur and vanilla ice cream. "Rob found that cherry and licorice were a match made in heaven, especially blended with house-made vanilla ice cream," Meglen says. "The absinthe also helps cut through some of the sweetness, leaving the slight tingle of anise on your lips. I mean, come on, what's better than booze and delicious ice cream?"
Péché Milkshake
1½ oz. Luxardo Cherry Liqueur
½ oz. absinthe
5 scoops vanilla ice cream
Luxardo Maraschino cherry, for garnish
Combine all ingredients in a blender. Blend. Pour into a parfait glass. Garnish with a Luxardo cherry.

3. CHUCHO
Where to order: Barley Swine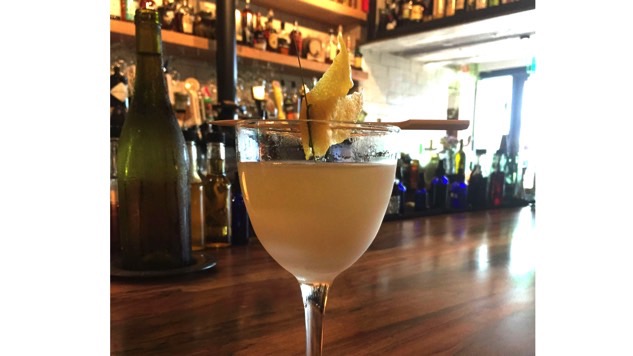 Photo courtesy of Barley Swine
Barley Swine is one of the most respected restaurants in the southwest. Owner and chef Bryce Gilmore's (an actual Austin native!) inventive menus, plus his commitment to supporting regional farmers and ranchers, has earned him four James Beard Award nominations. Earlier this year, the restaurant relocated from its small space on South Lamar to a massive, 85-seat venue on Burnet Road in North Austin. With all of that new elbowroom, the restaurant was able to expand its booze offerings with a full bar program. And of course, that focus on local and seasonal ingredients extends to the cocktail offerings too.
"I believe that cooking and bartending are the same," bar manager Robert Stevens says. "You are basically using booze in place of food and a cup instead of a plate. A lot of care goes into making a good cocktail and just like in cooking, everything must be balanced and consistent. There is nothing like cracking cardamom with a muddler, adding gin and seeing where that takes you."
Stevens tries to use up every bit of ingredient he can, just like they do in the kitchen. He makes savory infusions with bits of leeks, green onions, mushrooms and ramps. And he makes bitters and shrubs from local citrus, so that even when those fruits go out of season, the bar can still work with those flavors. One of the bar's more out-there flavors can be found in the Chucho, a Mexican-inspired beverage made with pine needles.
Bartender Dustin Bolf came up with the drink while experimenting with pine needle syrup. He found that it worked well with sotol, a spirit derived from the desert spoon plant in Chihuahua, Mexico; it also grows in the nearby Texas Hill Country. Bolf added to the mixture some locally produced lime acid (a solution made from water, citric and malic acids), lemon and salt. "The prominent tastes are pine and tannins, with some subtle orange and lime flavors coming out," Bolf says. "Sotol turned out to be the perfect platform for the pine. It's not smoky like mezcal, so it gives the cocktail a very clean, crisp and spring-y character."
Chucho
2 oz. Hacienda de Chihuahua Reposado sotol
1 oz. pine syrup
1 lemon wedge, juiced
5 drops A.K.A. Mixology saline solution
1 eye dropper-full A.K.A. Mixology lime acid solution
Lemon peel, for garnish
Pine needle, for garnish
Combine all ingredients in a cocktail shaker with ice. Shake. Strain into a Nick and Nora glass. Garnish with a lemon peel and a pine needle.

City in a Glass columnist Alyson Sheppard writes about travel and bars for Paste and Playboy. She currently resides in the great state of Texas.