Thirsty? You're in luck. In Paste's drinking-and-traveling series, City in a Glass, we mix up a city's signature swills and slide them down the bar to readers. Grab a stool. This round is on us.

Birmingham, the largest city in Alabama, has an incredibly approachable drinks scene. Designated craft cocktail dens are rare in this 150-square-mile mountain metropolis (with the menu-less Collins bar being the only exception). Instead, you'll find most of the city's creative cocktails on the menus at friendly taverns or mixed-use coffee shops, welcoming environments for those new to cocktail culture and a change of pace for those out-of-town adventurous drinkers. Depending on your wherewithal, you could theoretically work your way through all of Birmingham's cocktail destinations and four beer breweries in one weekend. Not that we'd recommend that, but to get you started, we've hand-selected three unique beverages emblematic of The Magic City that you need to try first.
1. Snake Handler
Where to order: Good People Brewing Company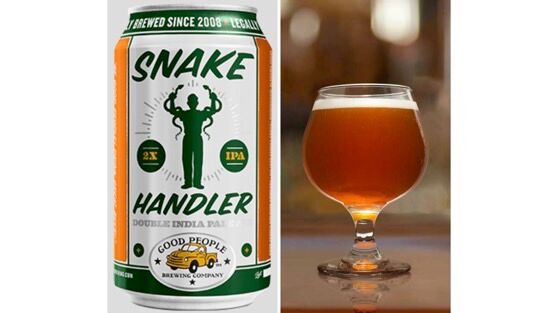 Photo Courtesy of Good People Brewing Company
Start your drink crawl with a tour of Good People Brewing Company, located in an old mattress factory near the minor league baseball stadium. Good People, which sold its first keg in 2008, is only a six-man operation, pumping out five ales and four seasonal brews each year. (By comparison, SweetWater brewery in Atlanta produces ten times as much.) You can also find Good People crackers and bread around town; the brewery donates its spent grains to nearby restaurants and cafes.
Snake Handler, named after the risky, backwoods practice of juggling serpents for Jesus, is Good People's most popular beer. The brewery describes this super-hoppy Indian Pale Ale as having "aromas of pine, citrus, flowers, spice, pineapple and grassiness" that "complement a biscuit and caramel backbone." The beer is strong—10.1 percent A.B.V.—and takes three and a half weeks to make. Sip a pint out of a snifter glass in the brewery's newly renovated taproom, one of the only places you can find it in the country, as the beer is only available in Alabama and Nashville.

2. Rocket Booster
Where to order: Satellite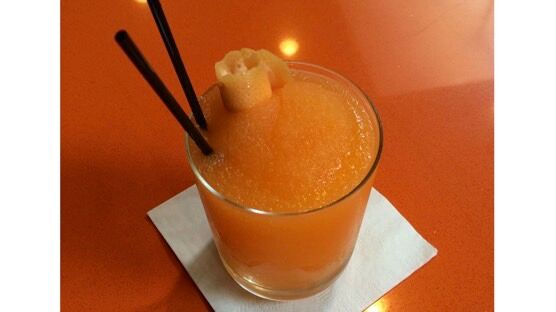 Photo Courtesy of Satellite
Next head to Satellite, a bar-meets-coffee shop in the booming Avondale neighborhood east of downtown. Satellite—and its adjacent music venue, Saturn—are NASA-themed. Yes, as in the space agency that's operated in nearby Huntsville for more than 50 years. The walls are plastered with diagrams of giant rockets such as the Alabama-made Saturn V, which was used in the Apollo missions, and its trashcans and cocktail shakers are shaped like space ships. Even the women and men on the bathroom signs have alien antennae.
As you would suspect, the bar's menu is equally playful, featuring craft cocktails with historically significant names like Operation Paperclip and Freedom 7. We're particularly fond of the Rocket Booster, a neon-orange frozen drink made of Campari, Tang and locally made honeysuckle vodka.
Bar manager Steva Casey came up with the cocktail when Satellite's general manager jokingly suggested she create a drink using orange Tang, the powdered swill NASA astronauts consumed in orbit. "I love simple, yet complex cocktails," Casey says. "Orange and Campari is a natural pairing and the slight sweetness of the Cathead honeysuckle vodka ties it all together." Using Mississippi-made Cathead vodka in the cocktail was a no-brainer for Casey. "We are big fans of supporting local music as well as local businesses," Casey says. "Cathead is made not too far from us and they are big supporters of music. We really like that aspect of their business." ("Cathead" is a term used among delta blues musicians meaning "that cat can play.")
Rocket Booster
Makes 4 to 6
(Note from bar manager Steva Casey: "As I'm sure you can guess, we make quite a lot of this drink, so therefore we produce it in 20-liter batches. However, if you want to blend up just a few, here's a quick recipe.")
5 oz. Cathead honeysuckle vodka
2 ½ oz. Campari
19 oz. prepared Tang
6 oz. simple syrup
32 oz. ice
Combine all ingredients in a blender. Blend.

3. C G & T
Where to order: Carrigan's Public House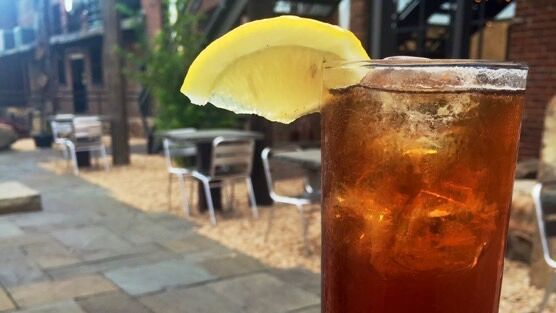 Photo Courtesy of Carrigan's Public House
Finish your drink crawl at Carrigan's Public House, a pub built in a 100-year-old warehouse in Birmingham's renovated loft district. Sit at the bar to admire the building's exposed brick industrial pipes, or grab a seat on the rooftop patio to watch trains slowly pass on the nearby tracks. Here, bar manager Eric Bennett, Jr. adds unexpected ingredients to simple mixed drinks, elevating them into surprisingly interesting cocktails.
Take for instance his C G & T, a simple gin and tonic that's spiked with coffee. "I wanted to create a pick-me-up cocktail that was simple to build," Bennett says. "And what's better than a gin and tonic?" He had used coffee in cocktails before (notably in his Pep Talk, a combination of cold-brew concentrate, ginger ale and Fernet-Branca bitter liqueur), and found mixing it with tonic was an interesting way to change up the flavor. He opted for Birmingham's own Icebox coffee and enhanced the tonic flavor with a Southern-made syrup. "Using Icebox was a simple choice because it is brewed and distributed just a few blocks from us, and we love supporting our city when we can," he says. Using Jack Ruby tonic syrup, made in Charleston, was also an easy choice. "Jack Ruby uses lemongrass as a major flavoring component in its tonic syrup, which connects to the botanicals in gin and to the coffee itself."
The C G & T is light but complex. "At first the flavors of the gin's botanicals, specifically juniper and citrus, and tonic's lemongrass dance with the soda bubbles across the palate," he says. "That's quickly followed by the roasted notes and chicory of the coffee, adding depth and a slightly bitter finish."
C G & T
1 1/2 oz. Beefeater gin (or Plymouth for a slightly citrus-forward variation)
1/2 oz. Icebox cold-brew coffee, New Orleans blend
1/2 oz. Jack Rudy small-batch tonic syrup
3 oz. soda
Build all ingredients in a Collins glass over ice. Stir. Garnish with a lemon wedge.
Top photo: Ryan Hyde, CC-BY
City in a Glass columnist Alyson Sheppard writes about travel and hangovers for Playboy.com. She currently resides in the great state of Texas.