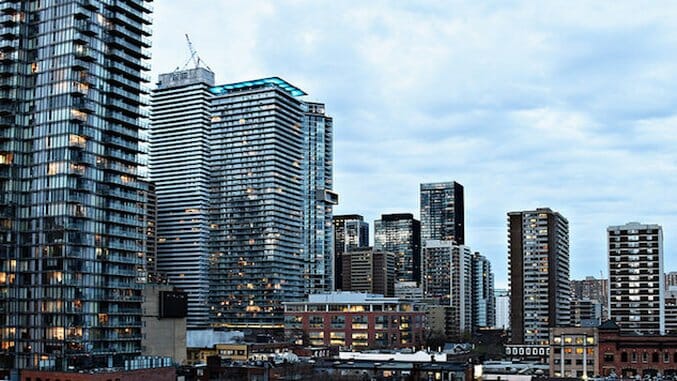 Thirsty? You're in luck. In Paste's drinking-and-traveling series, City in a Glass, we mix up a city's signature swills and slide them down the bar to readers. Grab a stool. This round, in Toronto, Ontario, is on us.
Winter is a great time to be drinking in Toronto, Ontario. In addition to literally warming you up when it's cold outside, wintertime drinks in Canada's largest city often incorporate ingredients many associate with Canada at large. On cocktail lists across town you'll spot spirits infused with spruce tree tips, ciders made from indigenous apples and of course, lots and lots of maple syrup. Jeff Sansone, bar manager of Canoe restaurant in the Financial District, says maple syrup is harder to work with in cocktails than one may think. "It's an intense, strong flavor that requires a very light hand," he says. "Otherwise, it will overpower the whole drink."
Another ingredient that has caught on recently here is Canadian whisky. Whisky (no "e") has been distilled in Canada since the 1700s, but American bourbon whiskey has dominated the craft cocktail scene all over North America for the past decade. (Ironically during U.S. Prohibition, Canadian spirits were highly desired in the U.S. Most rum-runners, as the booze smugglers were known, picked up the product from nearby Windsor, Ontario, and then snuck it south over the Detroit River.) Now, Toronto bartenders say, customers have a renewed interest in their home-country brands such as the popular Alberta Premium Dark Horse and are coming in and ordering them by name.
On this city drinks tour, we're going to introduce you to three warming Toronto cocktails, show you where to find them and even how to replicate a couple of them at home.

1. Harvest Mule
Where to order: Canoe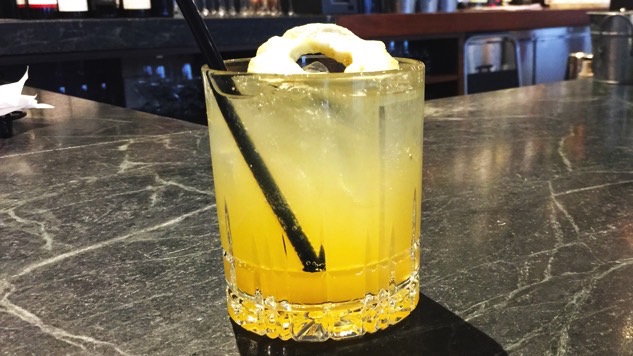 Photo courtesy of Canoe
To experience a edible lesson in Canadian geography and history, visit Canoe in the Financial District. "The goal of Canoe is to represent what Canadian food is and to explore different regions," says general manager Masa Nikolic. Here, the chef selects an area of the country and then builds a menu around the produce and survival story of that place—from the First Nations communities to the French to the English and everyone in between. The menu currently focuses on the Great Lakes region; Toronto is situated on the northern banks of Lake Ontario. The tasting menu includes smoked white fish, wild rice, venison and preserved ramps, among many other indigenous ingredients.
"We're really trying to tell a story here: The ways people came into Canada, what they brought with them and how that shaped the culture and cuisine in Canada," Nikolic says. "You may not remember all the components that went into the meal, but you remember the stories."
Bar manager Jeff Sansone tries to incorporate those same principles into his cocktail program. His drinks include fresh pumpkin and crab apple juices, charred cedar bitters and lots of Canadian whiskey. His most popular drink is his take on a Moscow Mule that he calls the Harvest Mule. It's made with vodka, crab apple cider (made from the small, bitter wild apple), ginger beer, caramel and locally made smoky bitters. The drink tastes like a caramel apple that was roasted over a fire pit for a little while. "The cider and ginger beer give it a tangy, sour taste, and the bitters make you think of a campfire," Sansone says. "It's a very delicious drink. Usually people don't order just one."
Harvest Mule
1 oz. "Absolut"http://www.absolut.com/ vodka
1 oz. crab apple cider
1 dash or pump caramel syrup@Syrups
1 dash smoke-and-ash bitters
Fever Tree ginger beer
Dried apple ring, for garnish
In a cocktail glass, combine vodka, cider, caramel syrup and bitters. Stir. Add ice and top with ginger beer. Garnish with dried apple ring.
2. Winter Cider
Where to order: BarChef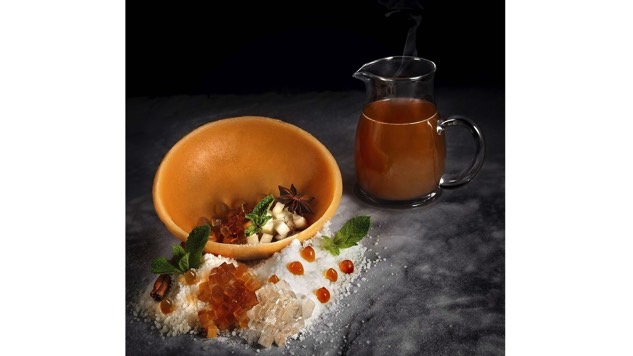 Photo by Leanne Neufeld Photography
Imagine walking through the woods, breathing in the smells of the cedar, the soil and the damp moss. You don't actually have to trek into the boreal forest to experience this commune with nature. You can have the aromas, the feelings and the tastes recreated in a glass at BarChef, a cocktail bar with an immersive, molecular gastronomy program in Alexandra Park. That particular brandy-based drink, called the Essence of Fall, is made with balsam fir bitters, floral rosemary syrup and orange blossom and the glass comes out inside of a whimsical forest diorama.
"We have quite the reputation internationally; people travel from all around the world to try our cocktails," says co-owner Frankie Solarik. "The reason we're called BarChef is because we take a culinary approach to the cocktail program. I have a full staff of chefs in the kitchen who are preparing and plating the cocktails."
Many of his cocktails come in elaborate settings to create multisensory experiences. "I incorporate different textures and aromas and visual presentations essentially to use the guest as an actual component of the cocktail," he says. He wants his cocktails to be emotional, to reference nostalgia. A gin he makes in-house, for example, is infused with spruce tips that he and his son hand-foraged in Northern Ontario. And even though he plays with plenty of out-there, molecular gastronomy toys like liquid nitrogen and blowtorches, he says his work is not actually about the technique. "I set the goal of creating a specific experience, something artistically that I'm trying to create. And then I use technique to make that happen."
An exciting drink on BarChef's winter menu (which will be released on the first day of winter, Dec. 21) is the Winter Cider. To make this complex drink, Solarik first builds a bowl of ice out of watered-down caramel syrup. Then he places that on a tray and surrounds it with star anise pods, cinnamon sticks, caraway salt and fluffy "snows" and gels of cool-weather ingredients such as ginger, vanilla and bitter almonds. "The cocktail itself is warm and made of apple, Canadian rye and amaro," he says. "We present it tableside and pour it into the ice bowl. It absorbs all the flavors and cools instantly."
3. Ti Ponch
Where to order: Rhum Corner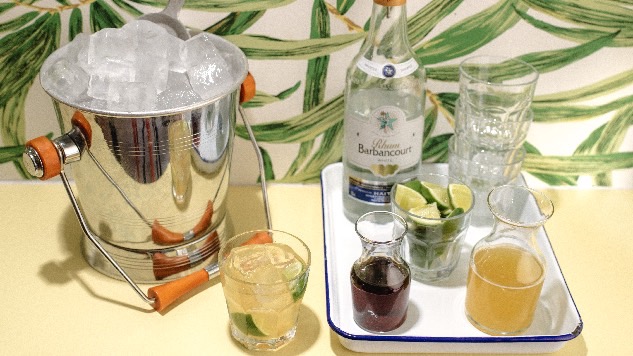 Photo by Alexi Hobbs
When you really need an escape from the cold, head to Rhum Corner, a Haitian bar that serves up tropical libations all year long. The bar is owned by Haitian immigrant and artist Roland Jean and his wife Jen Agg—the team that also runs The Black Hoof restaurant in Little Italy and Agrikol bar in Montreal. "They had this plan for a long time to open this little rum bar where there was Haitian food and Haitian music and put a spotlight on Haitian culture," says bar manager David Greig. "It's a really welcoming, warm space. In the dead of winter in Toronto, that's a real draw."
Haiti doesn't have a huge cocktail culture compared to other Caribbean nations such as Cuba. But Haiti does have a favorite national rum, Barbancourt, which is distilled from sugar cane juice (as opposed to molasses). It is one of the 130 bottles that Rhum Corner stocks. "Whenever we find a cocktail recipe that has a Haitian connection, we try to get it on the menu," Greig says. "We don't want to go too esoteric. We want it to be more like a little rum shack where you can get simple drinks that you know, that you've heard of, and they're made well so you can appreciate how good they actually are."
He's got a Dark and Stormy on the menu, a drink that incorporates the Caribbean grapefruit soda Ting and the famous Ti Ponch, which is similar to a rum Old Fashioned. Basically it's rum with a splash of sugar in it. "Ti Ponch is a very simple, everyday drink that people have on the French-speaking islands in the Caribbean," he says. In Haiti, the drink is made with Barbancourt, lime juice and sugar cane juice or syrup. At Rhum Corner, Greig serves it as a make-it-yourself cocktail. Your table gets its own bottle of rum, handful of lime wedges, glass of fresh-squeezed sugar cane juice and bucket of ice. (You can also order it as an individual portion.) "It's one of those drinks where there's no one way to make it; everyone likes it differently," he says. "There are even big arguments about whether you put ice in it or not!"
Ti Ponch
60 mL (2 oz.) Barbancourt 3-Star rhum
45 mL (1½ oz.) fresh-squeezed sugar cane juice (optional)
1 tsp. sugar cane syrup
Juice of 2 lime wedges
In a chilled rocks glass, combine all ingredients. Stir. Add ice if desired.
Image: Blok 70, CC-BY
City in a Glass columnist Alyson Sheppard writes about travel and bars for Paste and Playboy. She currently resides in the great state of Texas.