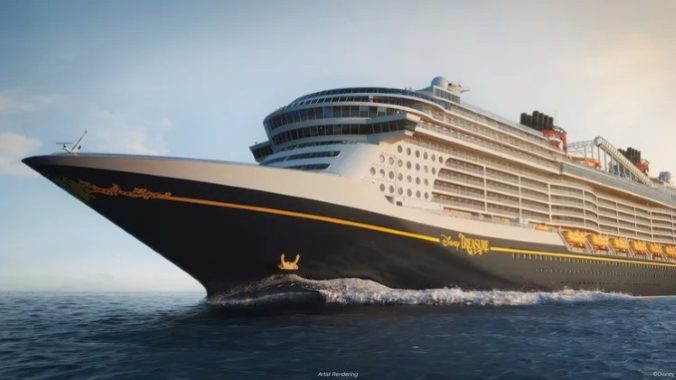 Disney's got a new boat. It's called the Disney Treasure. It's probably launching in 2024. We're going to learn more next week, on Wednesday, August 30, during a streaming presentation on the Disney Parks Blog. If you're a fan of Disney boats, there's a good chance you'll be a fan of this one. They're good boats, typically. (I'm trying to write this as if I'm working for Axios, but I just couldn't bring myself to use their weird headers. Just imagine this first paragraph is broken up into "state of news" and "does it matter" sections, or whatever.)
If you're a regular reader of Paste's travel section, or familiar with me as a person and a guy, you might know that I tend to like Disney stuff, at least the animation and the theme parks and the ball caps that I only wear inside the theme parks and especially the cartoon ducks. Disney Imagineering specializes in making cool, fun things, and as somebody who has somehow made something like a career out of writing about cool, fun things, particularly in the themed entertainment and amusement spaces, I wind up writing a lot about Disney. Their Parks, Experiences and Products division, commonly called Disney Parks, is at the top of the industry, and their work reaches deep beyond just the theme parks; you can see their fingerprints on Disney hotels, restaurants, stores, and, yes, boats. 
Sorry, not boats: cruise ships. This is a cruise line. Disney Cruise Line. Let's get our language right. 
I've been on one Disney boat before. The Disney Wish launched last year with Disney Cruise Line's first attraction at sea, a swank Star Wars-themed bar, a barber shop that serves a pretty great Smoked Old Fashioned, and some fantastic restaurants. I had a great time on the Wish, and if its level of quality is standard for the whole line, then I'd feel comfortable recommending a Disney cruise to anybody who has the interest (and financial ability) to go on one. 
Disney's been a little tight-lipped on what to expect from the Treasure. We know the general theme is based around adventure, and that Minnie Mouse, who is officially the captain of the ship, will sport some new explorer-themed outfits. A teaser video shows Peter Pan, Miguel from Coco, Moana and that chicken she hangs out with, and the hitchhiking ghosts from the Haunted Mansion. A promo pack sent out to select journalists this week again references the Haunted Mansion, Coco, and Moana, while also clearly hinting at Spider-Man and the Jungle Cruise. I imagine we can expect stuff themed to all of those properties on the Treasure, just as the Wish has its Star Wars bar and It's a Small World nursery. (If they've got a Haunted Mansion bar on this boat, I'd pretty much post up there the whole time I was on board. I'd be as much of an immovable fixture of that place as those dueling portraits are in the ride's Grand Hall.) If those promo hints are any indication, I'm glad to see Disney continue to take inspiration from classic theme park attractions like the Haunted Mansion and the Jungle Cruise, and not just focus on more broadly known concepts from Marvel or Disney's animated films. Given the theme of adventure, and the fact that boats tend to live on water, it'd be nice to toss a bone to all the old-timers out there who still fondly remember 1950's Treasure Island and 1954's 20000 Leagues Under the Sea—two pivotal live action Disney films that hold up remarkably well 70 years later, one of which (20000 Leagues) long had a major presence in the theme parks.
But hey, it doesn't pay to speculate. (Unless, like me, you are literally getting paid to speculate. And about a Disney cruise ship, of all things. This is a real job. I still feel like I'm getting away with something.) We'll officially know more about the Disney Treasure next week, when Disney releases some more details through that live stream, potentially even when it'll set sail and how to book passage and all of that practical info you need to get on board. In the meantime, here's what the Treasure's Grand Hall is going to look like.