Off The Grid: Why Disney Cruises Rate So Well Among Kids And Adults
Image courtesy of Disney Cruise Lines
Travel
Features
Disney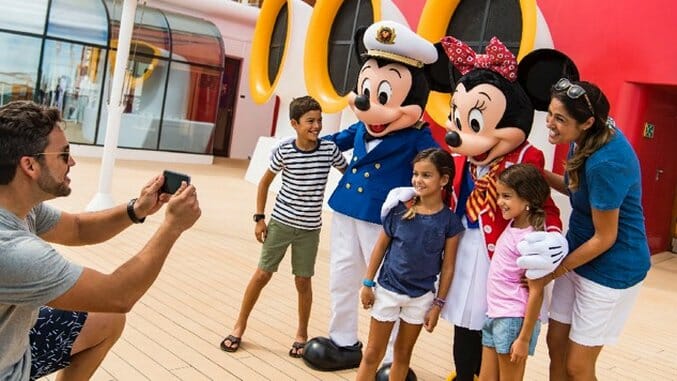 Disney is the most decorated cruise line in the world by a wide margin. In fact, they sweep 80% of Cruise Critics annual awards, including top rankings for families, entertainment, dining, best overall and even value when you factor all the extras in exchange for admittedly higher fares.
They're so good at what they do, they're even capable of converting cruise haters into floating buffet believers. Count me as one of them.
After a recent five-day sail with my wife and two kids on the newly renovated Disney Wonder, here's what stood out:
VIP Service for Everyone
Most of us don't necessitate VIP service. The vast majority of us won't crack the 1% or enjoy all of the excellent service that comes with it. Not here. No matter your economic, racial, age or sexual class, you will be treated like royalty at every turn of a Disney Cruise. For example, the staff announces your name over a loudspeaker and clap upon your arrival. They bow when passing you on deck. They call you by name. They serve your meals with more genuine service than I've received anywhere else. In fact, for every 2.5 passengers on board, there is one crew member to serve you. I've never seen anything like it and overhead multiple passengers observe the same. My servers Nino and Netasha (pictured below) wholly embodied this.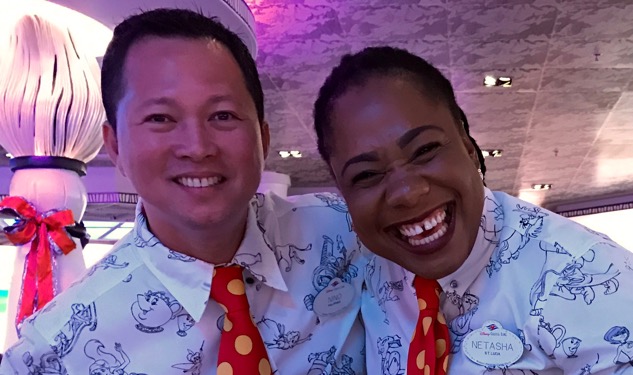 Image: Blake Snow
Remarkable Atmosphere
Stories, meaning, and purpose in everything they do. This is the so-called "Disney Difference" and I experienced it first-hand on this ship. For instance, while dining at Tiana's Place, which could easily pass as the nicest restaurant in New Orleans during the 1920s, a jazz trio played hits while a parade of servers and spontaneous guests danced the limbo between the main course and dessert. On Pirates of the Caribbean night, we partied like swashbucklers under a firework-lit sky. At Animator's Palate, we hand-drew our own characters and then gleefully watched as Mickey magically brought them to life on several dozen screens hanging in the dining room. Simply put, there is a passion here that permeates through every nook and cranny.
Attention To Detail
While stories give meaning to the atmosphere, custom Disney digs remind you at every step along the way that no expense was spared in receiving you. Light fixtures feature tastefully discreet Mickey ears. A multi-floor Arial mural fills the midship elevator shaft. You butter your bread with knives that are shaped like artist's brushes. The chairs. The carpets. The walls. The ceilings. The theater. Everything is there for a subtle reason. Heck, even the waiter's crumb scrapers are custom branded. Because of their creative pedigree, Disney can offer a hotel, dining and entertainment experience that few can match. Walt would be proud.
Award-Winning Entertainment
Here's a fact that every cruise line has to contend with: the best entertainers largely work on land because there are more audiences and more money there. But given its global pull, Disney is in a unique position to attract not only the best servers, but some of the best talent to its ships. For example, I saw award-winning Broadway performers in the better-than-the-movie Frozen: A Musical Spectacular. I watched Tarzan spin on a rope better than Cirque du Soleil can do it. I enjoyed Dr. Strange in an impressive theater in the middle of the Gulf two days after the movie released. And I watched a genuinely funny singer impressionist at one of three clubs. At the end of our trip, I even watched my kids bond and exchange contact information with their club counselors (i.e. free babysitters). They're that good.
Final Score
That said, Disney isn't a perfect cruise experience. As an active adult, I got a little bored on a couple of afternoons with the mostly relaxing itinerary options. The food was mostly a hit but sometimes a miss (although it was noticeably better than other cruises, which tend to get stale). But overall, Disney Cruise Lines is worth its celebrated reputation among both children and young-at-heart adults.
Four stars out of five. Will sail again.
Off the Grid columnist Blake Snow writes epic stories for fancy publications and Fortune 500 companies. Follow him on Twitter.