The 5 Best Places to Stay Cool and Seated at Disney World's Magic Kingdom
Photo courtesy of Disney
Travel
Lists
Disney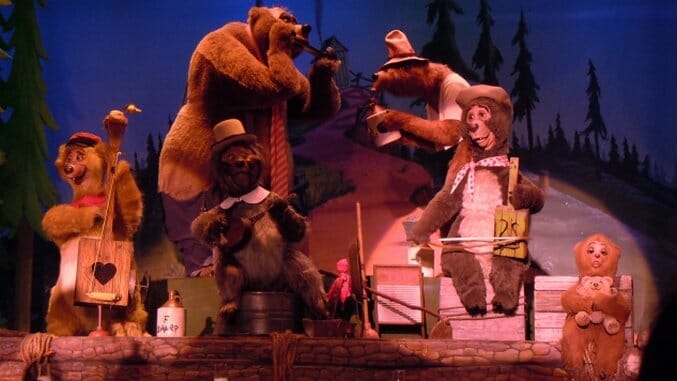 Good luck to everybody headed to the Magic Kingdom at Walt Disney World this Memorial Day weekend. Yeah, you'll have a lot of fun, but you'll also be checking out the most visited theme park in the world on one of its busiest weekends. Oh, and it's Florida in late May, so it'll be hitting 90 degrees every day you're there. (The forecast for Memorial Day weekend of 2018 says it'll be mid 80s and raining.) There'll be swarms of people everywhere and a brutally hot sun beating down on you all day, so you'll be desperate for places to stay cool when you're not standing in line to meet a princess or to finally ride that ridiculously crowded new Seven Dwarfs Mine Train. When you need a breather from the crowds and the heat, here are the first places you need to visit.
1. The Hall of Presidents
If you care more about comfort than seeing the park you just paid over a hundred dollars to get into, you might want to just park it here all day. This air conditioned theater has a ton of well-padded seats to sink into, and the lights are dimmed really low during the show. That means it's perfect for a mid-day nap. Of course, it'd be unconscionably rude of you to sleep through this show and disrespect the decades worth of incredible work that Imagineers have put into the place, and you also might learn something if you pay attention and watch all 40-odd white men (and Barack Obama) solemnly nod when their names are announced. So maybe watch the show once and then hang around afterward for some rest?
2018 UPDATE: Your ability to tolerate the Hall of Presidents will now depend on how you feel about the guy currently in office.
2. The Carousel of Progress
Overseen by Walt Disney himself for the 1964 World's Fair, this look back at the rise of technology throughout the 20th century is laughably outdated today. It's broken into four segments that track how technology impacts a typical American family at four different points in time. The first three segments all jump forward about 20 years, from the turn of the century to the 1920s to the 1940s, with devices like radios, refrigerators and dishwashers gradually taking over the house. As you can probably guess, the final vignette was set in 1964. Now, though, it has to make up for the last 70 years of progress in a single scene, covering more time than the first three combined. It really shows—audio-animatronics that ostensibly represent the people of today are clearly wearing clothes and hair styles from the late '80s and early '90s, and references to virtual reality and voice-activated appliances feel both outdated and lazily shoehorned in. Still, the first three scenes are a fantastic look at how the people of the mid-'60s viewed their recent past, and it has an unforgettable song from the Sherman Brothers, "There's a Great Big Beautiful Tomorrow." Most importantly, it's a dark, cool room that you get to sit in for about 20 minutes, which is an absolutely crucial respite from the dangerous conditions outside.
3. Walt Disney's Enchanted Tiki Room
The Enchanted Tiki Room hits the two most important boxes: it's indoors, and you get to take a load off while you're there. Here's a solid 15 minutes of top notch sitting around, with the added bonus of robot birds of various stereotyped ethnicities to serenade you. Depending on your outlook it's either another charming display of classic Disney Parks entertainment or a kitschy relic from a bygone era, and yes, we will totally think you're a no-fun killjoy if you agree with that second opinion.
4. The Country Bear Jamboree
You probably won't be able to sleep through this show, which is still pretty similar to how it was when it first opened alongside the Magic Kingdom itself in 1971. These days it's missing a couple of songs and about four minutes or so, but otherwise it's the same robot bear country & western show it's always been—which means it's still a pretty weird and amazing slice of American pop culture absurdity. You might wish the show was longer or quieter, or that the seating was more comfortable, but you'll love the break from the heat and crowds, and the glimpse into a simpler time when audio-animatronic animals playing jugs and washboards felt like the startling arrival of the future.
5. Pirates of the Caribbean
This gets the nod over the similar Haunted Mansion because most of the line is indoors. The last three options are ones where you get to sit down for extended periods of time outside of the sun. They take care of both concerns: you're off your feet and out of the heat. The Pirates of the Caribbean ride takes care of both, too, but not always at the same time. The long, beautifully designed queue is entirely indoors, so the sun will be off your back for the 20 to 40 minutes you wait to climb onboard. And once you're on the boat, you'll be comfortably seated for close to ten minutes. It might not be long enough to sooth your aching feet, but at least you'll be cool most of the time.
Honorable Mention: The Tomorrowland Transit Authority PeopleMover
The PeopleMover will still leave you unprotected from the sun at times, but at least you're sitting down for a solid ten minutes. And there's never any wait to get on.
---
Garrett Martin edits
Paste
's games and comedy sections, and is pretty much our unofficial theme park editor, as well. He's on Twitter @grmartin.