Trump, the Refugee Crisis and Sensory Deprivation: A Guide to Venice's Art Biennale
Photo below by Awakening/Getty
Travel
Lists
Festivals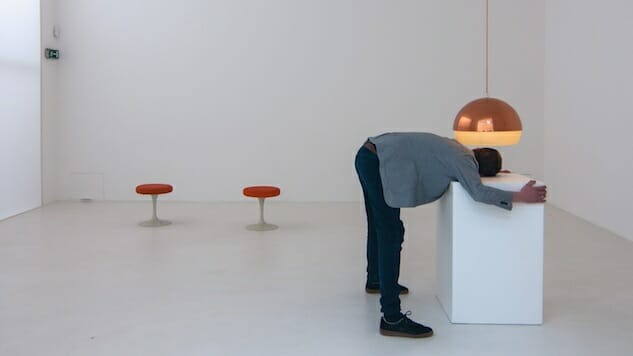 One of the most important events on the art calendar, the 57th Venice Art Biennale (affectionately known as La Biennale to regulars) opened in mid-May and runs through Nov. 26. Tickets begin at 31.50 euros for a 48-hour visit—we recommend taking your time—and discounts are available for students and those under 26.
Officially, the biennale takes place in the vast space of the Arsenale and in the national pavilions of the Giardini. But don't be afraid to go off script and wander to "collateral," or satellite, events. Venice is the capital of wandering, after all. To get the most out of this art bounty, purchase an ACTV Vaporetto ticket for unlimited travel. The passes cost 30 euros for two days, which can be more economical than paying as you go.
Here are our picks of some of the best shows to see.
German Pavilion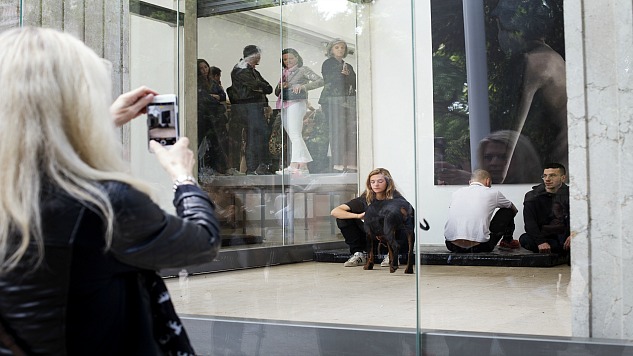 Photo courtesy of La Biennale di Venezia
Faust by Anna Imhof seemed to attract the longest lines of the biennale's opening weekend and, appropriately, earned the top prize: the Golden Lion award for best national pavilion. Two black Dobermans prowl around, guarding the entrance to a performance space situated below a raised glass floor. Beneath visitors' feet, black-clad performers crawl without emotion while a harsh, metallic soundtrack thrums in the background. It's an unnerving and powerful take on contemporary alienation, power and powerlessness.
Tunisian Pavilion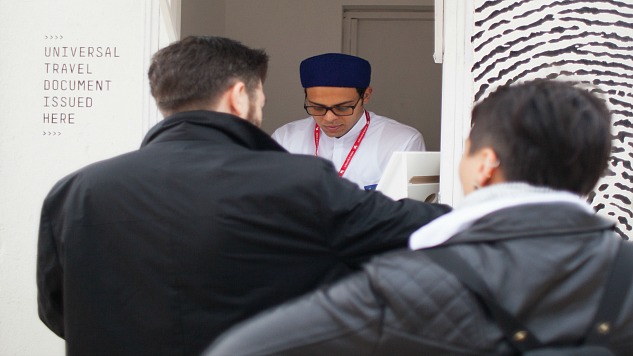 Photo courtesy of La Biennale di Venezia
The Absence of Paths, curated by Lina Lazaar, is just one of several shows addressing the current refugee crisis, but it does so in perhaps the most innovative way. Three kiosks (staffed by unsuccessful asylum seekers) issue "visas," AKA "Freesas," to visitors. The visas are authentic-looking, even including the text visible only under UV light. Recipients are not compelled to take any action upon receiving their own unique visa and stamping it with their thumbprint, but in accepting it, "effectively endorse a philosophy of universal freedom of movement without the need for arbitrary state-based sanction," as the passport-sized booklet notes.
South African Pavilion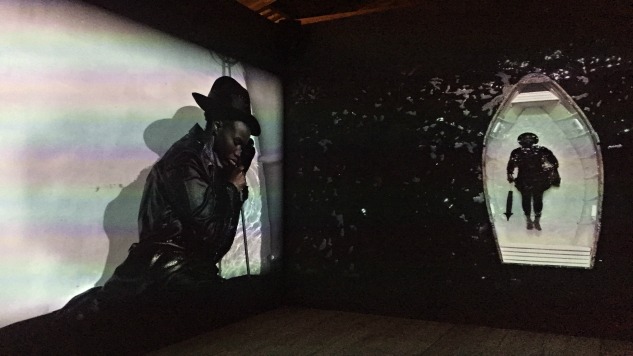 Photo by Karen Gardiner
Forced migration is the topic of Candice Breitz and Mohau Modisakeng's joint exhibition for the South African Pavilion. Both work with film. Modisakeng presents a sublime three-channel installation named Passage in which boats slowly fill with water, submerging the bodies lying in them. The piece is a meditation on slavery and its impacts on African identities. Breitz's Love Story features the actors Julianne Moore and Alec Baldwin reenacting interviews with refugees. In another room you can listen to the original interviews with headsets. It is a work that raises questions of what and with whom the viewer empathizes.
Mexican Pavilion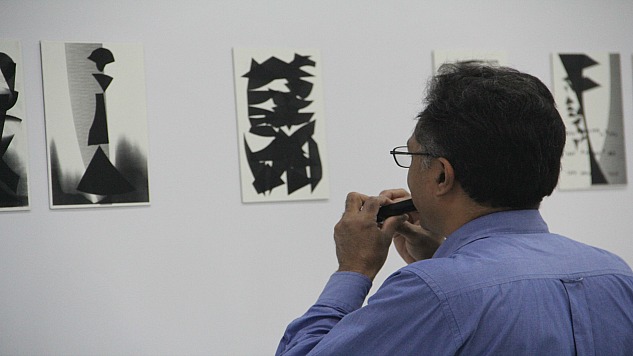 Photo by Karen Gardiner
Music features in a number of the national pavilions, one of the most popular of which is the French artist Xavier Veilhan's Studio Venezia, which turns the French pavilion into a working recording studio. Over in the Mexican pavilion, for Life in the Folds, Carlos Amorales has created ceramic musical instruments in order to give sound to each of the letters of his invented alphabet. Seemingly random and pleasant notes are played as the visitor walks around the space, but they take on a more sinister tone as they all converge in a film telling the story of a lynched migrant family.
Ireland at Venice
In her film work depicting the actress Olwen Fouéré as a giantess, Jesse Jones imagines the Irish pavilion as a site of alternative law, and a fictional past when women held power. She proposes the return of the witch as a feminist archetype and disrupter. Focused on bodily autonomy, witchcraft and the rise of social movements in Ireland, Tremble, Tremble, takes its name from a 1970s Italian wages-for-housework slogan—Tremate, tremate, le streghe sono tornate! ("Tremble, tremble, the witches have returned!")—and its inspiration from a rising social movement in Ireland that calls for a transformation of the relationship between the church and the state.
Malta Pavilion
For its return to Venice after a 17-year absence, the Malta pavilion (curated by Bettina Hutschek and Raphael Vella) presents a kind of mini museum filled with contemporary artworks and historical cultural artifacts. The collection, titled Homo Melitensis – An Incomplete Inventory in 19 Chapters, represents an attempt to define Maltese identity. The displayed items range from the serious (religious iconography) to the absurd (a box of Maltesers candy).
Scotland + Venice (Collateral Event)
In a dimly lit deconsecrated church in the Cannaregio district, the rapidly ascending Scottish video artist Rachel Maclean presents a wry commentary on Brexit, Trump and "post-truth" political rhetoric. Spite Your Face, her 30-minute looping film, takes the tale of Pinocchio as inspiration for one of a young boy named Pic (played, like every character, by Maclean) who, seduced by wealth, finds himself embroiled deep in a web of lies.
Catalonia in Venice (Collateral Event)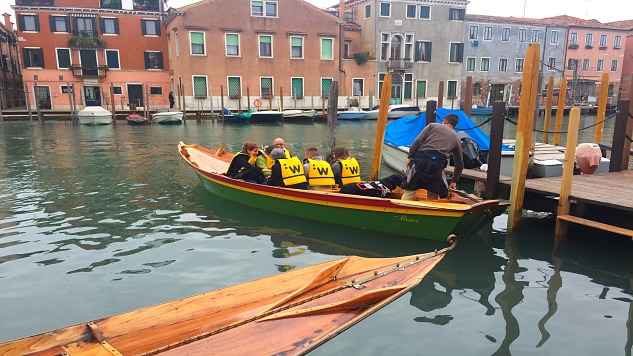 Photo by Karen Gardiner
How do you "see" Venice if not with your eyes? That is a question posed by Anton Abaldi in La Venezia che non si vede in the Castello district. The Catalan artist has created a sensory map of the city in collaboration with blind and visually impaired residents. Download the specially created app and you can listen to their site-specific commentary as you explore the installation. You can also join a free boat tour guided by a blind Venetian who describes their experiences navigating the city—one that is not very accessible—while passengers wear blindfolds.
What Else is On in Venice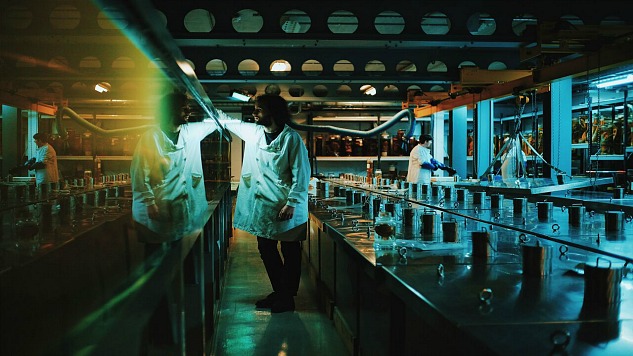 Photo courtesy of Shezad Dawood
While it is not part of the biennale proceedings, Damien Hirst's mammoth Treasures From the Wreck of the Unbelievable tells the tall tale of an ancient shipwreck and its bounty. It is on view at the Palazzo Grassi and Punta Della Dogana through Dec. 3. At Palazzina Canonica and Fortuny Factory, London-based Shezad Dawood presents the first two chapters of his ambitious 10-part film project Leviathan (pictured above). The film cycle is set in an imaginary future whose inhabitants are the survivors of a cataclysmic solar event.
Where to Stay
Hotel rates are generally steep in Venice but if you are looking to save a little, you could do a lot worse than the Generator hostel on Giudecca. If the word "hostel" conjures up unenticing images, note that this one is very clean and design-savvy, and you have the choice of staying in a private room or in a dorm. Otherwise, B&B Venezia (a stone's throw from the Giardini) and the stylish Ca' Pisani, member of the Design Hotels collection, are two well-located and reasonably priced options.
---
Karen is a Scottish freelance writer now based in New York City.