Apartment blocks standing to attention in rows and utilitarian infrastructure are the battle scars of Seoul's hasty development in the decades after the 1950-53 Korean War. But in this sprawling capital of 10 million, enclaves of intriguing architecture, green spaces, vibrant art and a flourishing international food and craft beer scene more than make up for the swathes of concrete.
The city is split into two by the Han River. The older part—encompassing the central area and the main tourist attractions—is located north of the water, while Gangnam, where Korea's one-percenters live, is south. Even before factoring in the surrounding satellite cities, Seoul is massive, but its 25 districts are surprisingly easy to navigate due to the excellent metro system with its nine main lines, and abundant, affordable taxis; special orange cabs even have English-speaking drivers or translation services.
Korea's bbali bbali—"quick, quick"—nature pushed it from one of the poorest nations on earth postwar to the world's 13th largest economy. Nowhere is this so apparent than in Seoul, where lagging neighborhoods find themselves gentrifying at a pace as astounding as the high-tech country's Wi-Fi speeds, and the city buzzes 24/7. Visit as soon as possible to glimpse a metropolis in a constant state of change—you're sure to want to return to see how it develops.
Day One
Morning
Pig-spine soup may not sound like the most appealing breakfast, but gamjatang, a pork stew flavored with a heady mix of chilies and sesame seeds, is both a delicious and popular way to start the day—or end the night—due to its reputation as a hangover cure. One Dang, a few streets from exit five of Euljiro 1-ga Station on metro line two, is a centrally located, bustling restaurant that specializes in the dish.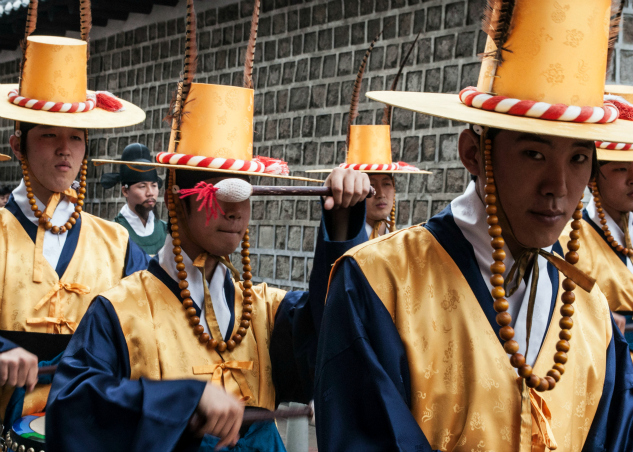 Photo by Rob Gillespie
After lining your stomach, get schooled on the Joseon Dynasty—an approximately 500-year era terminated by Japan's annexation of the Korean Peninsula in 1910—at one of the restored palaces in the heart of Seoul. Fourteenth-century Gyeongbokgung is the oldest and largest, but Changdeokgung (pictured above) was a royal favorite for its biwon, or secret garden, which visitors can tour. Capacity is limited, however, so arrive early to ensure admission.
Preservation of the past is profuse in nearby Insadong, a neighborhood where vintage teashops and craft stores are plentiful. Stop off at Ssamziegil's four stories of boutiques touting modern goods with a traditional twist on the main street before exploring the Buddhist Jogyesa Temple, which is especially impressive during Buddha's Birthday in spring when colorful lanterns adorn the complex.
Afternoon
Avoid tourist trap restaurants for lunch and chow down on chewy cold noodles at hole-in-the-wall eatery Maemil Kkotpilmuryeop, located opposite Gyeongbokgung Palace's west gate. The savory maemiljeon (buckwheat pancake) is the star dish here, which goes down perfectly with a bowl of milky-white makgeolli, a native rice wine.
After eating, explore the lanes of Samcheong-dong, a charming hillside area dotted with independent art galleries and chic shops leading up to the traditional Korean houses (hanok) at Bukchon Hanok Village, famed for its inclusion in the legendary K-drama Winter Sonata. Stop off at Yeon's Travelers Café to sip on tea brewed with omija, a berry indigenous to Korea, on the floor in a cushioned cubbyhole. Back on the main street, make the most of the nation's rising reputation as a premier cosmetics producer by visiting makeup and skincare brand Innisfree's exclusive Jeju House store on Samcheong-dong's main street for products made with natural ingredients, such as the inexpensive yet luxurious olive oil face wipes. Iconic music agency YG Entertainment's Moonshot flagship is also on this road, selling colorful makeup any K-pop fan would be thrilled to get their hands on.
While a bit out of the way, if you have more time and are intrigued by Bukchon Hanok Village, ditch the crowds for the Seoul Furniture Museum. The institution offers a more in-depth look at Korean culture if you sign up in advance. Explore a complex of 10 restored hanok and 2,000-plus pieces of furniture and ornaments situated within landscaped gardens. Atop a hill with views of the city in the tranquil Seongbuk District, the 20,000-won (1 USD=approximately 1,159 won) hour-long tour provides an excellent overview of the artifacts, as well as how they fit into Korea's turbulent history. A five-minute taxi ride from Hansung University Station (line four, exit six) and you'll be in good company—the museum has been graced by VIP guests such as Hollywood actor Brad Pitt and Chinese President Xi Jinping on their visits to Korea.
Evening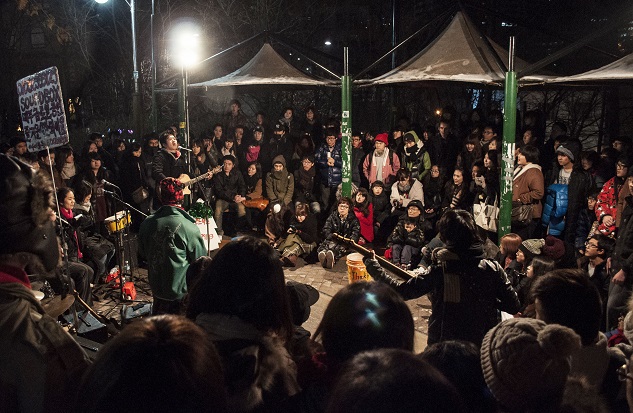 Photo by Rob Gillespie
After a quick intro to traditional Korea, it's time for a modicum of modernity. Start your evening off in Hongdae, Seoul's most youthful district, with a takeout cocktail in a zip lock bag (around 5,000 won) from a hatch in the belly of Vinyl bar's toy robot veneer and settle down with the college students who give this area its easygoing reputation to enjoy impromptu beat boxing, hip-hop, or guitar performances and an occasional silent disco at Hongdae Park (pictured above). For a kitsch dinner, indulge in Korean-style spicy fried chicken and beer served in military canteens at Daknalda, a pub near the park that has transformed itself into a military bunker complete with cargo netting and a cast-off airplane propeller. End the night at one of the myriad bars in the area, such as one of the country's craft beer pioneers, Magpie Brewing Co, for a pint of pale ale or Gopchang Jeongol, a venue with a retro Hawaiian theme exclusively spinning pre-1990s Korean pop.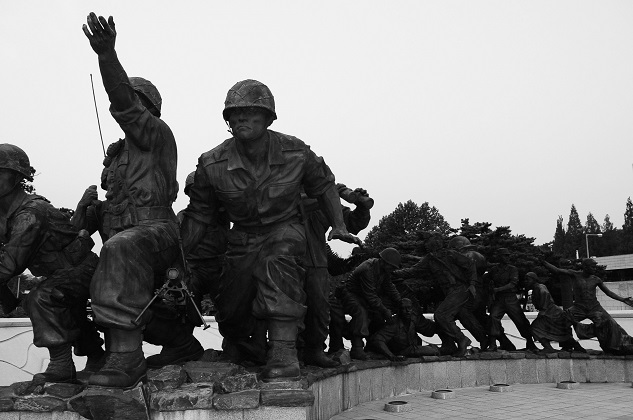 Photo by Rob Gillespie
Day Two
Morning
Expat ghetto Itaewon is enjoying a foodie Renaissance of late with exciting new restaurants serving up international cuisine proliferating in the last year or so. One of these is Guilty Pleasure (pictured below), a cheerful yet chic eatery with a penchant for 80s tunes—hence the name—and a spin on comfort food classics. Try the eggs Benedict with beet-cured, tea-smoked salmon in a dip-dyed pink for brunch.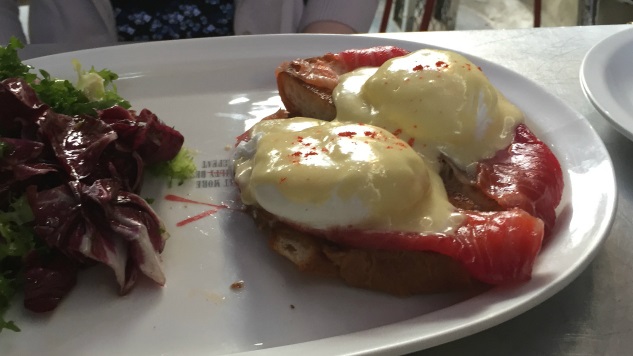 Photo courtesy Guilty Pleasure
A subway stop away at Samgakji Station, line six, exit 11 or 12, is the grandiose—and completely free—War Memorial Museum (pictured at top), the largest of its kind in the world, where visitors can gain an in-depth look at the formative Korean War, as well as other conflicts. Over in Hannam-dong, just off exit six of Hangangjin Station (line six), take in antique Korean art contrasted with contemporary pieces from world-renowned artists such as Anish Kapoor at the Leeum, Samsung Museum, (10,000 won admission) whose collection is as astounding as the ultramodern, angular architecture of the three contrasting buildings that house it (pictured below).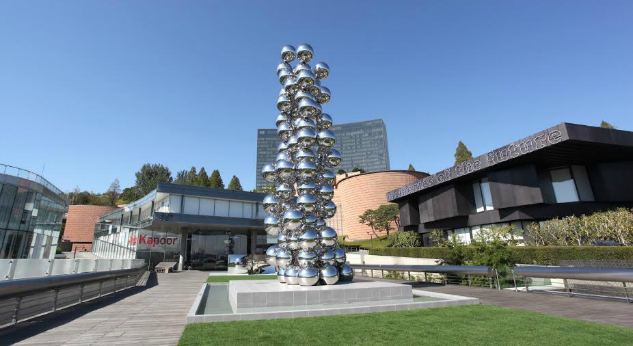 Photo courtesy of the Leeum, Samsung Museum
Sit down at sophisticated and airy Parc for a home-style Korean lunch based on local favorites such as bulgogi (marinated beef) or baked fish (around 10,000 won) from a regularly changing menu inspired by the owner's mother's recipes. Having refueled, pick up a coffee from Coffee Libre, which sources some of the best beans in Seoul, and trendy trinkets from Mo Jain Song, a store comprising of the eponymous fashion designer's own line and quirky items she has curated, such as The Scent of Departure's city-inspired perfumes. The top-floor café at the store spills out onto a rooftop garden where the vegetables are handed out to customers when fully grown.
Afternoon
If you're not yet sick of the city's constant consumerism, hit one of Dongdaemun's 26 malls for some serious shopping—recently renovated Doota is the superior choice for affordable fashion from up-and-coming local designers, plus, it stays open till 5:30 a.m. six nights a week. While in the area gape at Dongdaemun Design Plaza, a curvy structure reminiscent of a spaceship and home to events such as Seoul Fashion Week. Gwangjang Market, the city's oldest existing traditional market, is less than a 10-minute walk away, providing a taste of the past with its authentic street food.
Respite from the urban madness can be found at one of the many grassy areas flanking the Han River, such as Yeouido Park (Yeouinaru Station, line five, exit two or three), where solo tandem bikes can be rented for 3,000 won an hour for a ride along the waterside.
Evening
No one does meat quite like the Koreans, so feast on galbijjim—ribs in a sweet and salty marinade—at Gangnam Myeonok (Apgujeong Station, line three, exit three) for your last dinner in the city. Round off the meal in the same neighborhood with a makgeolli taster tray at Moon Jar, a rustic venue with a selection of rice wines from all over the country, before taking a taxi to the base of Namsan Mountain where a 15-minute uphill stroll leads to N Seoul Tower. Catch the elevator to the Digital Observatory (7,000 won) for sunset and a stunning view where the city spans as far as the eye can see.
To Stay
For an authentically Korean stay, bed down in delightfully old-school hanok hotel Rakkojae in Samcheong-dong from 275,000 won a night for two people.
Travelers on a budget will love Seoul Basecamp, a hostel with a resident pet pig and a welcoming ethos in hip Hapjeong. A bed in a dorm costs from 12,000 won a night.
Getting There
>Korean Air runs the largest number of direct flights to Incheon International Airport from the United States. The airline flies from 12 locations across the country, including Los Angeles, New York and Dallas.
It takes 43 minutes to arrive at Seoul Station on the AREX" nonstop train (8,000 won) from Incheon Airport.
Loren Cotter is a writer and editor who lived in Korea for four years. She also ran the Seoul-based events and alt culture blog.