Evanna Lynch Announces The Wizarding World of Harry Potter
Photos courtesy of Universal Studios Hollywood
Travel
Video
Harry Potter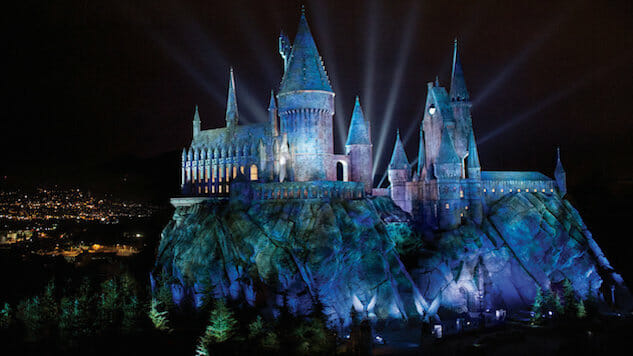 Hogwarts is adding a West Campus in Hollywood next April.
With the help of Evanna Lynch, Universal Studios Hollywood announced that the Wizarding
World of Harry Potter will open on April 7, 2016.
Much like its partners in Orlando, London and soon, Osaka, Hollywood's will look just like the wizarding village of Hogsmeade, complete with Honeydukes, Dervish and Banges, Ollivanders, Owl Post, Galdrags, Filch's Emporium of Confiscated Goods and Zonko's Joke Shop.
Coaster connoisseurs will be happy to hop on "Harry Potter and the Forbidden Journey," a hyper-realistic 3D-HD immersion into the wizarding world—let's just hope that doesn't include Dementors or an actual Whomping Willow. The updated adaption requires visitors to sport some Quidditch-style 3D goggles.
The West Coast Wizarding World will also feature the "Flight of the Hippogriff" ride, which will be Universal Hollywood's first outdoor roller coaster. Of course, none of these attractions will distract from the park's iconic focal point: The Hogwarts castle.
After a day exploring your inner wizard, hit up the Hog's Head or the Three Broomsticks for a pint of Butterbeer and some authentic wizarding cuisine. If you're still hungry for more Wizarding World details, sign up for the latest news and information via Universal Studios Hollywood's website.
Tom is a travel writer, part-time hitchhiker, and he's currently trying to imitate Where in the World is Carmen Sandiego? but with more sunscreen and jorts.