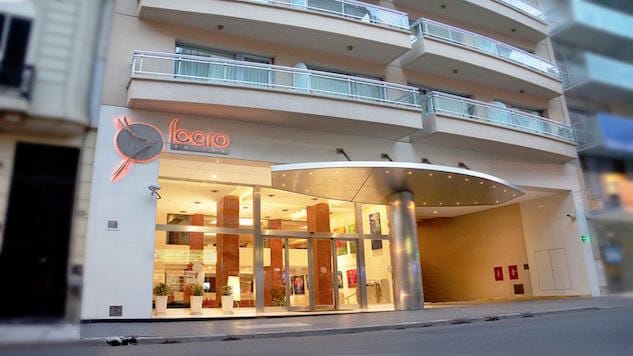 Only five blocks from Obelisk of Buenos Aires, Icaro Suites seems a lot farther. As soon as you turn off Avenida Corrientes—a major thoroughfare that leads to Avenida 9 de Julio and the obelisk—and onto Avenida Montevideo, you're out of the tourist version of Buenos Aires and on a block that seems it was left out of the city's commercialization plan. Montevideo is lined with low-rise buildings, from which women still hang dry their laundry on lines, and mom-and-pop shops and eateries. The buildings are old, with French doors and wrought-iron balconies that prove Buenos Aires really is the Paris of South America. However, a few buildings hint that this block will soon look like a typical tourist town, full of condos and hotels.
One of those buildings houses the six-year-old Icaro Suites, an accommodation designed for extended stays (or travelers who want the comforts of their own home). Don't get us wrong; if this block were to remain exactly as is—with one or two new buildings but remnants of old Buenos Aires—it would be perfect.
First Impressions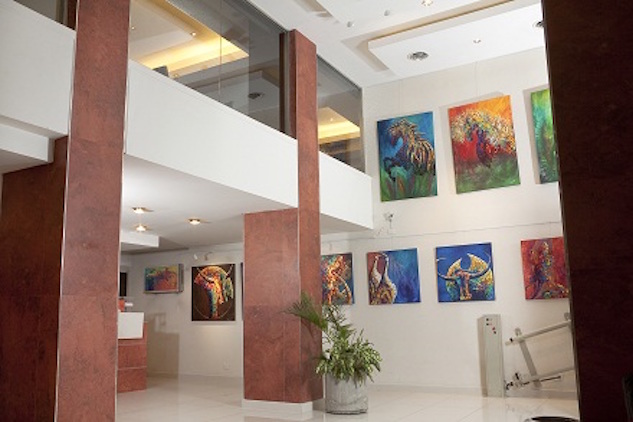 Avenida Montevideo is kind of like a real-life game of "which one of these things doesn't belong?" And the answer is Icaro Suites. Situated across the street from and next to old maroon buildings with three or four floors, the clean cream colored nine-story Icaro Suites sticks out like a sore thumb—quite literally as it kind of resembles a giant finger. Like the rest of the buildings on the block, the floors are lined with balconies, but these are made of glass and scream, "brand spanking new." Don't let the character-less exterior fool you though; while the hotel definitely is sleek and modern, once you enter the lobby, you'll see that the Argentinian culture is of equal importance and therefore integrated seamlessly into the décor.
Walk under the silver overhang that marks the entrance and through the glass doors—we get it, you're modern—where the floor-to-ceiling windows facing the street add to the to spacious feel made possible by high ceilings—the only way to make a room seem large in a cramped city. The pillars reaching up multiple stories give it a touch of luxury. Directly in front of you is an oak paneled reception desk where the staff is happy to help with anything from wake-up calls (yes, those do still exist) to adapters (free of charge for your stay). Before checking in, go down the two steps and turn left to the modern seating area with a lush red rug and matching pillows on dark leather couches facing the star of the show: a large three dimensional mosaic made of multicolored and mirrored glass pieces, in the shape of what could be a person dancing, or an elephant's face. Whatever it is, it reminds you that you are in a colorful and cultural capital.
And if that doesn't convince you, on the other side of the door is a wall of bright paintings of animals from local and international artists.
Once you've done your art peeping for the day, check in to start your stay.
The Rooms
It's not often that you get a private balcony no matter how much you pay, so don't get used to it. While the balcony is a luxury, the rooms are otherwise pretty basic, and we were perfectly fine with that. Something about spending time in a beautiful metropolis makes the hotel room less important; as long as it's clean and comfortable, that's really all we need. The rest can be found outside.
Of course, the rooms aren't completely void of charm; they are decorated in shades of tan and touches of red, keeping with the color scheme of the entire property. They have white parquet floors covered in fluffy area rugs. The furniture is sleek and sharp with glass top tables and dark leather furniture. Since each room is considered a suite (hence the name) they have dressing rooms, kitchenettes and microwaves. Some rooms feature sitting areas and views of the city.
What Pops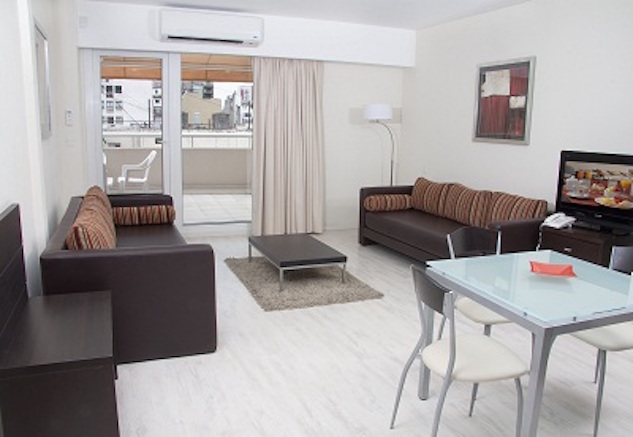 It's clear that Icaro Suites wants to be your Buenos Aires home, not your escape to a world of over-the-top hotels, and they've accomplished this, putting the focus is on the city. You get the feeling that Icaro is really proud of its hometown.
The balconies overlooking a block that is so old school yet still close to everything you'll want to see will tempt you to stay and observe all day. We encourage you to enjoy an espresso while watching the little old ladies get to work every morning. It's a view of the real Buenos Aires, one that is priceless and one day might be very hard to find.
They also have a communal terrace with even more views of untouched Buenos Aires—but those aren't so pretty so stick to your balcony, which are perfect examples of how this property manages to blend comfort with character masterfully.
Another example: The basic lobby filled with bright art could easily be confused with that of a residential building, and the rooms have that same effect—thanks to mostly clean lines but some funky touches, and pretty much everything you'd ever need.
The Locale
While the façade stands out on the block, the purpose of the hotel fits in perfectly. The street is clearly not popular amongst visitors, but walk one or two blocks over and you're surrounded by sought after sights. The hotel is not meant for those who want the tourist version of Buenos Aires, rather the stripped down and authentic side of the city, capped off by a comfy bed to collapse on after a long day of exploring. And when you do want the famous version of BA, a quick walk from the hotel will plant you in front of places like the Obelisk, San Martin Cultural Center and Teatro Colón.
Address: Montevideo 229
Website: Icaro Suites
Room Rates: $63 – $88
Maggie Parker is the assistant travel editor at Paste Magazine.