As a born and bred city girl, I am the first to admit that I could be staying in a tin hut in the bush and I'd still be blown away (figuratively, but literally as well depending on where the bush is located). However, there is no denying the fact that a stellar hotel can enhance the safari experience. I learned that when the wheels of the small plane I was on touched down in the Madikwe Game Reserve, the fifth largest in South Africa.
I have always loved animals, am anti-zoo and pet store, cry in shelters and want to cuddle anything that doesn't speak. Seriously, I can see the cuteness in a spider. And I did on this trip. As soon as I learned it was possible to wander amongst wild animals as they roamed freely, I made it my goal to do so.
First Impressions
Madikwe Safari Lodge took no time getting me into the safari-spirit. As soon as I got off the plane, they whisked me away via jeep to their Lelapa Lodge, one of the three lodges that make up MORE's Madikwe Safari Lodge. On the way, I spotted my first animal and pointed it out to my guide, Martin. It was a giraffe, walking slowly through the low trees. I was in heaven, Lion King-heaven, full-blown Mufasa-must-be-around-the-corner heaven.
After a successful transfer to the lodge, I entered the tree house-like reception area, with plush couches, chandeliers, a fireplace in the center, no walls and endless views of the reserve. I could have stayed there all day, from sunrise to sunset, but I'm glad I didn't because it only got better from there.
The Room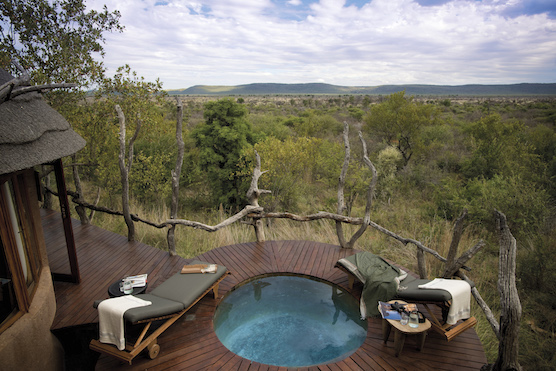 The rooms are a short walk from the reception and dining areas, and there is always a staff member on hand to escort you (they have to, in case of wild dogs). Spacious and luxe-safari themed, like the rest of the property, the room is filled with wicker and candles, and has a fireplace. Behind the fireplace is the beautiful bathtub, waiting to be filled with bubbles and rose petals (which the staff will do for you), and the bathroom with a separate shower. A balcony spans the length of the room, and when I walked out onto it, I cried. It wasn't the plunge pool or outdoor shower—more luxurious than any I've ever seen—that did it; it was the view. It wasn't drop dead gorgeous, to be honest, no exotic plants or elephants strolling by, but I'd never seen anything like it; miles and miles of untouched land. It looked just like it was supposed to, just like Disney illustrated. It was as if the lodge used their rooms to perfectly frame a picture of the bush, and I was so grateful.
What Pops
Obviously, the fact that there are wild animals everywhere—yeah, that makes this place pretty special. After that, it's the service. The staff is on hand at all times, even at 2 a.m. when you wake up terrified because you hear moaning that you're positive is coming from a baboon on your balcony and call reception only to find out it's "just" a lion a few hundred feet beyond the fences. The on-staff sommelier makes you feel like you are the only guest. The guides join you for a braai (Afrikaans for barbecue) under strung lights after a long day of spying on animals before showing you constellations you've never seen before.
The Locale
Well … there's the nightclub around the corner and the bank down the block. Just kidding. You're in the bush. The lodge is surrounded by 263 square miles of land. There are other lodges within the reserve but you can't see them. The population is made up of Big Five animals and the closest thing to nightlife is a herd of elephants having a drink. Madikwe is a four-hour drive from Johannesburg or a 40-minute flight.
I can honestly say I've never been happier than I was while staying at this lodge, and it wasn't just because I saw leopards, lions, elephants and buffalo roaming freely up close. The safari was complimented by delicious meals over carefree conversation learning about life in the bush and nights under strung lights listening to animals in the distance. I left with tears in my eyes after only three days.
Maggie Parker is Paste Magazine's assistant travel editor.