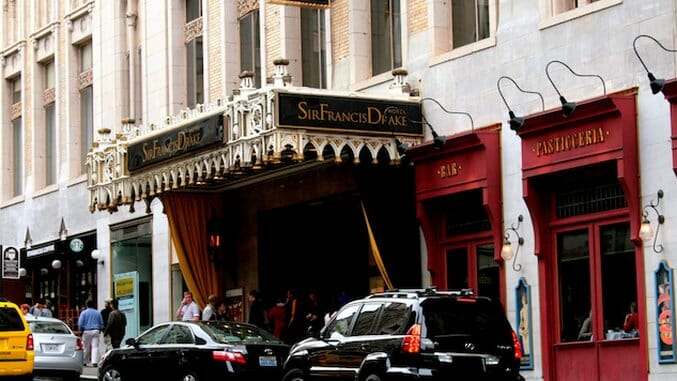 Photo by Dana Tuszke, CC BY
The Sir Francis Drake in San Francisco was built in 1928 and hasn't changed a bit. OK, technically it has changed thanks to a head-to-toe renovation, but because of vintage-inspired décor and Renaissance architecture, it looks like it hasn't aged a day.
With its towering presence and red windows, this Kimpton property is the kind of hotel you notice but never think of entering because you're afraid it will be uppity, touristy, or a complete letdown. Well, I faced the beefeater (see below), ventured inside and survived to tell the tale.
First Impressions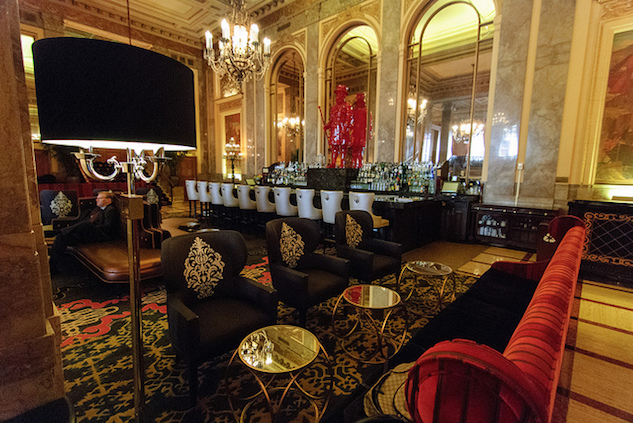 Photo by Jérôme Decq, CC BY
The first feeling you have when you arrive at the Sir Francis Drake is pity. For the poor man who has to wear that red beefeater costume welcoming tourists. But once they greet you, it becomes clear that they actually enjoy their jobs (or are good at faking it). Some of them have been doing it for 40 years.
The doorman who ushered me out of my rental car introduced himself and shook my hand. We chatted for a minute before I walked into the hotel. Little did I know this over-the-top greeting would set the tone for the entire stay.
The lobby looks like a high-end antique shop just threw up. Luckily it's very big with high ceilings, so it doesn't seem too cluttered. Marble walls with tall archways enclose the cold space that almost feels like a furnished cathedral, just replace the pews with red velvet chairs and brown tufted daybeds.
Your eyes dart straight to the eight-foot-tall red beefeater statue looking over the lobby bar flanked by floor to ceiling period paintings, following the hokey theme.
Turn around to take in the two dramatic staircases that lead to a mezzanine level with a fireplace, more chandeliers, and floor to ceiling windows. The important thing to remember about this part of the hotel is that you'll find free wine here from 5-6 p.m. every day.
Gilded crown molding embellishes the walls and ceiling, from which chandeliers light the space.
The archway to your right (if you're facing the bar) leads you to reception, and the one to your left leads you to the elevators/rooms.
The Rooms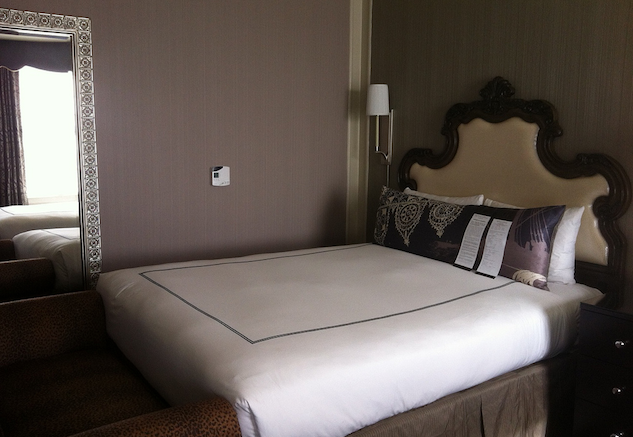 Photo by Travel Collector, CC BY
Exiting the elevator, you're greeted with the bust of a horse. You get the feeling the designer was at a flea market, found a whole lot of these and said, "eureka!"
The hallways feature gray wallpaper with shiny designs you'll be tempted to follow with your fingers. Find the door with your hat on it (each door is adorned with a plaque with an image of a hat).
The hotel's 419 rooms are filled with Victorian-style furnishings and heavy fabrics in rich jewel tones, drawing your attention away from the lack of space. However, with the city to explore, you won't really be in the room long enough to notice its size.
If you do spend some time in your room and realize it has a unique layout, you're in a Historic Guestroom; these have jewel-box configurations dating back to hotel's original 1928 layout.
Each room features Elizabethan-inspired oversized prints that might strike you as creepy at first but you'll learn to like as you get used to them. Instead of boring old images of unidentifiable princes, commissioned paintings focus on a specific detail of the subject, almost as if they zooming in on it. For example, the piece in my room focused on the strings of pearls some royal figure was wearing, giving a usually stuffy style an updated look. This twist on traditional is continued in details like an antique dresser painted bright red and kitschy horse-head lamps by American designer Jonathan Adler.
The bathrooms aren't much but what they lack in size they make up for in eco-friendly toiletries.
After a day fighting the crowds of San Francisco's Union Square, return to your humble abode for a regal-night's sleep under your ornate Rococo-style headboard.
What Pops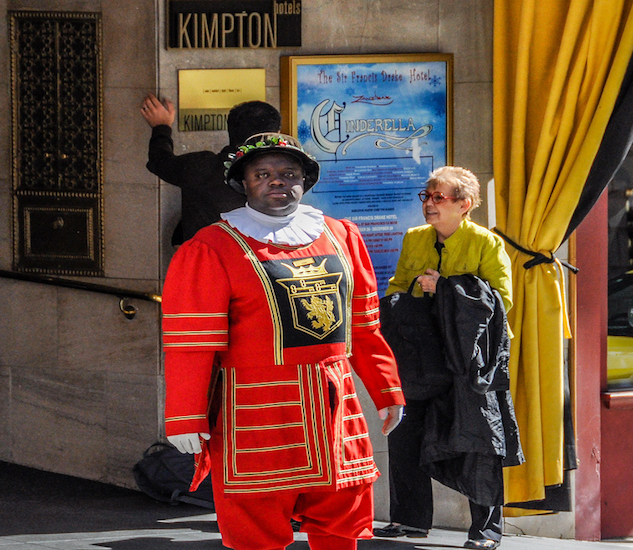 Photo by Kent Kanouse, CC BY-NC
"Is that the one with the guy in the funny costume outside?" That's what my friend said when I told her where I was staying in her city. I think it's safe to say the hotel's purposely-dated ways are what stand out most. Especially that lobby, which could have been a palace hall, with pillars holding up the ceiling that is carved so intricately with designs.
For a different timeframe, go up to the top floor of the hotel, 21, and check out the Starlight Room, a lounge with sweeping views of the city. If the rest of the hotel is fit for the stuffy Downton Abbey family, this nightlife venue is where Lady Rose would escape to for a taste of modern day.
The Starlight Room takes you from the Edwardian era to the 1920s with beaded curtains dividing the sections, a speakeasy-feel (fitting since the hotel was a prohibition hotspot) thanks to dim lighting, and red everything from the carpets to the couches.
The Locale
Located a block up from San Francisco's Union Square, the Sir Francis Drake is surrounded by high-end shops and hotels. For crowds of a different kind, walk in the opposite direction to San Fran's Chinatown. You're also only a mile from Embarcadero and two miles from AT&T Park. Other points of interest like the Mission District and the Presidio can be reached via SF's pride and joy, Uber.
Address: 450 Powell Street
Room Rates: $195 – $528
Website: Sir Francis Drake
Maggie Parker is the assistant travel editor for Paste Magazine.