Hotel Intel: The Grand Palladium Resort & Spa, Jamaica
Photos courtesy of the Palladium Hotel Group
Travel
Features
Hotel Intel
If you think all-inclusive resorts are only for miserable families, drunk bachelorettes, spring breakers and mushy honeymooners, well … we agree. Or, at least we did agree, until recently.
Yes, all-inclusives are great for those types of travelers but by choosing the right resort, artists, adventurists, foodies and single people—the hardest to please—can learn to appreciate the phenomenon that is the all-inclusive vacation. The Grand Palladium Resort & Spa complex in Montego Bay, Jamaica, is one of those hotels that proves there is an all-inclusive for everyone, thanks to its chic spa, quirky decor, artisan coffee bars, hidden beaches and shared appreciation for the genius that is Cool Runnings.
First Impressions
The Grand Palladium Resort & Spa in Montego Bay will be the answer to your prayers after multiple hours on a plane. Not only are the ocean views and bright white domes sights for sore eyes, there's also a barely noticeable stand right off the driveway that provides weary travelers with much-needed beverages as soon as they arrive. If you're anything like us, you'll be too busy praying the third drink is alcoholic to hear what the first two juices are. And once you've got some rum punch in your system, nothing can ruin your mood. Not that anything at this hotel could be a buzz kill.
The spacious open air lobby welcomes you with wrong-iron chandeliers, pastel yellow walls and sprawling views of the beach and the 48,500-square-foot infinity pool. Take the grand staircase in front of you down to the first level where restaurants, shops, and sunbathing await, or walk back out to catch a shuttle to your villa.
The Room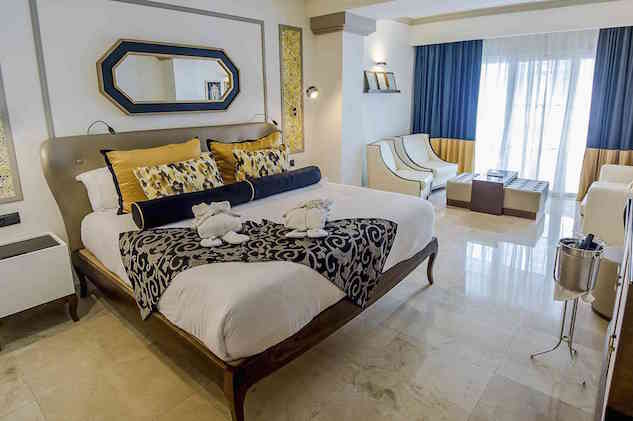 The complex has two sides, the Lady Hamilton side and the Jamaica side, each with its own grandiose lobby. Throughout the property there are 1,056 rooms made up of junior suites, one bedroom suites and honeymoon villas.
All of the rooms are housed in colonial-style villas, with tall white columns and lions looking over the entrance. Step into your pastel-painted temporary home, past the courtyard and into your room. All of the rooms—no matter what level—are generously constructed with balconies, Jacuzzi tubs and plenty of space, so you really can't go wrong. The junior suites have separate seating areas and the one bedroom suites have two rooms, each with its own balcony.
If your taste is more modern, book a Lady Hamilton room, where you'll find gold and black curtains, matching modern lamps and octagonal mirrors, faux-leather headboards, and white furniture. The black and gold theme continues onto the bed with matching pillows. If you splurge for an adults only honeymoon villa, you get a tub that can accommodate a whole party, and there's an outdoor shower for overflow. The Jamaica side suites are a bit more classic with chiffon curtains, fringed lamps, dark wood furniture and maroon details.
What Pops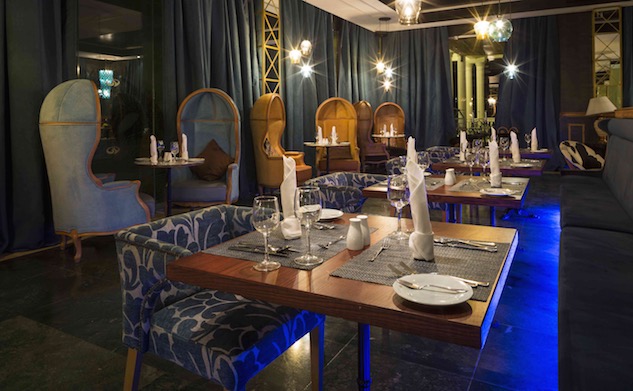 Between the buffets, tacky entertainment, and barren beaches, all-inclusive resorts rarely have personality. Thankfully for us creative folk, that's not the case at this Montego Bay accommodation. The Palladium Hotel Group took a vast piece of land and instead of stripping it and turning it into a bland resort, left it as is and simply manicured it to perfection, letting its Jamaican identity shine and creating pockets of personality all over the property.
Those up for a walk should wander all the way to the end of the Lady Hamilton side to Sunset Cove beach. The huge palm trees provide a bit of shade and the jerk hut at the top of the beach provides authentic Jamaican cuisine on a Styrofoam plate in a totally unpretentious setting. The fact that this beach is so removed from the main area and that the vendors (water sports companies and the jerk hut) on the beach are so different from those found throughout the rest of the hotel makes it feel like you have actually gone off the property and stumbled upon a piece of Jamaican paradise. Plus, since it's off the beaten path (literally—watch your step) it's never packed.
Still want something different? Dine at the Arte e Cuccina restaurant where brightly colored statue of David busts adorn the walls in a very Andy Warhol way or next door at the most vibrant steakhouse you'll ever see (pictured above) thanks to blue chandeliers and extra tall blue and yellow wingback chairs that make you feel like you've stumbled through the looking glass. Between those spots, the completely secluded Gully Beach and the totally out-of-place sports bar (that has a Cool Runnings bobsled replica outside), every villa, restaurant, section, nook and cranny of this resort has it's own identity and unique draw.
The Locale
The hotel is in between the towns of Montego Bay and Lucea, about a 20-30 minute drive from each. With great restaurants, craft markets, and clubs, you'll easily be entertained. However, going from one section of the Palladium to another provides enough of a change of scenery that you won't really feel the need to leave.
Maggie Parker is the assistant travel editor for Paste Magazine.