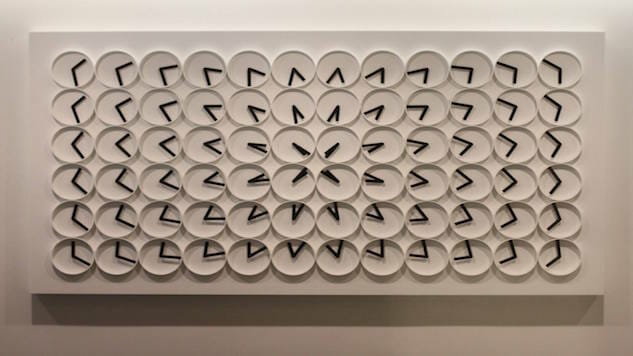 If you were to provide an example of an oxymoron using New York City, you'd say something like SoHo chic Times Square.
It's almost impossible to infuse an area full of flashing lights, fanny packs (not the hipster kind), slow-walking families, and franchises like T.G.I. Fridays with the sleek lines, high end accessories and too-cool-for-school 'tude that is SoHo. But the Time New York beat the odds in 2015 after a massive renovation took them from outdated to timelessly trendy (another oxymoron for you).
Exhibit A: Walking down the hallway, an opened guestroom door revealed two hipster men messing with fabric strips on a mannequin. It doesn't get more SoHo than that.
The Time New York opened its doors in 1999 on west 49th street, right next to the Eugene O'Neill theatre (where The Book of Mormon currently resides), and directly across from the Ambassador theatre (home to one of the longest running Broadway productions, Chicago). So yeah, it'd be hard to escape the touristy vibes, but thanks to a discreet entrance, kitschy decorations and an existential outlook on life, you won't have to leave Hell's Kitchen to get a breath of fresh (read: not as polluted) air.
First Impressions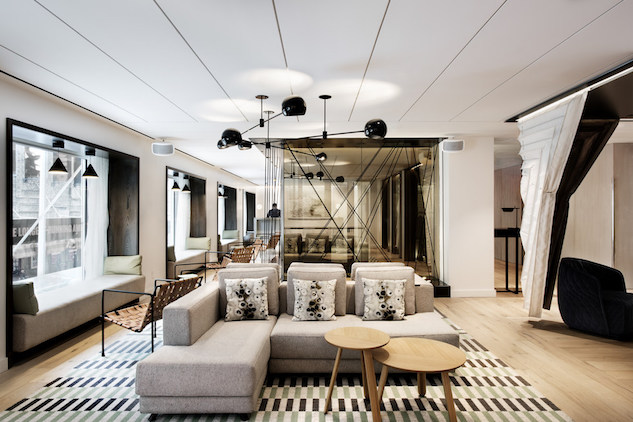 The sign for the hotel is barely noticeable, but what you will notice is the crowd outside The Book of Mormon, especially if you're arriving anytime after 4 p.m., when the raffle starts. Avoid the temptation to join said raffle for a night of hilarity, and opt for the less gaudy building next to it. Walk under the glass awning into a world of confusion that you thought was the hotel's lobby. You'll notice that, well, there isn't much to notice in this entryway, aside from an old-fashioned phone, some bellboys (depending on the time of day), and a kaleidoscope-like changing color display taking up the entire wall on your left. That is not the lobby, but the tinted-gold glass elevator on your right will take you there. Feel free to take a peek into one of the Time New York's two restaurants before heading up to reception—right behind the elevator on the first floor is where SoHo chic meets Italy.
But back to the task at hand: checking in. The elevator takes you one floor up to a cool and clean lobby. Reception will be facing you as you step off the elevator, and behind that is their pride and joy: a mosaic of clocks, moving sometimes in unison, sometimes haphazardly, and other times not at all (pictured at top). They move to form images and the time analog style (which was a few minutes fast when we visited), or they just look like a zillion identical clocks ticking away together. The piece premiered at Art Basel and is called "A Million Times." Consider this your introduction to the Time New York's world, where time is "a luxury."
Walk around the elevator to find what they call their day lounge (pictured above), filled with retro chairs facing floor to ceiling windows looking down on 49th street. Try the fashionable yet not so comfortable looking chairs, because beauty is pain. And if you need to rest your bum after a long day of travel, don't worry, there's a couch facing the elevator so you can observe the hotel's comings and goings as the day goes by, and time ticks away on the clocks on the other side, which you can see through the elevator.
After a somewhat out of this world experience—because of the way time is held heavily above the lobby like an idea rather than a fixed thing, and the fact that the staff is genuine and helpful (considered out of this world in New York City, especially when it comes to trendy places)—you'll need a rest, so head to the other elevators that reach the 15 floors of rooms.
Along the way—not a far walk, the lobby is small—you'll notice LeGrande, their night lounge separated from the day lounge by floor to ceiling origami curtains, we were personally too struck by said curtains to take in the rest of the bar (we went back later and realized the rest of the place was just as cool as the curtains, thanks to dark lighting, creative cocktails and plush seating), but consider that a preview of what pops at this place.
The Room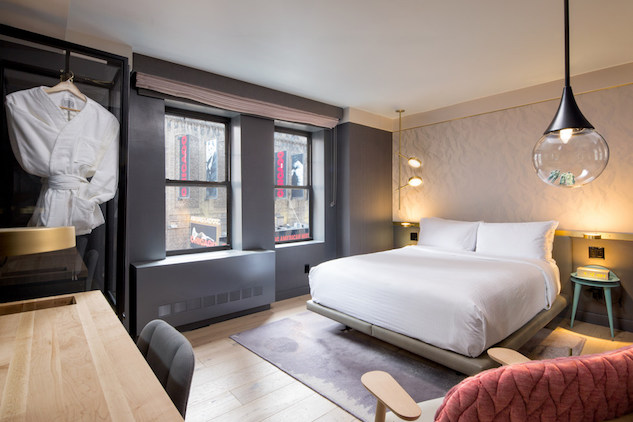 Space is hard to come by in Manhattan so don't expect to spread out (unless you opt for the triplex penthouse with 2,000 sq. ft. inside and 500 sq. ft. of patio). But what this spot lacks in floor room they make up for in character. You might be thinking, a lot of character in a small space sounds like hoarding. But the Time New York sprinkles SoHo-chic throughout so that it's noticeable but not unnecessary. In the rooms you'll see this in the clear closet doors that make planning outfits easy, a hanging bulb fixture with tiny people figurines inside, and hardwood flooring, which is hard to come by in hotels. We did not miss the stained, vomit-colored carpeting.
The room (standard full, superior queen, superior king, deluxe king, deluxe double double, deluxe suite, superior suite, and penthouse) overflows with a very downtown sophisticated feel, thanks to a color scheme that is delivered in brushed metal gold desk and bedside lamps, black wallpaper lining most of the room, a watercolor area rug, and a slate bathroom with marble counter surfaces. Luxury is delivered in the Italian Frette linens, quirky Moroso Chair, leather bedframe and Maison Margiela Paris toiletries and robe. Don't bother looking under the bed for lost items before checking out; all that's under the bed is a mirrored base. You're welcome, we just saved you some time and a moment of sheer terror when you see someone looking at you under the bed.
And it wouldn't be the city that never sleeps without pops of color, which can be found on both sides of the extremely fluffy bed, where you'll find bright turquoise tables with USB ports built in.
After all this, our favorite part of the room was the wallpaper (see below).
What Pops
The décor in general is what makes this midtown hotel stand out from the crowd of Marriotts and Sheratons.
The hotel's obsession with time will definitely stand the test of time in your memory (yes, we did just say that), mainly because of the seriously cool "A Million Times."
But, it's the wallpaper that impressed me the most. All of the wallpaper has a texture about it that makes it seem like an optical illusion. The hallway wallpaper is cracked in different shades of black, making it look shiny and velvet. Most of the room is covered in black ribbed wallpaper that feels like the inside of a piece of cardboard (what you find if you rip off the top layer) and looks like clothing seams. But the best, in our opinion, looms over the bed on the wall behind it. It's off-white and depending on how the light is hitting it, can look like a wrinkled sheet, a crumpled piece of paper, or a close-up on the facets of a jewel. Just writing the description gives us the chills. That's just us, though. With a whimsical yet sophisticated decorative theme, there's bound to be one piece of it that wins your heart, if you're into that sort of thing (like us, obviously). Otherwise, the location can't be beat (if you're OK with crowds) and the staff is a delight.
The Locale
If you want to see a show, you don't have to do too much planning to get raffle tickets to two of the best shows on Broadway right now. Just look out the window and leave once you see the crowds lining up. While being near Times Square does kind of suck, the upside is that you're near a zillion subway lines, so you can easily escape. If you just need to walk away from the crowds, turn left once you get out of the hotel and keep walking west. The crowds dissipate, the area becomes more authentic, and the restaurants get better as you get closer to the Hudson River.
Address: 224 West 49th Street
Website: The Time New York
Room Rates: $184 – $470
Maggie Parker is Paste Magazine's assistant travel editor.