Hotel Intel: Altis Grand Hotel, Lisbon, Portugal
Photos courtesy of Altis Hotels
Travel
Features
hotels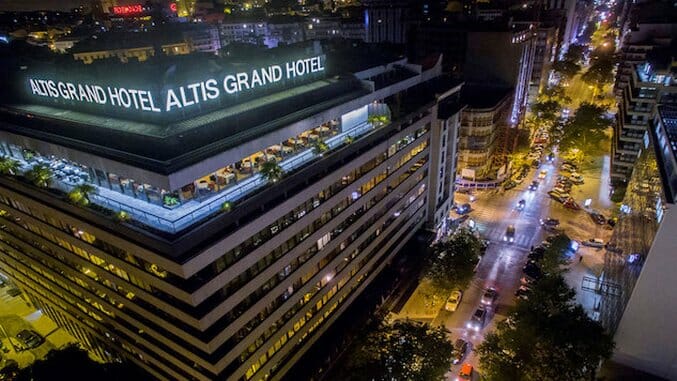 The Altis brand calls Lisbon its home with five hotels in Portugal's capital, all in very different styles and locations.
The Altis Grand Hotel is one of their centrally located properties and has been around since 1973. However, it doesn't look a day over three, thanks to its largest remodeling ever, which was completed in 2014.
Its location down the hill from the city center yet on a quiet business-oriented street makes it a great choice for travelers who want to be close to it all but have some escape. They also have just enough decor to send a message without going overboard.
First Impressions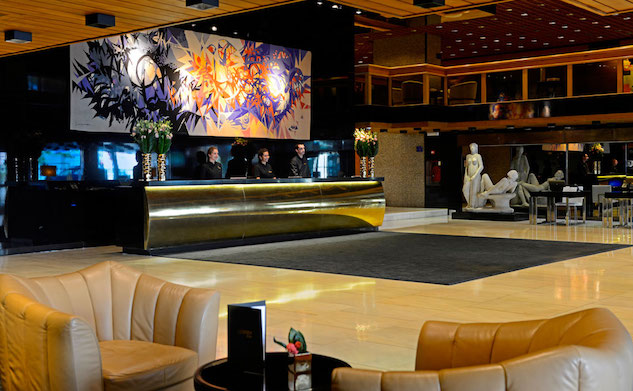 This isn't the prettiest building you'll see in Portugal, but what it lacks in exterior charm, it makes up for in interior quirk. Lots of luscious trees distract from the mall-esque façade, and a large wooden and glass overhang welcomes you inside. The dark large space will make you feel like you've been swallowed, but whatever swallowed you must be creative. A wacky mural hangs on the black wall behind the long gold and back reception desk, and kooky yet comfy furniture invites you to rest on the left at the lobby bar.
After checking in, follow the low wooden ceiling past the lobby bar to the elevators. Keep in mind there is plenty to explore beyond those first elevators, like shops; salons; and another lift that leads to the gym/spa, which features an indoor pool and services that will relieve your body from the stress of traveling.
The Rooms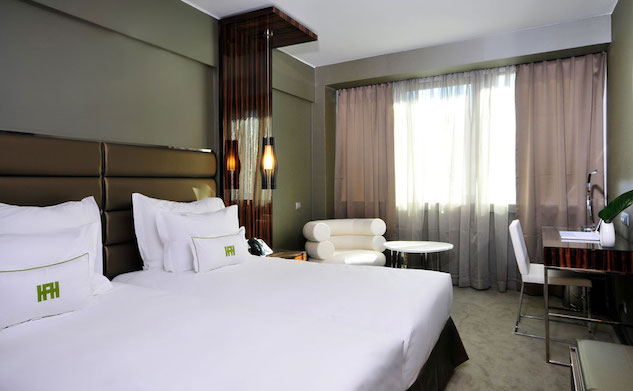 Get used to mirrors—as they are ubiquitous in the hallways. The hotel has 300 Rooms (including 11 suites). All of them have views over the city or inner patio; and a comfortable, sophisticated and elegant ambiance with ebony and stainless steel furniture. You'll immediately be drawn to the in-mirror TV opposite your bed. And the bed is cushioned by a tufted leather headboard, and flanked by wood-style side panels and tables. White leather chairs serve as a tie to the hotel's origin in the 1970s—whether on purpose or not.
These accommodations are the perfect balance between basic yet comfortable—a space you want to return to after a long day of sightseeing but aren't tempted to spend the entire day lounging in.
What Pops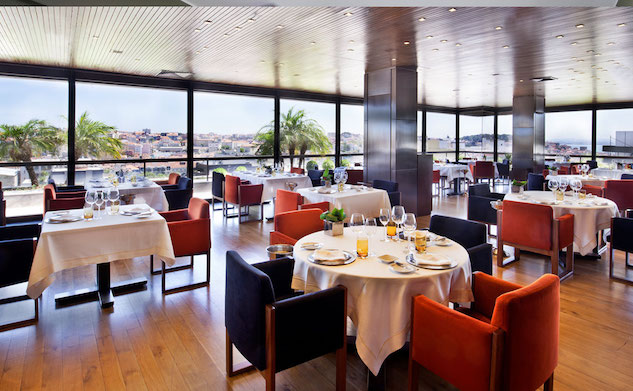 The rooftop restaurant and bar attracts not just guests but city dwellers, and offers expansive views of the neighborhood. But what you'll really cherish is the location, just one block down a hill from Avenida Liberdade, the city's main thoroughfare. Thanks to this highly sought after spot, you can easily come back to your room for a break midday or rooftop cocktail before dinner.
The Locale
You can walk everywhere in central Lisbon, but from this hotel, those walks can range between two blocks and two miles. On one end of Lisbon's main shopping street, the hotel is a great home base and starting point for experiencing life in Lisbon.