Although alcohol is legal, speakeasies these days can still be tough to find. From lingerie shop entries to invite-only spots, these speakeasies take on modern-day tactics making them one of the hottest—and hardest—places to get in around town.
Miami
Walking down this South Beach side street, you may think Bodega Taqueria y Tequila is just another Mexican street food joint. Chef Bernie Matz whips up gourmet tacos with meat roasted on a vertical spit, served from the window of an Airstream at the no-frills eatery. The small warehouse space may seem like it ends here, but head to the blue porta-potty door marked baños and a different scene unfolds entirely. The hidden lounge (pictured above) is Miami's version of a Mexican saloon, with a long bar running down one side and plush couches sitting on the other, with a large lit-up sign hanging overhead forming the words "Love Me Fuck Me." Despite opening less than a year ago, this spot has already become a favorite on the beach for both its tacos and low-key lounge vibe that gets more upbeat as the night wears on and DJs take over.

Providence
With the amount of award-winning restaurants and bars packed into Providence, it's no surprise that one of these restaurateurs went off the grid to start the speakeasy Justine's. Owned by Mark Sears, the man behind another signless bar, The Avery," Justine's is tucked behind a lingerie storefront in Olneyville. With boudoir vibes and 1920s décor, the sultry spot hidden behind a velvet curtain is classic speakeasy with a drink menu to prove it, filled with Prohibition Era favorites like the Mary Pickford.

Chicago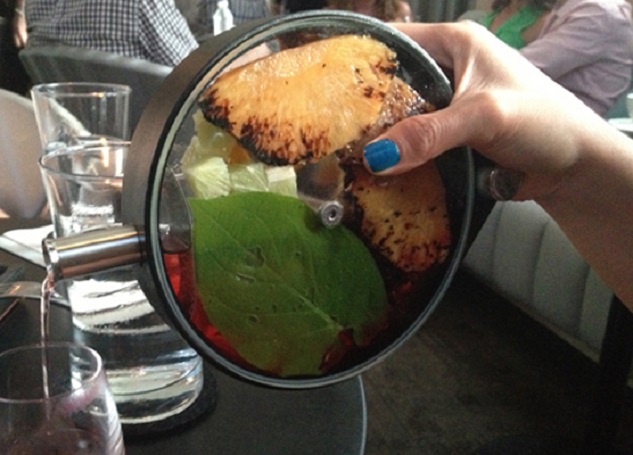 Photo: Lane Nieset
Tucked into the industrial-style Fulton Market neighborhood, Aviary is notorious not only for its inventive libations that blend molecular-style mixology with classic cocktail techniques (with an onsite ice chef crafting more than 30 types of ice), but also for its hard-to-get reservation tickets, swapped and sold online. Step one is just getting past the bouncer at the door. Once you've taken a seat and tested out cocktails smoking from tea cups or infused in the custom-designed porthole, cross your fingers and hope you'll be invited to round deux of drinks down below. The Office, a 14-seat speakeasy under lock and key, is accessed by invitation only, with your server at the Aviary being the gatekeeper to entry at the basement bar. Designed in a Havana-meets-hunting lodge style, The Office is cozy but you don't feel like you're sitting on top of your neighbors. Cocktails here teeter more on the classic side of the scale and don't come cheap, but they're crafted with just as much passion as a chef gives his cuisine and delivered with a hand-written bill sealed with a red wax stamp, adding to the speakeasy allure.

Austin
East Sixth Street's Midnight Cowboy was once known more for its massages than its mixed drinks before the former oriental massage parlor shut its doors following prostitution charges. Reservations are made for two-hour increments but if you see the vacancy sign illuminated at the entrance, you're in luck. Buzz "Harry Craddock" and you'll be whisked inside the dimly lit bar where cocktails are whipped up tableside on a trolley—sometimes with flames involved—and the private back rooms pay homage to the spot's brothel past. Just flip on the red light and you'll have any of your cocktail needs satisfied.

Paris
It's hard to come by good Mexican food in Paris (one thing most American expats like myself miss most), but the four-year-old Candelaria has mastered the art of Mexican street food thanks to former chef Luis Rendón from Mexico City. Serving up freshly grilled tortillas to the throngs of patrons filing through the narrow space in the super hip haut Marais neighborhood, the only telltale sign of the taqueria is a neon one in the window that glows with the simple phrase "Tacos." If you didn't know any better you'd think this was the reason everyone came—and in one way it is. But the unmarked door at the back leads down to one of the city's favorite craft cocktail bars. You have to be strategic about your evening, though, since you can't order food in the speakeasy, or cocktails at the restaurant. You can, however, nosh on a plate of homemade chips and quac while deciding on your cocktail of choice, made easier by the spinning dial on the menu that points to drinks like Rosemary's Baby, a blend of Bourbon Four Roses, Pink Pepper Gin, Campari, lime and its namesake ingredient—strawberry rosemary shrub.
Lane Nieset is Paste's Jet-Set Bohemian columnist and a freelance writer covering all things travel from her home base in Nice, France.