A jetset lifestyle doesn't have to be all private planes and decadent digs. In Paste Travel's Jet-Set Bohemian series, we blend the best of high and low for just the right balance … enticing everyone from backpackers to luxury boutique hotel lovers to come along for the ride.

It's almost noon on a Wednesday, and while most markets in France would be getting ready to pack up their wares and head out for the day, Les Docks is just getting started. Strolling through the sleek Chelsea Market-style stands, fishmongers aren't chanting rimes to entice you over to the stall for the fresh catches of the day. Marseille's newest market is all about minimalism, a stark contrast in a city known for a strong maritime spirit and even stronger accents that can easily be marked as Marseillais.
In November, the abandoned 19th century docks along Marseille's port took on a new life, transforming into a village of artisan boutiques and eateries with courtyards covered in colorful mosaics and stones from Provence and Italy. But it's the marché des Docks at the far end that's redefining market culture in the city. Lined in white Subway-inspired tiles, each of the stands sells a more gourmet version of market fare that's still supposed to be shopped the same way as a typical French provençal market: stop for cheese at the Marrou fromager before filling your basket at the butcher and baker. Here, though, there's also time to pause for a coffee or craft beer (also given their own stalls) and post up at one of the communal picnic tables where noshing on your freshly bought fare is more than encouraged.
This modernized version of a market seems to be the trend du jour in Marseille, with another newish spot, Les Halles de la Major, transforming the vaults under the Cathédrale de la Major into a gourmet food hall. Less market and more of a lunching kind of place, these former merchant stock areas are now buzzing with wine bars, artisan ice cream and Mediterranean seafood. Locals will surely recognize the name behind Le Kiosque Passedat, a pâtisserie whipping up homemade cakes and tartes by Gérald Passédat, the three Michelin-starred chef and owner of Le Petit Nice. Grab a plate from your favorite stand and try and find a seat on the sprawling terrace not far from the sea. Half the fun here is people watching in the industrial-style neighborhood that's about as far as provincial as you could get.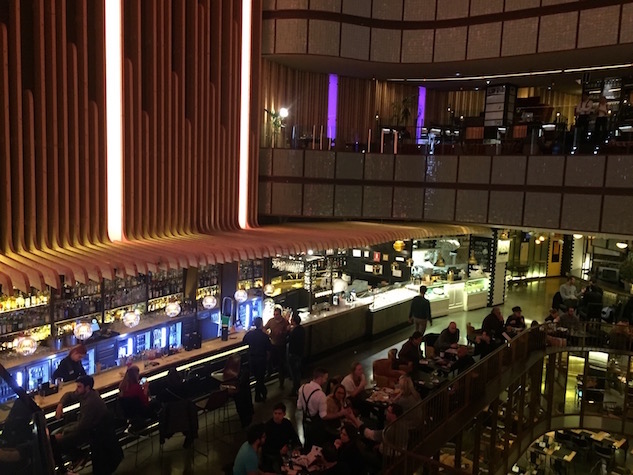 Photo by Lane Nieset
Last weekend I was in Madrid and mentioned to a friend I'd be dining at Platea that night. In a city of markets each more outlandish than the next, it's not often one makes such a striking impression, but from the look my friend shot me, Platea is one. The tiered tapas spot opened up a little over a year ago in a former theater and still plays on its past, with movies streaming on the big screen above the stage, serving as background imagery as the night unfolds. The concept is tapas with a twist: stop by one of the stalls on the ground floor, which includes cuisine from six Michelin-starred restaurants, and head back to your table with a collection of small plates spanning from Italian to Mexican, Peruvian and of, course, classic Spanish with plenty of jamón and cheese. Even close to midnight, the spot was still packed (on a Monday) with families dining on the bottom floor tables and couples cozying up at he El Placo cocktail bar, a sleek bar lining one side of the room that wouldn't be out of place in a James Bond film (just replace martinis with vermut). There's a nightclub down below and restaurants on each level, but the best seat in the house is from the very top in the VIP speakeasy sitting behind one-way glass mirrors that looks out at the scene unfolding.
After almost a century, Sarona in Tel Aviv has returned to its roots reopening as a marketplace and the spot locals crowd come weekends. The Templar settlement was once home to 41 houses, a communal hall, a winery and workshops before the British troops transformed the village into army barracks in the early 1900s. After years behind barbed wire, 37 of the buildings have been restored and now sport art galleries and sleek boutiques, while the main hall is devoted to a modern day food market and specialty shops selling kosher chocolate and pastries, as well as some not-so-kosher food stands filled with Italian hams, American burgers and Turkish platters. While the experience seems like something that could be replicated in the U.S., the mostly Hebrew-speaking vendors (and lack of tourists) make this spot seem like it's still one of the city's more uncovered treasures that hasn't made its way into the guidebooks yet.
Lane Nieset is Paste's Jet-Set Bohemian columnist and a freelance writer covering all things travel from her home base in Nice, France.