Jet-Set Bohemian: Craft Cafe Hopping Through Melbourne
Photo courtesy of Industry Beans' Facebook page
Travel
Features
Jet-Set
A jet-set lifestyle doesn't have to be all private planes and decadent digs. In our Jet-Set Bohemian series, we blend the best of high and low for just the right balance … enticing everyone from backpackers to luxury boutique hotel lovers to come along for the ride.

A few days after Christmas while browsing through Boxing Day sales at a shop in Melbourne's city center, I casually asked the sales associate where I could get a good cold brew nearby. Not only was it already late in the afternoon, that time when most cafes seem to shut their doors, it was also height of holiday season (and Australian summer) and every coffee shop and restaurant in town seemed to be closed until after the new year.
"I'm new to Melbourne, but my colleague's boyfriend owns a café nearby and may have a few ideas," the sales associate replies. He came back over a few minutes later and handed me the shop's orange business card with the names of four cafes listed on front. The first name: Cup of Truth. "Her boyfriend and my manager both swear by this place," he says. "It's just around the corner down in the subway and mostly does takeaway, but it's really supposed to be the best."
Brewing local roaster Axil's beans and serving up specialty coffee like cold drip, this place would've been perfect if only it had been open. I looked at the next name on the scavenger hunt-style list and set off down Flinders Lane to a nondescript spot that would be easy to walk past, if you didn't notice the line leading out the door. I snagged a seat at Dukes's counter and ordered a cold brew that was every bit as legendary as locals made it out to be.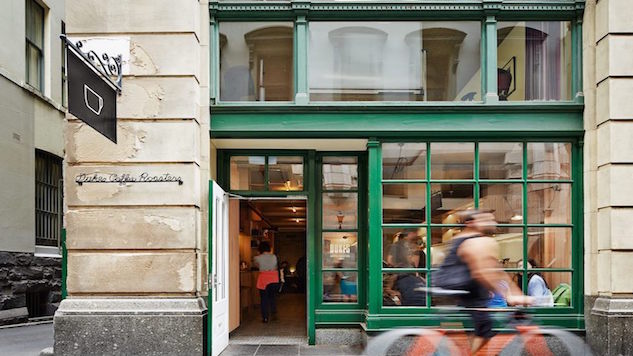 Photo courtesy of Dukes' Coffee Facebook page
When it comes to cafe culture, Australia's second-largest city has carved out its niche among some of the top craft coffee spots on the globe, serving up highbrow brew alongside signature brunch staples like avocado on toast. The hard part about Melbourne isn't finding good coffee; it's deciding between the city's many standout cafes, each sporting specially trained baristas and beans freshly roasted that day. I quickly learned that when it comes to playing favorites, each neighborhood has its own.
One evening at a barbecue, I asked around the picnic table what some of my friends' top picks were, since these coffee connoisseurs made major investments in beans and at-home brewing machines. "There's a lot of hype around Padre, which has a stand at the South Melbourne Market; one suggested. The 10-year-old company started as a two-man roasting and brewing show, expanding from the Brunswick East café and roastery to four cafes around the city, including the market. Here, you can buy bags of small batch-roasted beans (both single origin and blended coffee) or order a drink at the bar that's been expertly brewed in just the right coffee contraption, such as an Aeropress or Chemex, which you can also purchase from the stand as you take your coffee to go.
Another favorite in the CBD is Sensory Lab, which not only has its own cafes in the city, it also hosts training courses schooling baristas on ways to brew coffee on all types of brewers, in addition to the chemistry behind espresso extraction. While you can try to be your own at-home barista whipping up some of the spot's seasonal beans like Guatemalan First Harvest La Pena, those like myself who are lacking in the coffee brewing skill category can also sample the goods at other spots in town like Chapel Street's Uncommon, located in Windsor.
The narrow, airy space is a mix between laid-back New Orleans with southern-style patio seating, and Brooklyn hipster chic, with all-white walls and planters hanging overhead. The focus here is on the coffee and food, which is cleverly disguised clean eating, sans bleached flour, chemically processed ingredients and refined sugar. Coffee is simple but done to perfection. You've got four options to choose from: single origin black, filter, cold brew and white coffee, mixed with nondairy milk like coconut and Bonsoy.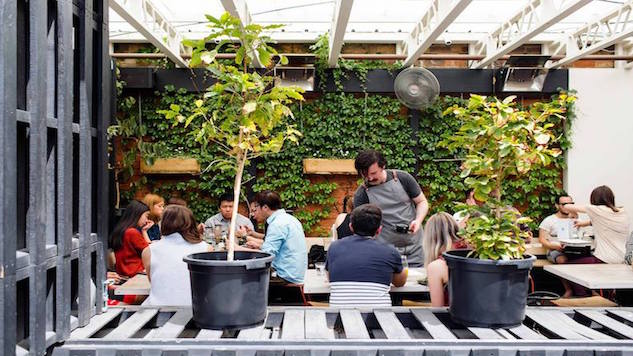 Photo courtesy of Industry Beans Facebook page
As for brunch fare, everything can be made gluten-free or vegan, with dishes like avocado on rye topped with Victoria-based Meredith goats cheese and seeds; coffee-rubbed short rib with potato croquette and pickled green tomato; and the Uncommon benedict, served with thick-cut organic bacon, poached eggs and smoked paprika hollandaise on top charcoal corn bread, which adds that one detoxifying touch to the dish.
Craft coffee and hipster neighborhoods always seem to go hand-in-hand, so the suburb of Fitzroy (think Brooklyn's Bushwick or Stockholm's Sodermalm) has plenty of cafes to choose from, where even babies get on board with "babyccinos," or a mini caffeine-free cappuccino. One spot, however, that my friends seemed to agree was a must-visit, is Industry Beans, a six-year-old warehouse that serves as a roaster, restaurant and brew bar. The highlight here, as the name suggests, is the beans, which hail from far-flung locales like Mount Kenya's slopes and the valleys of the Barú volcano in Panama.
The interior looks just as industrial as you'd expect from a warehouse setting, with exposed walls, loft-like ceilings and an urban garden-style patio that sits perfectly in place amongst the neighborhood's street art. As for the brunch menu, Chef James Sanders crafts seasonal selections that play on the coffee theme for a memorable mix of sweet and savory fare like truffled egg with coffee cornbread crumb and coffee custard pudding with coffee caviar and pistachio sponge.
Lane Nieset is Paste's Jet-Set Bohemian columnist and a freelance writer covering all things travel from her home base in Nice, France.