Last Weekend Cartagena Transformed into the City of Light
Photo courtesy of Cartagena Festival Internacional de Música
Travel
News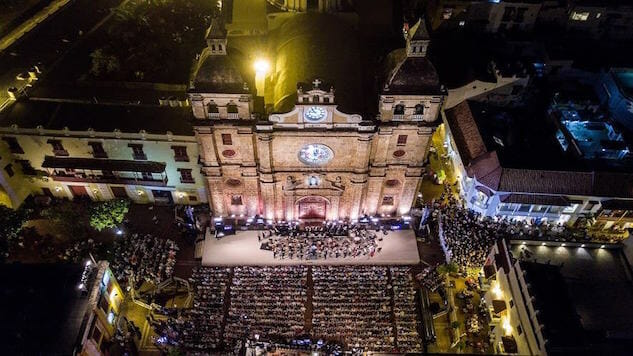 Every year, Cartagena, Colombia's romantic Caribbean port, undergoes a unique makeover. Unlike most Colombian makeovers, this one doesn't involve neck-high breasts and booster-seat asses. This transformation, occurring every January for the city's annual International Music Festival, is more European in grandeur. This year, Cartagena became Paris.
Now, it didn't adopt the Parisian style literally. No beret-wearing men carrying baguettes were spotted nor were there any hon-hon's or oui-ouis—well, a different one of those.
No, Cartagena, firstly, focused on musically transforming the city. Rather than adorning the sounds of champeta and cumbia, the festival arranged an assortment of French artisans like pianist Francois Dumont, harpist Emmanuel Ceysson, and a variety of classical musicians. The various concerts were displayed across the city's buildings, allowing any passerby to pause and momentarily breathe in a Debussy, while eating their Arepa con huevo.
Secondly, and perhaps more stunning, the city adopted "The City of Lights" moniker, illuminating its numerous churches, squares, and even shipping yards with colorful, dancing phosphorescence and the signature French tricolor.
Festival director Julia Salvi sees the festival—and city's European makeover—as a chance for local Colombians to experience a culture over 5,000 miles away.
Maybe the faux Eiffel Towers and Tuileries come off as cheesy, but, for a country where few ever get to leave, this is the closest they'll ever get to interacting with those chain-smoking, croissant-loving Frenchies.
Photo courtesy of Cartagena Festival Internacional de Música
Tom is a travel writer, part-time hitchhiker, and he's currently trying to imitate Where in the World is Carmen Sandiego? but with more sunscreen and jorts.