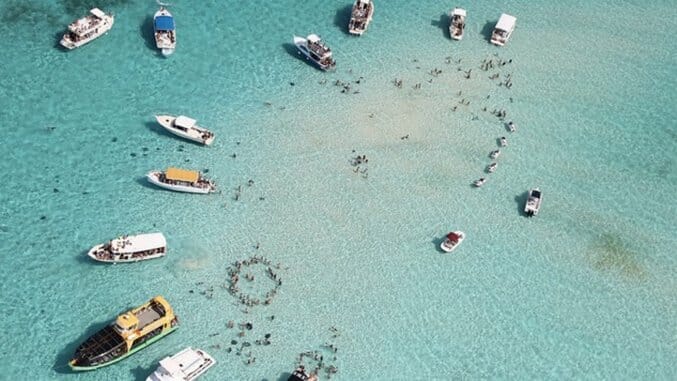 The Great Barrier Reef of Australia is widely regarded as the largest and best snorkeling site in the world. The Belize Barrier Reef gets a lot of votes too. Both are deserving of your bucket list.
However, what if you want to go underwater exploring to more accessible but still-well-rated spots without the need of scuba certification? Lots of options exist across North America, including Hawaii, Dominica, the Grenadines and Antigua. And, depending on your home base, you can find submerged wonder even closer than that. For maximum travel convenience plus beauty, try these: The best snorkeling spots in nearby North America.
Stingray City
Grand Cayman
Snorkeling among dozens of gentle stingrays in the crystal teal waters around Grand Cayman (pictured above) is a surreal, iconic and somewhat frightening experience (because Steve Irwin). I smiled through the entire thing. What's more, the nearby coral reefs and tropical fish of Seven Mile Beach are a pleasant bonus, especially for first-time snorkelers. As popular cruise stops, both sites are a little crowded. But thanks to a big, big sea, most days they're also manageable without being overbearing.
The Florida Reef
United States
Behold, the only living barrier reef in North America. It's a little worn down and not as vibrant as it was a few decades ago, thanks to all the boating that goes on down there. But the 221 miles of coral and sealife are still deserving of your time. Key West, Key Largo and Dry Tortugas are three of the most consistent snorkeling sites. But next time you're in South Florida, you won't regret a quick jaunt to the most nearby diving spot.
Lover's and La Jolla Coves
Southern California
The Golden Coast isn't necessarily known for splendid snorkeling, but two sites are of special interest. Lover's Cove off Catalina Island is a short boat ride from either Los Angeles or San Diego and offers dense kelp canopies, rock reefs and schools of multicolored fish. La Jolla Cove is another nearby site with good visibility and varied wildlife. Both spots are a little chilly—it's the Pacific after all. But during the height of summer or with the help of a wetsuit, it's also worthwhile.
Buck Island Reef
St. Croix
The best was saved for last. Not only is Buck Island Reef and its National Park one Miami flight and short boat ride away, it's arguably one of the best snorkeling sites in the world. Just off the coast of the largest U.S. Virgin Island, this protected marine sanctuary is "one of the finest marine gardens in the Caribbean Sea," according to officials. The underwater trail takes you past sea turtles, manta rays, thriving coral and tropical fish and is truly astonishing.
Photo: KatieThebeau, CC-BY
Off the Grid columnist Blake Snow writes epic stories for fancy publications and Fortune 500 companies. Follow him on Twitter.