Off The Grid: Why Fort Lauderdale Is The Best Mainland Beach
Photo: Courtesy of Fort Lauderdale Tourism
Travel
Features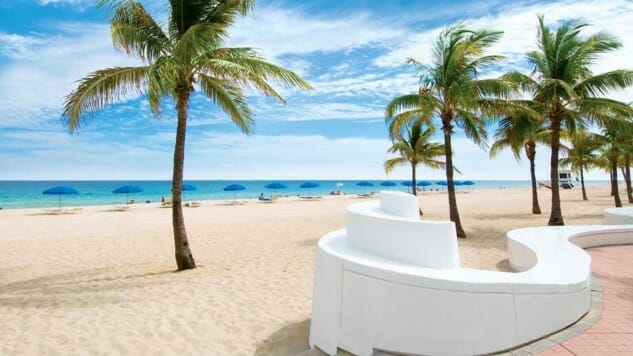 Ask a dozen global travelers where the best beaches in the world are, and you'll probably hear "Hawaii" more than a few times. I know I have.
Ask for the best contiguous U.S. beach, and you'll get more varied answers—albeit concentrated on two beloved areas: Southern California and South Florida.
Having enjoyed numerous beaches in both states, I think I found a winner. Before booking your next warm weather getaway, here's why sunny Fort Lauderdale should be at the top of your list.
Beautiful Beaches For Less
The above picture hasn't been doctored. In truth, the clean sands, Caribbean-esque ocean and Palm-lined beach is exactly what you'll see from the iconic A1A promenade, minus a few cargo and cruise ships. But unlike Miami Beach, which is identical in appearance, Fort Lauderdale Beach costs 20% less on average including hotels. Food is cheaper too but arguably just as fancy (save for Cuban), and flights into Fort Lauderdale International are sometimes half of what it costs to fly into Miami. All this explains why Money magazine recently named Fort Lauderdale one of the best domestic destinations for the money.
Crowd Control
A bad reputation is a hard thing to fix. Three decades after finding itself trashed and abandoned as the inventor of "spring break" in the 1960s, 1970s and 1980s, Fort Lauderdale licked its wounds, renovated its beach and reimagined itself as a mellow place for general audiences, families and international travelers. The strategy worked, but word still hasn't fully spread. Good for you, because this beautiful area is a lot less crowded than it should be. If you want crowds, head to Venice or Miami Beach.
Warmer Conditions
On a similar note, if you want to surf, head to Southern California or grab a paddle board, which is what it takes to ride the modest waves here (still fun though). But if you want the same amount of sun, weather that's 10 degree warmer and an ocean that doesn't require a wetsuit to swim in, visit Fort Lauderdale. Although a hot, humid mess in the dead of summer—a good thing for some—Fort Lauderdale is blissfully pleasant for most of the year, especially in winter, spring and fall.
Oceanview Conveniences
Less traffic, more parking and lots of beds and meals right on the beach. That's another thing Fort Lauderdale has going for it. If you want Airbnb affordability with daily room service, jump for the Aqua Hotel. If you want beachfront luxury without having to cross A1A to get from pool to surf, consider the Pelican Grand. And if you want the closest oceanfront balconies in the heart of the strip, spring for the swanky Atlantic Hotel. As for food during a recent week-long visit, chef Michael Bloise wowed me with his superior sauces at Ocean 2000, the mushroom scallops and desserts at Beauty & The Feast delighted me, and the sunset setting and boat foods of Pelican Landing soothed me.
Things To Do
Besides its famous beaches, Fort Lauderdale is often called the "Venice of America," due to its New River and Intracoastal Waterway that showcase waterfront mansions and million dollar yachts. To gawk at the digs of the 1%, a boat tour (or two) is a fascinating experience. For good reason, Captain Black Sparrow of Bluefoot Pirate Adventures is the highest-rated boat tour in the area. I also enjoyed the Jungle Queen tropical isle cruise and nearby airboat tour at Sawgrass Everglades Park, although I'd opt for at least an hour-long trip next time. Other than that, watch the sunrise over the Atlantic and witness the slow-pulsing neon lights at night on the promenade's retaining wall.
Off the Grid columnist Blake Snow writes epic stories for fancy publications and Fortune 500 companies. Follow him on Twitter.