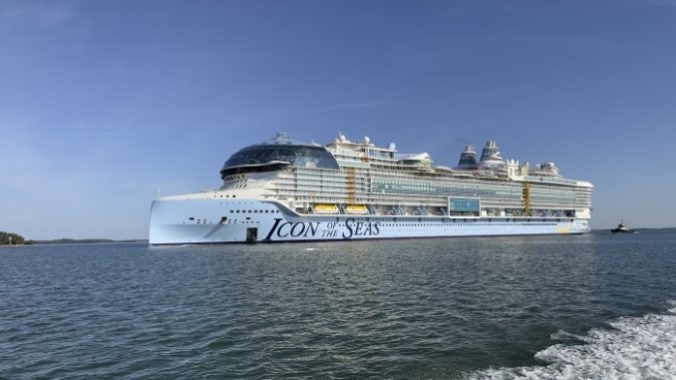 Are you the kind of sicko who thinks cruise ships should be even bigger? With more docks and pools and bars and restaurants and all of that jazz? Well, Royal Caribbean's making a boat just for you (and 5609 other passengers). Stretching out to 365 meters and clocking in at over 250,000 tons, the Icon of the Seas will be the biggest cruise ship on the high seas when it departs on its maiden voyage in January 2024. That's like four and a half city blocks, four football fields, four Statues of Liberty, an Empire State Building, a couple of Gateway Arches… This is one big ol' boat.
Even the small cruise ships are big, of course. Size is part of the whole cruise experience, as inherent to it as water. The Celebrity Xploration, often called the smallest cruise ship in the world, still fits 16 people and has a gross tonnage of just under 320. That might be miniscule compared to the massive ocean liners run by Royal Caribbean and Carnival, but it's still a good bit bigger than the average house. And on the opposite end of that spectrum you'll find the Icon of the Seas, an ocean-straddling colossus complete with its own onboard water park.
Yep, this boat doesn't just have a slide or two. It's home to Category 6, a mini park with a half dozen waterslides of varying thrill levels. It also boasts eight "neighborhoods" with their own identity and aesthetic, along with 20 decks and a few dozen places to eat and drink. And guests will have a lot of time to enjoy all these spots: when it launches the Icon of the Seas will offer seven night trips through the Caribbean, each with a one-day stop at Royal Caribbean's Perfect Day at CocoCay island resort.
The new boat finished its first sea trials last week, Royal Caribbean recently announced on its website. It took a four day jaunt from its Finnish shipyard to test its equipment and gauge its seaworthiness, and passed with flying (sailing?) colors. A second round of tests will happen later this year in advance of its January maiden voyage.
Cruise ships are a controversial form of travel, of course. Their environmental impact, the treatment of their employees, and their tendency to spread disease are all reasons to be skeptical about the cruise industry. Cruises can also be ridiculously fun, though, and are often a relatively low-cost way to get away from your daily life for a few days and see parts of the world you wouldn't otherwise see, so it's not hard to see why they remain an important and popular part of the travel industry. And since people really seem to love big stuff, the absolutely gargantuan Icon of the Seas will probably make a big splash when it launches next year.