From: James Calemine
To: Paste Travel
Date: May 25, 2015 at 12:27 PM
Subject: Escape To A Remote Island …
You can only reach Daufuskie Island, South Carolina, by boat. We rode the new ferry, The Delta Lady, over to Daufuskie this past Memorial Day. Even though we are just a mile from the tourist-choked Hilton Head … there is a single paved road on Daufuskie. Only residents, approximately 400, can drive cars on the island.
The Delta Lady escorted us to the island's 5,200 hundred acres, Daufuskie-ites take extreme pride in resisting any development. Corporate America is not here. During the ferry ride I read how far back the island's history goes back … long before the Revolutionary War. After the Civil War mostly Gullah descendants stayed on Duafuskie. This is pirate country. Blackbeard trolled these waters. Even in the 1970s, this island served as a drop-off location for drugs. But now, it's like paradise on the other side of Savannah.
Date: May 25, 2015 at 2:38 PM
Subject: Gullah Traditions & Independent Art …
The sand on the beach looks like sugar. We got off the ferry and rented a golf cart. We drove on dirt roads passing rustic Gullah shacks, the Silver Dew Winery and the school where Pat Conroy taught. Conroy's book The Water Is Wide revolves around Daufuskie, which Conroy referred to as "Yamacraw Island" in his novel. The film Conrack, starring Jon Voight, is based on this book. John Cougar Mellencamp owns a house on this virgin land.
Cruising around, I saw fox squirrels, deer and red-tailed hawks. Bald eagles live on Daufuskie. We visited the oldest building on the island: The First Union Baptist Church, which is still used as a place of worship. Then we stopped by the Iron Fish Gallery owned by Chase Allen, who won Martha Stewart's American Made competition last November. Just Chase's inimitable metal sculptures are worth a trip to Daufuskie. Unfortunately, the Daufuskie Rum Company was closed today. I looked forward to sampling their elixir … next time.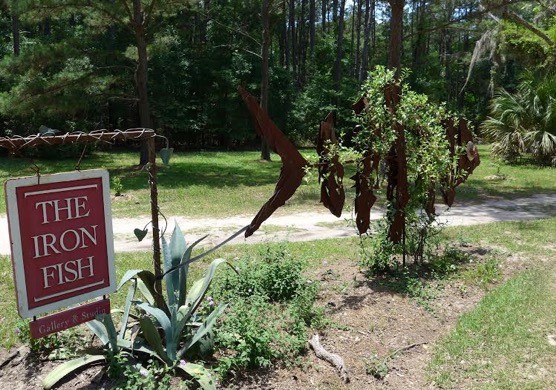 Iron Fish Gallery Photo: James Calemine
The island is surrounded by Mungeon Creek, Cooper River and the Intercoastal Waterway. We walked through Cooper River Cemetary: an old Gullah graveyard, where they buried the dead towards Africa. They believed if the soul could enter the water, it could return to Africa.
Date: May 25, 2015 at 4:09 PM
Subject: Residents & Relics …
We ate at the Old Daufuskie Crab Company, where I met the owner's son, Doc Scurry. They hosted two live rock and roll bands playing right by the docks for a Memorial Day tribute. We ate fresh shrimp, blue crab and oysters supplied by local fisherman. I washed it all down with a few Coronas. Everyone looks like they live near the water—tan, slim, active. A scent of coconut oil drifted in the air.
It was at the Crab Company where I met Daufuskie native and author Roger Pinckney. Pinckney has written seven books, and a new one is on the way. Pinckney's first ancestors came to Daufuskie in 1697. His Uncle Thomas was arrested for piracy. Let it be known: Uncle Thomas beat the rap.
"Daufuskie is the way life oughta be," Pinckney told me. "No crime, no cops, no traffic at all and the fast food has fins, fur and feathers. We live by tides, not a clock. This is the right side of the river. The entirety of the North American continent is the wrong side.
"You can't get lost in our woods," he continued. "Just walk until you see water and turn right. Daufuskie is not for everybody. If you think you have to take a boat, it's not for you. If you get to take a boat you might like it. We eat shrimp, garden produce, fish, oysters and venison. Once in a while we must go get liquor, lightbulbs and toilet paper. Our major business, besides keeping ourselves comfortable and well supplied, is cultural and historic tourism. We tell our tourists 'take photos, leave footprints and money.'"
Date: May 25, 2015 at 6:15 PM
Subject: Indigo Souls & Seas …
On an unexpected one-day trip, we caught The Delta Lady back to the mainland. I hated to leave. It reminded me of home—without the traffic, strip malls and condominiums. The fresh breeze on the ferry ride back made me realize I'd love to fade away and live on Daufuskie. Next time, we'll stay in a pink cabin at Freeport Marina.
Stepping off the ferry, I looked back one last time and noticed the sky and water were matched to the perfect color of an indigo horizon, which served as the Gullah's favorite color to ward off evil. A mystical blue surrounds this singular place.
James Calemine is a freelance writer and author of The Local Stranger.