Disney Releases a New Behind-the-Scenes Video for Its Star Wars Theme Park Land
Screecaps from YouTube
Travel
News
Star Wars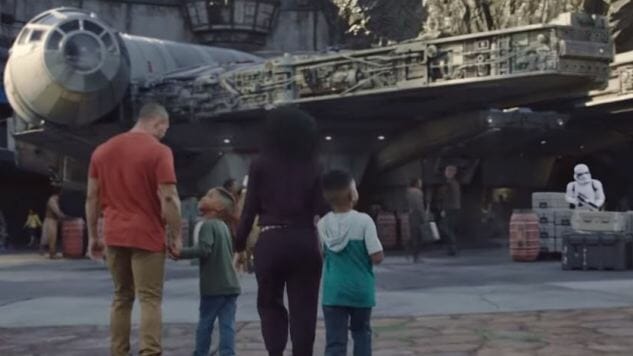 Disney gave the world a surprise Christmas present yesterday, releasing the most revealing look yet at its upcoming Star Wars theme park land. Officially called Star Wars: Galaxy's Edge, this new expansion to Disneyland in Anaheim and Disney's Hollywood Studios outside Orlando is expected to be one of the most detailed and immersive theme park environments Disney has ever built, with a goal of making guests feel like they're in a Star Wars movie. If this video is any indication, they're well on their way to pulling that off.
In the video we hear from Scott Trowbridge, one of the creative leads at Walt Disney Imagineering, and Carrie Beck, a VP with the Lucasfilm Story Group. The two groups worked closely to craft an original world and story that fits perfectly into the Star Wars universe, evoking the sense of excitement and discovery that Star Wars is known for. As the two talk about the work that went into Galaxy's Edge, we see footage from its two major attractions, Rise of the Resistance and Millennium Falcon: Smuggler's Run. In Rise of the Resistance guests are new Resistance recruits tasked with sneaking on board a First Order base; in the short clip here, we see a sizable ride vehicle slowly snaking through Star Wars-style hallways, with giant AT-AT style walkers looming above them. Smuggler's Run will put guests behind the wheel of the Millennium Falcon, where they'll have to flip switches and push buttons to outrun the space cops on their tail. In the clip we see a reconceptualized Falcon cockpit, with six seats instead of two; that might be a blow to verisimilitude, but when you're staring down an hours-long line in the Florida heat you'll probably be glad they tripled the capacity of this spaceship.
Star Wars: Galaxy's Edge will be opening at Disneyland in Anaheim in the Summer of 2019 and at Hollywood Studios at Disney World in Orlando later that year. Expect a steady trickle of news from Disney throughout the upcoming year, and then a huge media push timed to the launch in Disneyland.
---
Senior editor Garrett Martin writes about videogames, comedy, travel, theme parks, wrestling, and anything else that gets in his way. He shares stories and photos from his Disney journeys on Instagram at @garrett_goes_to_disney. He's also on Twitter @grmartin.